Syrian army launched an assault on the eastern quarters of Aleppo
The information that the Syrian troops launched an assault on the eastern quarters of Aleppo, which houses militants of various terrorist groups, finds confirmation. Lebanese television channel Al-Manar reports that the Syrian military is involved in the first phase
aviation
, striking at the positions of terrorist groups in the quarters of Kadi Askar, Katharji, Hanano and Al-Kheidariya.
The Syrian air strikes are inflicted on the targets identified by the reconnaissance - in particular, the armored vehicles of militants located within the city, which they try to hide between buildings, masking with improvised means. During the attacks, several armored vehicles were destroyed, some of which the militants intended to use to send suicide bombers to the Syrian army's positions.
Syrian source "Al-Vatan" reports that impressive forces are concentrated on the ground, including the elite units of the republican guard. They, being in 9 strongholds, expect teams to proceed to the ground phase of the operation after the end of the Syrian air force operation.
Recall that a few hours earlier it was reported that large groups of militants to the south-west of Aleppo had been destroyed by Russian "Caliber" cruise missiles from Russian warships. In the Rashidin area, terrorists attempted to use the possibility of regrouping to launch new attacks on Syrian forces in Aleppo.
An important message comes about the action of hundreds of civilians in eastern Aleppo, who appealed to the militants with demands to lay down
weapon
and leave the city. The mass action took place after the militants once again began to threaten civilians in arms, declaring that they would not let them out of the city, and proceeded to the next action of intimidating people and looting. Civilians chant that the militants will not be able to break their will with any threats.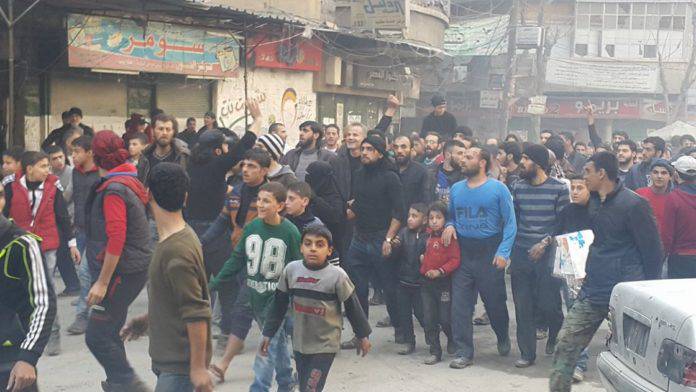 In fact, we are talking about the beginnings of the actual uprising against terrorists in one of the quarters of eastern Aleppo. For this quarter, Syrian aviation does not strike.
https://www.almasdarnews.com