The third joint exercise with NATO is being conducted by the Georgian military this year. It is about the doctrine that started on November 10 on the territory of the so-called NATO and Georgia Training and Evaluation Center (JTEC). This center is located not far from the capital of Georgia - the city of Tbilisi. The events to which soldiers from the states of the North Atlantic military bloc are recruited, will be completed on November 20.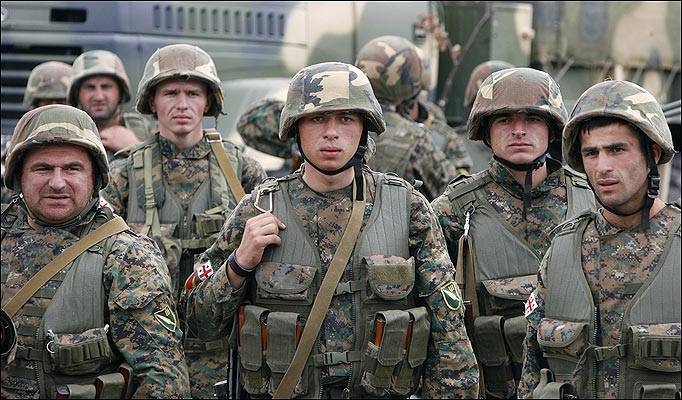 Regarding the next NATO-Georgian exercises, spoke in the Russian Foreign Ministry (quote
RIA News
):
We turned to another NATO-Georgian military maneuvers, in which more than 250 military personnel from 13 countries participate. This year it is the third multinational doctrine of this kind in Georgia - after the "Noble Partner" in May and the "Agile Spirit" in September. There is a systematic increase in the scale and intensity of operational training of the Georgian armed forces according to NATO standards, with active involvement of the command and staff structures of the alliance. Russia sees in such activity a serious threat to stability and peace in the region. Other neighbors of Georgia - Abkhazia and South Ossetia - have repeatedly stated their concern. We all remember how the promises of NATO membership, voiced at the Bucharest summit, pushed Tbilisi to a criminal attack on Russian peacekeepers and civilians in Tskhinval in August 2008 of the year.
The Russian Foreign Ministry noted that Georgia in this context is taking on such a role, which clearly leads to the complication of the process of improving Russian-Georgian relations.
Come with this
news
from Georgia and that in the near future the Chief of the General Staff of the Armed Forces of the country will be replaced. The transfer of authority from the acting head of the Georgian General Staff Vakhtang Kapanadze will occur on the day the joint exercises with NATO end. The post of Vakhtang Kapanadze will be occupied by his current Deputy Brigadier General Vladimir Chichibaya.