At the shipyard "Severnaya Verf" began the ceremony of launching the vessel logistic support "Vsevolod Bobrov" project 23120, reports
Flot.com
.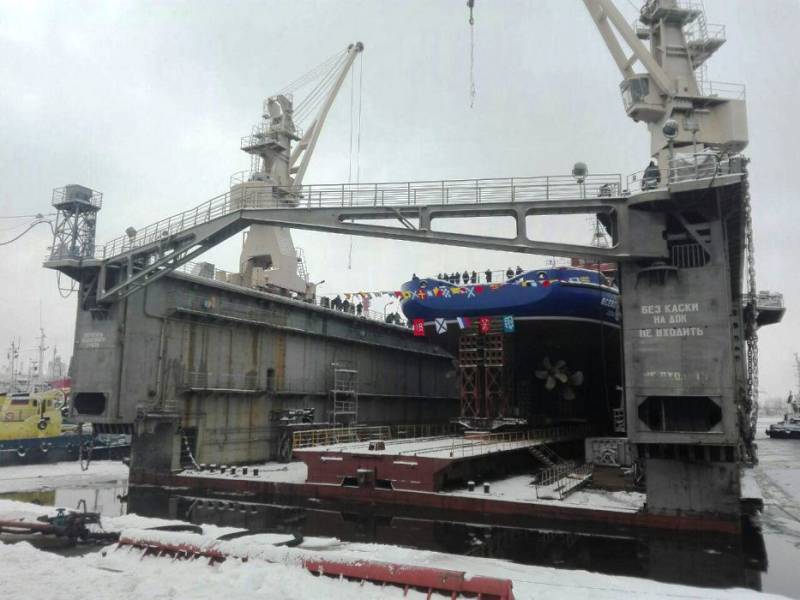 Launching of the logistic support vessel "Vsevolod Bobrov"
"Alexander Yaroshevich, head of the transport support department of the Russian Defense Ministry, Viktor Bursuk, deputy commander-in-chief of the Russian Navy for armaments, Viktor Chirkov, chief adviser to the president of the United Shipbuilding Corporation, Alexey Seleznev, general director of the Severnaya Verf, and Mikhail Spetssudoproekt, chief engineer of the Spetssudoproekt project developer Mikhail Bukharin, "the message reads.
The ice-class vessel "Vsevolod Bobrov" was laid in 2013 g and is the second in the series after the "Elbrus", which passed sea trials.
Resource Help:
"The 23120 project vessels are designed to transport, load, store and transfer dry cargo to the shore and various ships. In addition, they are intended for towing support, as well as to assist crews of ships and ships in distress. The ARC4 ice class allows them to sail in arctic latitudes. "