Russian State Duma is preparing to consider issuing Russian passports to residents of the DPR and LPR
State Duma Deputy Sergei Shargunov, a member of the parliamentary committee on international relations, today reports that the State Duma will soon consider the issue of issuing passports for citizens of the Russian Federation to residents of Donetsk and Lugansk people's republics. According to the parliamentarian, this issue will be dealt with by a group called the "Group of Friends of Donbass". The group will be represented by deputies from different parliamentary factions.
According to the channel
Russia Today
Initially, there are three main areas of work: the strengthening of humanitarian assistance, the development of cultural activities and the provision of legal support. It is the latter direction, according to Shargunov, that may lead the Russian Foreign Ministry to consider the issue of the legal possibility of introducing willing residents of Donbass into the number of citizens of the Russian Federation.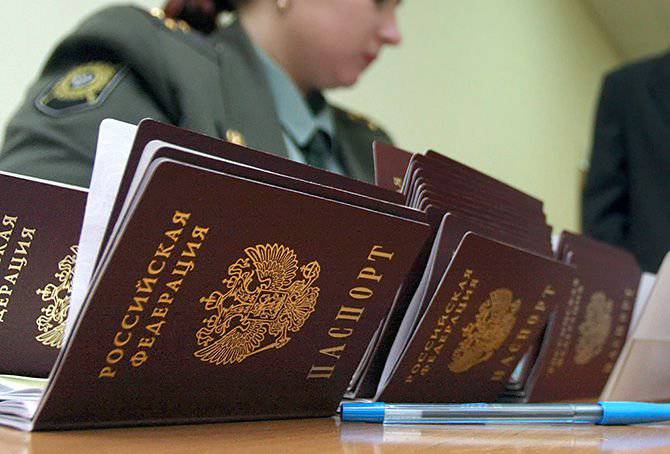 Sergey Shargunov:
If there was an opportunity, the residents of Donbass would long ago have applied for official accession to Russia, because for them our country is a mother, and Ukraine is a stepmother, and, indeed, thousands of militiamen are dying with the name of Russia on their lips. A referendum on separation in 2014 has already been held, maybe a referendum on accession will be held.
This initiative will require certain legislative changes, as some lawyers believe. However, Russia already has a certain experience in this direction: obtaining citizenship of the Russian Federation by residents of the Pridnestrovskaia Moldavskaia Respublika, Abkhazia and South Ossetia even before Moscow recognized the last two independent states.
In Ukraine, the initiative of the Russian deputy provoked a storm of indignation, which once again proves that the Ukrainian authorities and representatives of the Maidan public, not particularly interested in the fate of the inhabitants of Donbass, are closely watching
news
reports from Russia and legislative initiatives of the State Duma of the Russian Federation.