The Center for Public Relations of the Federal Security Service of the Russian Federation reports that it was possible to find out the biographical details of the alleged Ukrainian saboteurs Dmitry Shtyblikov and Alexey Besarabov who were detained in the Republic of Crimea. Information Agency
TASS
reports that the FSB DSP provided a video of interrogation of these individuals.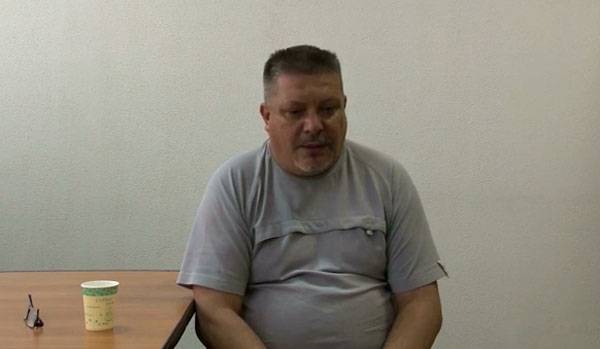 From the interrogation of Dmitry Shtyblikov, who graduated from the Kiev Higher All-Arms Command School named after Frunze in 1992 year:
I am a Ukrainian military man since 1992. Upon graduation from the Military Diplomatic Institute at the National Academy of the Ministry of Defense of Ukraine in 1998, he became an officer of the Main Intelligence Directorate of Ukraine.
From the material it became known that Shtyblikov currently has the military rank of colonel and is the head of the operational management of the GUR of the Ministry of Defense of Ukraine. Previously served in various positions at the intelligence center in Sevastopol.
Shtyblikov said that after the Crimea was incorporated into the Russian Federation, he collected data and transmitted military information using the encryption program to the GUR via Internet channels. For the transfer of this kind of data, he received a financial reward.
Shtyblikov:
The money was transferred by curators when I visited mainland Ukraine.
Shtyblikov before joining the Crimea to the Russian Federation worked as a military analyst in the organization "Nomos", whose task was to transfer data to NATO structures.
From the interrogation materials:
In 2014, in order to legalize his activities, he joined civilian personnel in the division of the Ministry of Defense of the Russian Federation. My curator at first was Alexander Naletov - an officer of the GUR of the Ministry of Defense of Ukraine, then another officer named Sergey.
Another detainee, Aleksei Besarabov, is also an officer of the Ministry of Defense of Ukraine and also in the rank of colonel.
Besarabov:
Since 2008, I have been serving as an officer of the current operational reserve of the 14 Department of the Defense Intelligence of Ukraine, Colonel. He previously served in the information and analytical department of the naval intelligence center of the Ukrainian Navy in Odessa.
Recall that the alleged saboteurs detained in Crimea 9 November. Explosive devices were seized from detainees
weapon
and ammunition to it. In addition, they had maps of objects for alleged sabotage, as well as special communications, including satellite phone.
Full version of the interrogation -
here
.