In Krakow, the exhumation of the body of Lech Kaczynski begins
On Monday evening in Krakow there will be an exhumation of the remains of Polish President Lech Kaczynski and his wife Maria, who died in a plane crash near Smolensk on 2010, reports
RIA News
.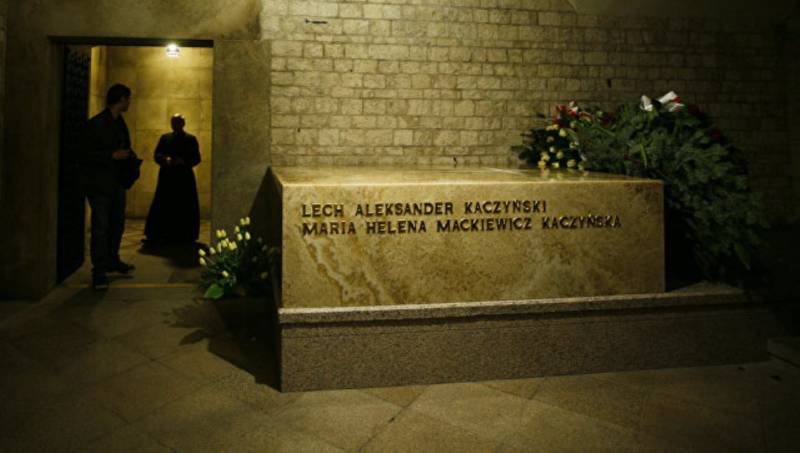 The bodies of the Kaczynski were buried in Kraków's Wawel Castle. The remains will be removed tonight, after the last visitors have left the castle, and taken to the forensic institution of the Jagiellonian University. A re-burial is scheduled for November 18.
"The exhumation of those killed in a plane crash is necessary because of errors that were allegedly found in the medical records. In addition to the traditional autopsy, computed tomography will be performed, which will give a three-dimensional image that allows specialists to evaluate the remains in a way that is not available in a normal study. In addition, histopathological, toxicological and physico-chemical studies will be carried out, "explains the agency with reference to the Deputy Heprocuror of Poland Marek Paszczek.
Next week, the bodies of several more dead will be exhumed. Total plans to investigate the remains of 83-x victims of the crash. The Polish authorities intend to complete all procedures by the end of 2017.
All these measures are connected with the conclusions of the new Polish commission investigating the events near Smolensk. In particular, members of the commission claim that the plane with the government delegation on board began to collapse even in the air - in 900 meters from the ground. According to their data, a few seconds before the plane crashed, the engine, the generator and the altitude reading sensors were out of order.
AP Photo / Markus Schreiber