RCBZ troops are not as noticeable, but one of the most important components of our security. In the world, from time to time, in spite of the prohibitions, both chemical and biological
weapon
.
Our troops RCBZ - a shield not only in the way of external opponents, but also a reliable support in the case of biological and man-made disasters.
Soldiers and officers of the chemical defense troops are always where there is a threat to human life, from Chernobyl to Naryan-Mar. And always our warriors with honor came out victorious from battles with both natural and man-made disasters.
Today, RCBZ troops are equipped with new equipment. At the ARMY-2016 forum, a newest complex of biological analysis was demonstrated, which was tested under the conditions of fighting the outbreak of anthrax in the Yamalo-Nenets Autonomous District. We talked about this complex, which has no analogues in the world.
Currently, in the RCBZ part, there are systems that are designed to ensure reliable protection of troops not only from possible destruction by chemical and biological weapons, but also to reliably cover soldiers on the battlefield. KM-RHBR, KM-FDI, KM-MIF.
We talked about the latest machine РХМ-6, the possibilities of which were left far behind all the predecessors.
For the first time in our video you can see the work of the new complex of smoke screens TDA-3.
The TDA-3 complex not only covers the troops with a smoke screen, making visual contact inaccessible. A novelty in the operation of the complex was the use of new graphite additives in the smoke recipe, which makes the smoke curtain impermeable to radar, not to mention lasers and thermal imagers.
Having visited the installation area, we can state with full responsibility: not a damn thing is visible there!
But RCBZ troops are not only defensive. Armed with these troops are well-known "Buratino" and "Sunshineki", which clearly do not belong to protective equipment. Although ... which side to look at.
Fighting machine flamethrowers BMT-O. Transporter for 42 jet flamethrower RPO-M and 7 man of calculation.
Field laboratories and support machines.
On the day of the professional holiday, we wish the soldiers and officers of the RCBZ troops success in combat training and service!
[Center]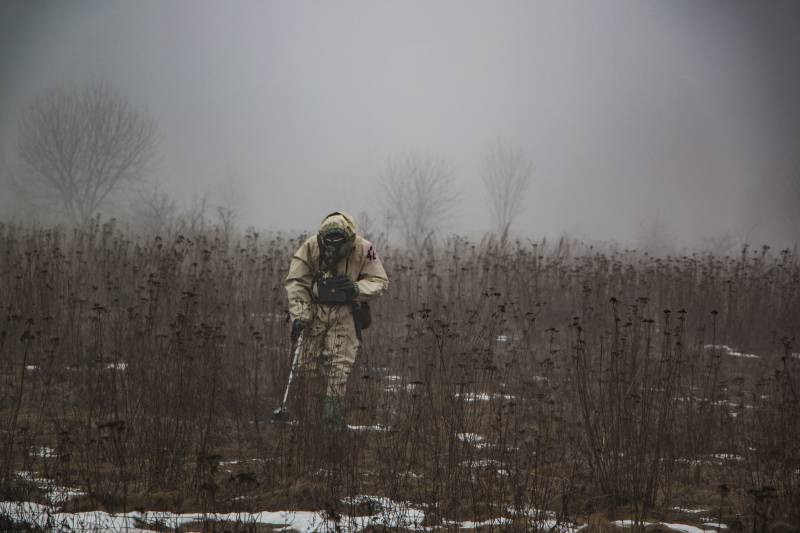 As the saying goes, "you can give birth in a shirt and a fool, good luck to all those who were born in OZK"!