The US Air Force along with the Navy form the basis of the country's military power. Contrary to popular myths, Americans are able to successfully wage a tough contact struggle on land. But they certainly will not fight, without achieving dominance in the air. Therefore, the development of the Air Force is given extremely great importance, it is this type of aircraft that becomes the center of attraction of major innovations. As a result, the United States can win the war alone with the vast majority of countries in the world
aviation
without involving the fleet and ground forces.
Unlike the Russian Federation and the People's Republic of China, where each of the components of the nuclear triad belongs to the Armed Forces, in the United States both strategic bombers and ICBMs are part of the Air Force.
The air force includes 10 command (8 target and 2 territorial) and the National Guard Air Force. The main structural units are air armies (BA), consisting of aircraft wings (acres equivalent to regiments), which in turn are divided into squadrons. Military aircraft, airborne wings and squadrons may not have a single combat aircraft and no weapons at all, but the terms are still used.
Wings with a margin
The Global Strike Command (headquarters - BBB Barksdale, Louisiana) includes both components of the US strategic nuclear forces that are members of the Air Force. The 8-I BA (headquarters - BBB "Barksdale") are 2, 5, 7, 28, 509-e bomber acres and 576-I flight test squadron. The 20-IА has all of the Minuteman-3 ICBMs (three wings are equipped with them: 90, 91, 341-e) and the 625-th squadron of strategic operations.
Space Command (Peterson, Colorado) includes an aerospace center, a center for the development of space innovations, and two air armies. The 14-I VA has the 614-th Center for Aerospace Operations, 21, 30, 45, 50, 460-e space wings. 24-I VA is responsible for conducting cybernetic and information warfare, having wings: 67-m combat use of information systems, 688-m information operations, 689-m communication.
Combat aviation command (Langley, Virginia) is subordinate to all combat aviation (except for strategic and reserve components), deployed in the main territory of the United States. It consists of four military aircraft, the Centcom Air Force and the Air Force Air Force Combat Development Center. 1-I VA (Tyndall, Florida) does not have combat aircraft. It includes the eastern (Rome, New York) and western (McCord, Washington) sectors of air defense, the 601 th center for aerospace operations, the coordination center for rescue operations, the 722 th air control squadron (deployed in Canada). 9-I BA (Shaw, South Carolina): 1, 4, 20, 325-e fighter acres, 23-e mixed acre, 93-e operations against ground targets, 461-e air control and 633-e air base wing. 12-I VA (Davis-Montan, Arizona): 49, 355, 366, 388, 432-acre, 552-e acre of air control, 557-e acre of weather intelligence. 25-WA (San Antonio, TX): 55-ac, 9, 70, 363, and 480-ac reconnaissance. Air Force Aircraft Operations Development Center (Nellis, Nevada): 53 and 57 acre, 53 group of weapons systems, 98 ground testing and 99 air base, 505 control wings. Centcom Air Force is a number of expeditionary acres located temporarily in the Middle East and Afghanistan.
The air transfer command (Scott, Illinois) includes a center of transfer and one VA, which includes almost all military transport and refueling aircraft. 18-I VA (Scott): 15 and 21-transport expeditionary formations (headquarters structures for organizing actions of the BTA outside the country), 385-I air group (Incirlik, Turkey), 618-th center of aerospace operations, 12 transport and refueling acres (6, 19, 22, 43, 60, 62, 89, 92, 317, 319, 375, 436, 437-e). Including 89-e - "presidential squadron", responsible for the transportation of senior US officials.
The Training Command (San Antonio, Texas), as the name implies, trains Air Force flight and technical personnel. It includes 2 and 19-I, an aviation university, a medical center.
The MTO Command (Wright-Patterson, Ohio) is engaged in the material, technical and scientific support of the Air Force. It includes the research laboratory of the Air Force and 8 centers: aerospace systems, flight tests, support for global transfers, nuclear
weapons
, security, aircraft, electronic systems, engineering research.
The MTR Command (McDill, Florida) is responsible for the aviation support of special operations of the US Armed Forces. Most of the units are deployed on the Herbbert (Florida) WWB: Air Force Special Operations Center, 361-I intelligence group, 1 and 24 acre. In addition, the MTR command includes 27-e acres, 193-e acres of the National Guard Air Force, 919-e acre reserve air forces, and two MTR air groups abroad: 352-i (Mildenhall, UK) and 353-i (Kadena , Japan).
The command of the Air Force Reserve (Robins, GA) is a kind of "spare Air Force" deployed in the continental United States. Parts of the reserve are constantly operating and undergoing combat training in the same programs as regular ones. Many wings and air groups (agr) of the reserve are "affiliated" with an acre of combat aviation command and air transfer command, equipped with the same aircraft and deployed on the same IAB. In the "spare Air Force" three armies. The 4-I VA (March, California, includes the 16 acre) is a reserve for air transfer command. 10-I VA (Fort Worth, TX, 19 acre and AGR) - reserve for combat aviation command. The 22-I VA (Dobbins, GA, 9 acre) is a reserve for air transfer and MTR commands.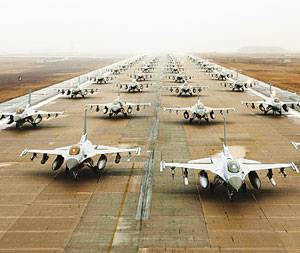 The US Air Force Command in Europe and Africa (Ramstein, Germany) has 3-WA (Ramstein): 31-IAC (Aviano, Italy), 48-IAC (Leikenhit, UK), 52-IAC (Spangdahlem, Germany), 86 acre (Ramstein), 100 acre (Mildenhall, UK), 435 acre operations against land targets (Ramstein), 501 acre combat support (Alconbury, UK), 404-th (Ramstein ) and 449 (Djibouti) African expedition groups, 39 (Incirlik, Turkey) and 65 (Lajees, Azores, Portugal) air base wings, which are s combat equipment.
The command of the US Air Force in the Pacific (Pearl Harbor, Hawaii) is composed of three VA. 5 and 8-i are deployed outside the US, 11-I - in Alaska. In addition, parts of the former 13-VA in Hawaii are directly subordinate to the command headquarters. These are 15-e acre (Pearl Harbor), 13-I expedition group (Pearl Harbor; staff structure without standard equipment), 36-e acre (Andersen, Guam; also purely staff structure), 613-th center of aerospace operations and 613-I support group (Pearl Harbor). 5-I VA (Yokota, Japan): 18-e acre (Kadena, Okinawa, F-15C / D, KC-135R, E-3, HH-60G), 35-e Iraq (Misawa, F-16), 374 acre (Yokota, C-130E, C-12J, UH-1N), 605-th center of aerospace operations (Yokota). 7-I VA (Osan, Republic of Korea): 8-e Iraq (Kunsan, F-16), 51-e acre (Osan, A-10), 607-th Center for Aerospace Operations and 607-I support group (Osan) . 11-I VA (Elmendorf-Richardson, Alaska): 3 acre (Elmendorf, F-22A, E-3B, C-130H, C-12, C-17), 354-e ICR (Eilson, F-16 ), 611-th center of aerospace operations and 611-I support group (Elmendorf-Richardson).
The Air Forces of the National Guard are formally designed to defend the territory of the United States; therefore, in peacetime, the units are subordinate to the state governors. Nevertheless, in reality, they are regularly used in operations abroad, because they are equipped with the same technology and are trained under the same programs as the regular Air Force. The air forces of the NG of each state have between one and five acres and an agr. All in all, 81 acre, 3 communication groups, 1 reconnaissance group, 2 cybernetic operations group, 1 special operations group.
Generation park
The US Air Force has the world's largest number of aircraft of all classes and many types.
In addition to airplanes and helicopters of the regular units, the reserve and the National Guard, a significant number of US Air Force machines are stored at the Davis-Montan base (AMARG - Aerospace Maintenance and Regeneration Group, a group of repair and restoration of aviation and space technology), from which many of them can be returned to service. In the future, for the sake of brevity, these planes and helicopters will be said that they are on AMARG.
The only type of ICBM in the US Air Force is LGM-30 ("Minuteman-3") of mine-based, carrying from one to three nuclear warheads each. They are in service with the 20-VA command of global strikes in the number of 447 units. In addition, there are in storage up to 243 missiles of the same type, which are consumed as tested.
Heavy mine-based ICBMs LGM-118 (MX), capable of carrying 10 warheads each, removed from service. At the same time, there are 56 non-deployed missiles of this type, which are gradually being converted into Minotaur-IV space launch vehicles to launch military satellites.
The basis of the American strategic aviation are B-52H aircraft, each of which carries up to 20 ALCM. 76 bombers of this type are in service, on the AMARG - another 12, as well as 95 airplanes of the previous modification B-52G. Although the last B-52s were released in the 1960 year, they will remain in the US Air Force until the 2040's. More than 52 ALCM AGM-1400B / C / D and more 86 AGM-400A are available for use with B-129H.
The second strategic bomber of the US Air Force - B-2A, built on technology "Stealth". Able to carry nuclear bombs, as well as a variety of conventional weapons. As part of the Air Force 20 aircraft of this type, of which one is used as an experimental.
Strategic bombers B-1B retooled for use in non-nuclear purposes. The system has 62 B-1B, on the AMARG - another 18.
The well-known stealth aircraft F-117 has a fighter designation, but is unable to conduct air combat due to the peculiarities of aerodynamics and the lack of on-board radar. In fact, he is a tactical bomber. 52 F-117A withdrawn from the Air Force, but remain in storage on the VVB "Tonopah" (Nevada) fully operational status and can be quickly returned to service.
In service are the 293 A-10 attack aircraft, on the AMARG - another 103. The location of 57 aircraft of this type is unknown. They may be converted into combat drones. In the future, they are supposed to replace manned attack aircraft.
The command of the SSO has 30 armed transport aircraft ("Ganshipov") AC-130 (16 U, 12 W, 2 J; on AMARG - more 1 U, 6 H) used in counterguerrilla and special operations.
The F-22А Raptor fighter is currently the only X-Numx generation fighter in the world in regular units. In total, the USAF 5 machines of this type. F-187 was intended to replace the F-22 "Eagle". Currently it remains in service with the X-NUMX F-15 (242 C, 15 – 215 D) fighters, on the AMARG - another 26 (27 A, 166 B, 54 C, 6 D) and the Air Force stored 97 (9 A, 7 B, 3 C). The location of the 2 F-2 (14 A, 15 B) is unknown. In addition, there is a strike version of the F-11 "Strike Eagle" with limited air combat capabilities. In the 3 system of such machines.
The 5 generation fighter, designed to replace the F-16 and A-10 attack aircraft, the F-35. For our own needs, the 1763 sample is supposed to be stamped; however, while the program is far behind schedule, only the 92 F-35А has entered service. Nevertheless, it is the only combat aircraft that is currently being produced for the US Air Force.
The most massive American fighter remains the F-16. Now they are in the line 958 (2 A, 1 B, 797 C, 158 D), on the AMARG - another 517 (248 A, 51 B, 204 C, 14 D). In addition, the 20 F-16 (3 A, 17 C) has been converted to QF-16 targets. It is possible that they can also be used as combat drones. In total it is supposed to be altered in targets 126 F-16А and With early series. The location of the 24 F-16 (23 A, 1 C) is unknown. Apparently, some are converted into targets, combat UAVs, and some are utilized.
On the AMARG, the X-NUMX of the F-169 fighter-bomber and the RF-4 scout "Phantom" of various modifications remain.
As it was said, combat drones should in the future replace at least manned attack aircraft. Now in service with the US Air Force to 150 combat drone MQ-1 "Predator" and 154 MQ-9 "Reaper", the production of the latter continues. However, these machines are able to operate effectively only in the complete absence of an enemy air defense system, so they cannot become full-fledged substitutes for combat aircraft.
In the ranks of the US Air Force 4 VKP E-4В based on "Boeing-747". On AMARG is 14 – 15 EC-135 (VKP based on Boeing-707, which in the Air Force is designated C-135). There are X-NUMX E-47 DRLO airplanes (3 A, 16 B, 20 C, 4 G; based on Boeing-7), and AMARG has 707 E-1G and 3 E-1А. All E-3A formally placed at the disposal of NATO and are conditionally listed for Luxembourg. Legally, these 3 aircraft are the only all-machine machines, the rest of the aircraft belongs to specific countries of the alliance.
As part of the RAF 22 Air Force (RC-135 and RC-26B), 4 - communications and relays (E-11А), 22 - EW (EU-130), some of which can also be used for psychological operations.
For aircraft reconnaissance and surveillance are 36-37 «Beach-350» (MS-12W), 16 E-8S (even 1 on AMARG), 2 E-9A, 28 altitude U-2S and 4 training TU-2S, as well as 2 side of the program "Open Sky" OS-135В (1 more on AMARG). 10 LC-130H are intended for ice reconnaissance, 2 WC-135 and 18 WC-130 for meteorological reconnaissance.
The main tanker of the United States Air Force - based on the Boeing-707 KS-135: 399 vehicles in service (54 T, 345 R), 10 NKC-135 and 174 – 176 KC-135 (51 – 52 A, 4) E, 105 – 14 R) - on AMARG. There are 15 more modern KS-59A (based on DC-10).
The basis of the military transport aircraft of the United States are super-heavy C-5, heavy C-17 and medium C-130. 57 C-5 (5 A, 15 B, 1 C, 36 M), 222 C-17A and 338 C-130 (231 H, 107 J) are currently in service. On AMARG, 53 C-5A and 157 C-130 (21 H, 136 E).
Also in service is the 21 light transport aircraft C-21A ("Flight-35A", 23 on the AMARG) and 16 C-12С, on the AMARG - 2.
The 2 VC-25A (Air Force One, WKP presidential aircraft based on Boeing 747), 11 C-40 (Boeing 737), 11 C-32 (Boeing -757 "), as well as 12 C-37 and 6 C-20 (two modifications of the Gulfstream passenger aircraft).
The MTR command has foreign-made light transport aircraft: 36 U-28 (Swiss PC-12), 18 C-146 (German Do-328) and 7 C-145А (Polish М-28, also 9 on AMARG). The 60 of the MS-130 airplanes (on the AMARG - another 29 plus three in the storage of the Air Force) are intended for disembarking, supplying and evacuating special forces groups operating in the enemy rear. For rescue purposes, the 33 aircraft HC-130 (on the AMARG - another 16), 102 helicopter HH-60 and 43 convertiplane CV-22В are used.
Training aviation includes 178 T-1A, 504 T-38 of various modifications (on AMARG - also 149), 444 T-6А. The latter come to replace the T-38. In addition, on the AMARG remains the outdated T-80B 37.
The vast majority of US helicopters are in service with ground forces and navy. The Air Force has about 76 UH-1 (up to 11 H, up to 65 N, on the AMARG - another 5 – 6), armed with the MTR command - up to 6 of the Russian Mi-8.
With all this, the number of combat aircraft in the US Air Force is currently the lowest for the period after World War II, and their average age is the largest for all
history
American aviation. And only F-35А is being produced at the moment, the production program of which is far behind the original schedule, but the price has many times exceeded the originally stated one.
Most of the planes in service were made in 70 – 80-ies. Old ones drop out much faster than new ones arrive. This raises such an unexpected problem as the lack of combat aircraft in the event of a large-scale war. The United States will be forced at any cost (literally and figuratively) to carry out the F-35 program, since there is no alternative. Of course, combat drones will be created, and not only specialized ones.
In any case, in the foreseeable future, serious competition from US aviation will be made up by the Chinese Air Force. There is no decisive superiority in the air and over the Russian Federation.