Divisions of the Russian paratroopers will equip with supercompact field kitchens
Next year, the mountain brigades, special forces and airborne units will receive compact airfield field kitchens, where you can not only cook full meals in high mountains, but also bake bread and smoke meat, according to
News
.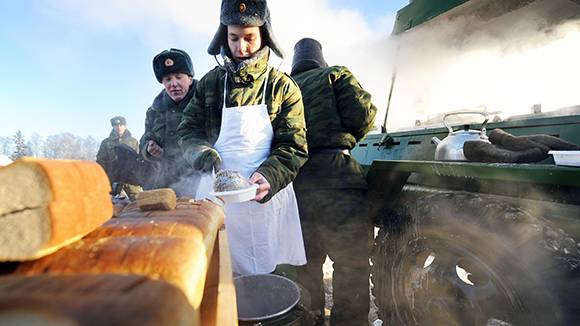 Products created by the factory "Spetstekhmash" in collaboration with the Military Academy of Logistics for cooking in the mountains at an altitude of more than 2-thousand meters and temperatures below -50 degrees.
"Kitchens are like small containers in which, as if in a nested doll, two to three cooking pots are hidden. Depending on the size of the kitchen, they weigh from two to eight kilograms and are intended for cooking hot meals for 4-16 people. The smallest two-kilogram multi-cooker was specially created for mountain brigades and special forces, it can be disassembled like a transforming robot into individual blocks weighing around 700.
"Products have been pre-tested in the mountains of the North Caucasus. In December of this year, "matryoshka" will be put up for the final military tests in the Moscow region. Development of products was in close contact with the military special forces, who expressed wishes and comments regarding the design of kitchens. Therefore, we are confident that they will be tested and put into service, "Romanchikov said.
"The patented technologies of pyrolysis burning of solid or gaseous fuel are used in kitchens. The peculiarity of this process is that such a furnace does not have a conventional firebox. Rather, it is, but consists of two separate chambers. In one, the fuel undergoes a process of thermal decomposition - ordinary combustion, as a result of which pyrolysis gas is released. It is fed to the second chamber, where it burns in the form of a torch, creating an already ultra-high temperature, which in some household stoves exceeds a thousand degrees. This principle of combustion provides 92-percentage efficiency, unattainable in conventional furnaces, "- he explained.
According to him, "during testing by a piece of wood the size of an adult's palm and the entire thickness of 20 mm in two minutes at a height of 1,5 thousand meters in discharged air and at low pressure, we managed to boil 2,5 l of water and only one boot immediately cook for a few tens of minutes a dinner of two hot dishes. "
TASS / Vladimir Astapkovich