A little over a year ago I received the last letter from Tver from Peter Ivanovich Kostyanin. We corresponded for several years and were acquainted only in this way, half-way. Unfortunately, he did not send photos, and I do not know this person in person. Although sometimes it seemed: if I came to the Tver region, I would find and guess Kostyanin without much difficulty.
He was born in Leningrad in 1937 in the family of teachers. He became the eldest son: in 1939, Volodya's younger brother was born, and a year later, his sister Darina. The parents named the eldest son after their longtime friend. One day the father of the family went hunting with him. The day was warm, friends decided to swim. Ivan first began to swim - and at the depth both legs were cramped. Peter saw trouble, rushed into the river. He pulled out a friend, went to the shore himself, and died instantly. He had a weak heart since childhood (apparently, a vice), he knew about it. And at a critical moment chose the life of a friend, and not his own. The heart, apparently, was weak, but golden.
Kostyanin family lived together. A strong children's memory has saved many joyful moments. Together we went for blueberries and mushrooms and once met an elk. Were frequent guests of various museums - nothing, that children are still very small. Every night my father read fairy tales. My mother loved to knit beautiful things for Darina and socks for her sons.
... Dad went to the front of June 22. Four-year-old Petya was standing by the window with a basket - they were gathering for strawberries that day. I thought my father would change his mind to hit Fritz and come back. But did not return.
Food in the house was getting smaller. Mom - all stricter, and the kids - all quieter. At first they were very afraid of attacks, hid in the stairwell of a wooden house, not realizing from fear that this was not a defense. Then they got used to it and determined by the hum how far it would fall.
Darina first came down. Somehow it was very quiet, in the evening I lay on the sofa more than usual, and in the morning I could not get up at all. It seemed to Pete that the little sister had died away in just a few days. Perhaps, in reality, this was not the case, but the outcome has not changed: death has settled in the hands of the baby. Black from grief and very thin mother wanted to bury Daryan. But for the coffin it was necessary to give half the daily bread ration. Wrapped in a sheet and carried away somewhere.
Having lost one child, the mother fought desperately for the lives of the two remaining. It is now, from afar, it is clear that she divided into children and her ration. And then Petka thought that the mother just did not want to eat and was jealous that she was full. It was a black day when she did not get up, either. Petya called to herself, he came up, still not understanding anything. Mom said that we should go to the neighbors, but the boy did not understand why. The head was already like a wadded, the legs did not obey ...
What happened next, Peter Ivanovich does not remember. It seemed to him that he had been lying for a long time, but, apparently, for several days. They were found by neighbors - still a living boy and his dead family.
Sent to hospital, then - to the Leningrad children's bone and tuberculosis sanatorium.
And then Peter Ivanovich remembers a long, long road. We drove together: doctors, nannies, sick children. Those who could walk were seated close to each other. Lying as the boy thought then was lucky - they mostly single-handedly occupied the bed. Everyone said the long beautiful word "evacuation". And before that, Petka liked the word that he decided that this was the name of the city where his father was fighting. So he told everyone that he was going to dad. Nobody has persuaded him.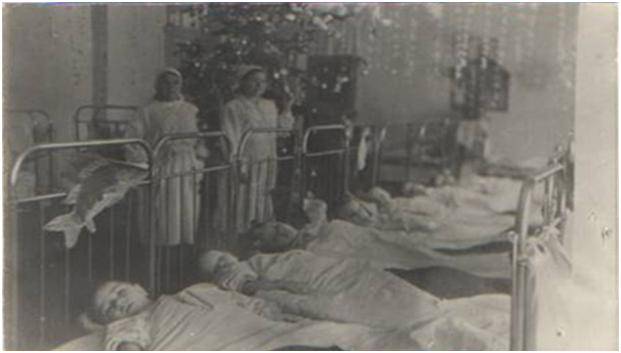 And two more words - Chemal and Altai. Well, it's simple. Altai is obviously a dog's nickname, its namesake once lived with the neighbors of the Kostyanins. And Chemal is probably a friend of Altai. So, Dad in the war took two dogs that help the enemy to fight.
Finally arrived. Evacuated resort arrived at the Chemal resort 26 August 1942 - I found this date in
stories
sanatorium. Doctors and nurses rescued children from the besieged city of 247.
Here, in the sanatorium, Petit began a new life. Not to say that it was very satisfying, although they fed far better than in besieged Leningrad. Every day, children were given from four to five hundred (depending on age and condition) grams of bread. And this groin bread is almost real, sawdust was not found in it.
Petka at that time was five and a half years. He did not know his diagnosis. He could walk, though with difficulty, because his whole body seemed to ache.
Every day around him were adults who became relatives. They fed, dressed, changed the bed every day. Peter Ivanovich remembers that one nurse sang lullabies for the night. These were simple, simple songs. But when she sang them, she cried. The war took four sons from the nurse.
Adult strangers came to him with the strange name "circle leaders." Petka thought that now something would happen to the circles, but they began to teach him to cut out different shapes from paper. They were taught to read, and he read front-line newspapers aloud with great joy and completely grown-up.
Almost every day they gave fish oil in a spoon. That's really disgusting! All the guys who could move their hands, pinched noses. Who has already got up - turned away to the walls. They never shouted at anyone. The nurses gave the kids salted bread so that the fat didn't seem so nasty. Only once on Petka shouted, when he pushed his sister's hand and the fat poured.
- What did you do! exclaimed the woman. - Throw away the daily rate! Did you forget Leningrad? Would you throw a slice of bread?
And Petka began to cry. I remembered my sister in the sheet, my mother lying, the fog in my head when he was in the room with his dead relatives. The nurse cried with the boy, hugged him and began to kiss. "Forgive me!" - she repeated everything. Petka no offense did not hold. They just had to once come into the light of these tears.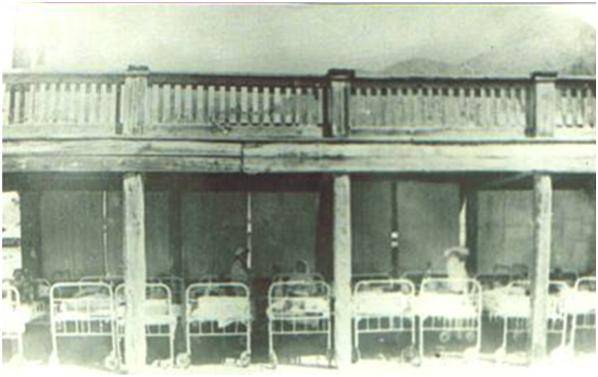 In the sanatorium Peter lived until the Victory. It began to learn, and very good. Here he found his wise mentor, doctor Anatoly Ivanovich Sannikov. It can be said that in those years Anatoly Ivanovich replaced the boy of the deceased father. They talked for a long time. Surprisingly: these conversations were not at all childish, but Petya understood everything. So, the doctor told him about Anna Karenina, Pierre Bezukhov - and the first grader dreamed of reading these works. There was no sanatorium in the library, the dream came true many years later. They talked about how to make paper. And Petr Ivanovich never threw away a sheet in his entire life, making sure that it could no longer be used.
After discharge, he lived in an orphanage - the same place in Altai. Then he entered the school, then in college. He moved to Tver, where, as he remembered from childhood, relatives of his mother once lived. Did not find anyone.
Already as an adult, I came to Leningrad. I found my house, but I did not enter - I did not dare. I went to the military enlistment office, trying to figure out the fate of his father. Peter Ivanovich led these searches for several years and learned that his father had died in the Prokhorovka battle.
... When Petr Ivanovich heard the song "Echo of First Love" performed by Yevgeny Martynov (verses by Robert Rozhdestvensky), he understood that he would not return to Leningrad anymore. The song was about a friend - a man was looking for a girl and hoping to meet her. And there was no one to search for Kostyanin in his hometown, and he knew that. But nevertheless, the lines "And the night lights repeated lightly:" what was, passed, what was, passed ... "tears caused him for many years.
Peter Ivanovich did not start a family, he lived alone, he worked at some construction company. I corresponded with Sannikov, came several times to Chemal. He called himself "a graduate of a sanatorium."
For more than a year there are no letters from him, mine are wasted. But maybe this material will be read by someone who knew Kostyanin? ..
Note to the pictures. These are photos of a wartime sanatorium. On the second, you see a number of beds — the guys spent a quiet hour like this — they were taken out onto the veranda to get some air. In the warm season, the windows of the veranda were closed, in the cold - open.
Comments on photos: these are pictures of the wartime. At the second - a quiet hour, during which the children were placed on the veranda.