The situation with the lawsuit regarding the Russian soldier Valery Permyakov, who on January 12 on January 2015 killed the Avetisyan Armenian family in the city of Gyumri, finds its development. Permyakov was found guilty of murder and sentenced to life imprisonment. Permyakov's lawyer filed an appeal on the court decision, which was to be considered by the Court of Appeal of the Republic of Armenia.
Today it turned out that the appeal from lawyer Eduard Aghajanyan had to be postponed for a week. The main reason is that Valery Permyakov not only fully pleaded guilty to the commission of crimes (including desertion), but also acknowledges that the court sentence against him was fair.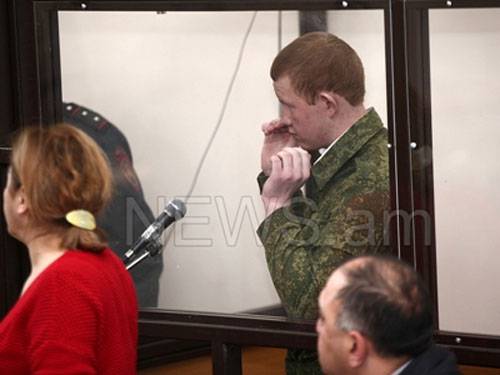 Edward Aghajanyan said that the convicted Permyakov had refused complaints regarding the judicial decision.
Interfax
cites the statement of an Armenian lawyer:
Valery Permyakov's refusal of complaints challenges my authority. The content of the appeal is confidential. I can only say that, for the time being, the accusation against Permyakov on the 1 part of the 34-329 article of illegal border crossing has been appealed against.
Recall that after the murder, Valery Permyakov was going to move from Armenia, where the Russian military base is stationed, to Turkey. According to some reports, he did not have time to do this - he was detained by border guards.
The lawyer of the relatives of the family of Avetisyan Lusine Sahakyan stated that Permyakov behaved during the court session as if he was in no way interested in the process. From the statement of Sahakyan (portal leads
I NEWS.am.
):
During the forensic psychiatric examination during the investigation, he noted that he was aware of what the sentence would be and was ready for it. This behavior is due. This also explains that he has no complaints, he agrees with everything, and does not want to be present at the trial, that is, due to the state of mental health. This is a demonstration of indifference, since regardless of whether the complaint will be considered or not, the sentence will not change in essence.
Lusine Sahakyan stated that Permyakov will serve his sentence in Russia.