The Ministry of Defense intends to connect the Su-35С and Su-27СМ3 fighters to the PostScriptum automated control system (ACS), with which pilots can see the cruise missiles, UAVs and enemy planes at a distance of several hundred kilometers. If necessary, the system will be able to control the aircraft from the ground without the participation of the pilot, according to
News
.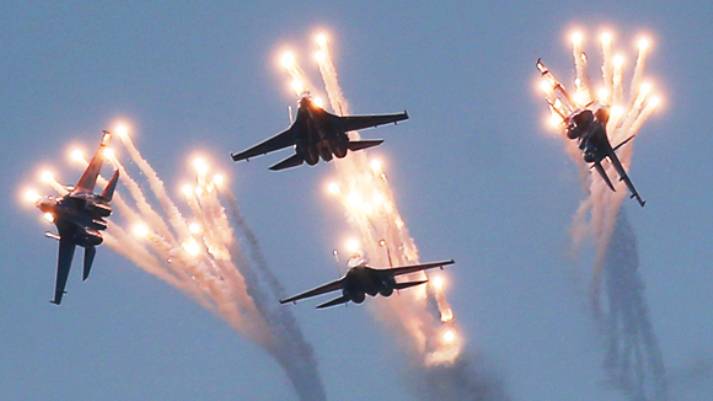 According to the documentation published on the state procurement website, the Ministry of Defense ordered the "revision of the 95K6 system in order to implement interfacing with the products by refining the interface, refining the working algorithms in terms of introducing the characteristics of the tools used, finalizing the database regarding the introduction of the tactical characteristics of these aircraft types".
The works must be completed before the end of 2017 g, their cost is 35 million rubles.
"Postscript" is a unique system that not only transmits to the fighter all the information about the air and ground enemy that is in its combat use area, but also informs in real time the headquarters of where the aircraft is located He is fighting, about the remaining ammunition on board and fuel. In this case, the aircraft receives information not only from long-range radar detection (DRLO) airplanes, but also from ground-based radar stations, as well as from ground forces. Also, with the help of the ACS, the headquarters can transfer its flight route with specific points to the aircraft, and the control system independently, without the participation of the pilot, will lead the vehicle to the target. You can change the route directly in the air in real time. At the same time, it is possible to control fighters with the help of the automated control system not only from the regimental headquarters, but also from the National Defense Command Center ",
- told the newspaper the chief editor of the magazine "Arsenal of the Fatherland" Viktor Murakhovsky.
"It is noteworthy that as products matched with 95K6 in the contract documents are marked" 35C "and" T-10CM3 ". 35С is the code of the newest Su-35 fighter according to the nomenclature of the Air Force of Russia. And the T-10CM3 is the upgraded Su-27CM interceptor, which received the index СМ3. T-10 is a common index for all Su-27 aircraft, "explains the publication.
According to the contract documentation, the military department will conduct joint tests of the "PostScript" and the aforementioned aircraft at the Savasleyka airbase in the Nizhny Novgorod region.