TV channel
ABC News
reports that the day before, in the area of ​​the city of San Diego (California, USA), two F / A-18 Hornet aircraft collided. The incident occurred during a training flight. The material of the channel reported that both pilots ejected. In this case, one landed in the area of ​​the naval base, but the information about the fate of another was not specified at first. Then other information sources began to report that the co-pilot was alive and found the US Marine Corps search and rescue squad.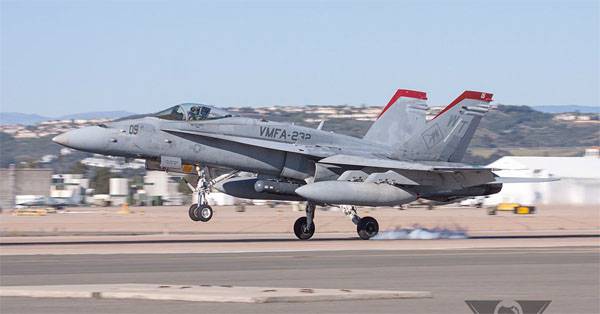 According to
Portal
The clash occurred off the coast of the Pacific. The same source reports that the search for the pilot of one of the planes lasted about half an hour. The potential of the USS Carl Vinson aircraft carrier was used to conduct a search and rescue operation.
This is not the first incident that occurred with the wing of the Marine Corps. American sources remind that in August of this year, F / A-18C Hornet crashed during a training flight approximately 70 km from Carson City. In July, 2016 crashed F / A-18C Hornet in the area of ​​the Twentainine Palms facility.
The cause of the collision of military aircraft in the air is specified. Pentagon specialists are involved in the investigation, as well as employees of special services. There is a seizure of documentation on the preparation of pilots for training flights.