Russian security forces will receive a selective induction metal detector capable of detecting metal and metal-containing objects at depths up to 15 m with an accuracy of 1 cm, according to
News
.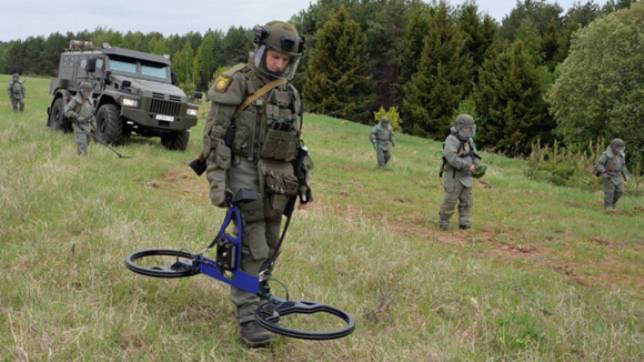 The product is developed by the Siberian Physical-Technical Institute of Tomsk State University (SFTI TSU). It can be used to search for metal-containing objects under the ground, under water, on the human body and in cars.
"The metal detector consists of two parts: a boom familiar to such products with a" receiving-transmitting "sensor and a separate electronic signal processing unit located on the body of the sapper. With the exception of a small number of microcircuits and radio components, all the structural elements are printed on a composite material 3D printer, due to which the weight of the product is only 2 kg. This allows a soldier or a member of the special services to work without special difficulty for 30 – 50 minutes, as usual, but for four to six hours without hand overload. For comparison: one of the most common in the army, the NXXUMK Korshun mine detector weighs 900 kg, of which 13 falls on the "barbell with sensor" ",
- the newspaper explains the head of the department of radiophysics and radio electronics of Tomsk University Vladimir Yakubov.
The product is currently completing field testing, and is scheduled for completion on the 20 on November. After that, the new mine detector will be handed over for testing by sapper and anti-terrorist units of the Ministry of Defense, the Rosguard, and, possibly, the Emergencies Ministry, "he said.
According to Yakubov, "unlike foreign counterparts, which, before starting the search, must be adjusted to a specific material, the SFTI TSU product searches for an arbitrary object."
The professor noted that "the accuracy (sensitivity) with which the metal detector detects and identifies objects is explained by the physical and mathematical technology of signal processing: during operation, the product repeatedly irradiates the surface, accumulating the received" responses "and comparing the data of what was found underground, with the situation when there is nothing there. " As a result of the calculation of a complex differential algorithm, it turns out not only to distinguish very weak metal inclusions from the general background, but also to differentiate them according to their physical properties.
"Metals are divided into ferromagnets and paramagnetics. Some create a magnetic field, others create an electric field. Thus, we not only identify objects that contain metal, but we can understand whether they are colored or black, "he added.
Military expert Alexey Khlopotov: "
The technology of Tomsk scientists has a great prospect, since the determination of the amount and type of metal is carried out according to the physical principles of the material, and not by conduction and magnetic field, and this gives a higher accuracy and detection range. It is also very important that the product is ergonomic and lightweight. Heavy devices in special military equipment during the survey area will not work for a long time. "