During his visit to Slovenia, President of Ukraine Petro Poroshenko reflexed about the installation of a monument to Prince Vladimir in the center of Moscow. He called the prince "our (ours), Ukrainian" and brought accusations against Moscow.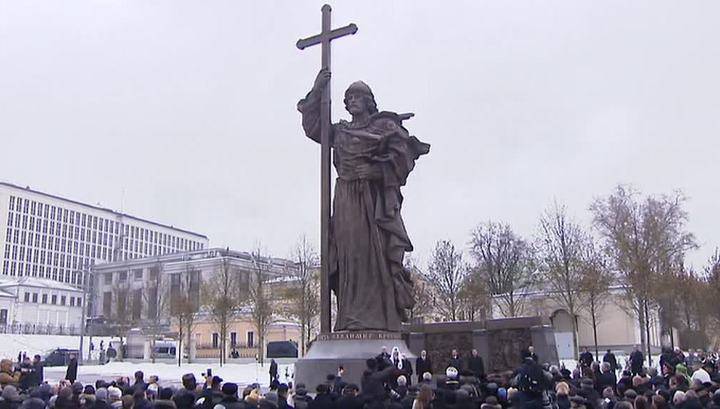 According to Poroshenko, Russia "is attempting a hybrid assignment
stories
". "Hybrid warfare" from Poroshenko was often heard, "hybrid appropriation" - for the first time. What else of the "hybrid" will be composed by the Maidan owner of hundreds of companies, including such a "hybrid" "Roshen", that it can work profitably even on the territory of the "aggressor" ...
Poroshenko decided to respond to the tirade by the official representative of the Russian Foreign Ministry Maria Zakharova. She commented on the words of the Ukrainian president on her page in
Facebook
. Here is a comment by Maria Zakharova:
Poroshenko: "These days, another monument is opened: in the Kremlin, near the unburied Vladimir Lenin, they opened a monument to our First Apostolic Prince Vladimir of Kiev. This is another attempt at a hybrid appropriation of history."

The hybrid appropriation of history is at every corner for the last two years shouting that Ukraine is at the forefront of the creation of the UN and from the first day of its work in 1945, while still in the USSR, the Ukrainian delegation took an active part in shaping the Organization, and in parallel with this in 2014, in Kiev demolished a monument to Dmitry Manuilsky - the first representative of Ukraine to the UN. And this is only one of thousands of examples of "hybrid consciousness".
And this is Maria Zakharova who did not remind Poroshenko of other facts of "historical hybridization" in Ukraine — Poroshenko's bows to the victims of the Volyn massacre and the signing of a decree on renaming prospectuses, streets and squares in honor of the thugs from the OUN-UPA (banned in the Russian Federation).