China can not develop weapons without Russian technology
After 10 years after Moscow decided to put an end to copying technology, it returns to deals on military aircraft and missiles.
Moscow has quietly resumed selling advanced military technologies to Beijing, a move that suggests that Russia puts geopolitical and economic problems above its own concerns with Chinese attempts to clone Russia's
weapon
.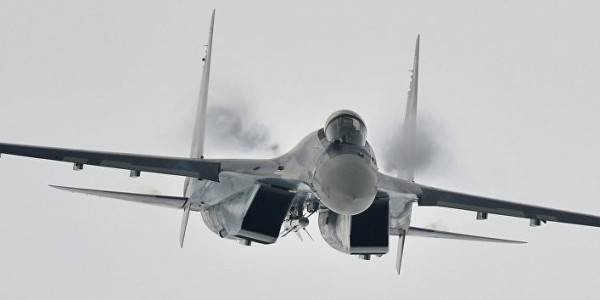 The Chinese and Russian officials who attended this week's air show in Zhuhai City jointly announced that Russia this year will deliver the first batch of four modern Su-35 fighters to Beijing.
"We are currently fulfilling the terms of the contract," signed last November, said Vladimir Drozhzhov, deputy director of the Federal Service for Military-Technical Cooperation, noting that China had signed an agreement to protect Russian intellectual property.
According to the Russian media, Chinese pilots are studying in Russia, and then after some time will return by plane to China. The two-billion-dollar 24 aircraft deal is expected to be completed within three years. As China introduced its own newest stealth fighter this week, large-scale deployments of these aircraft are not expected over the next few years.
According to the International Institute for the Study of Peace in Stockholm, China ranks second in the world in defense expenditures, its military budget last year was 215 billions of dollars. Between 2011 and 2015, the country was the third largest importer of arms, while Russia was the second largest exporter.
The Su-35 deal, along with the X-NUMX agreement on the sale of C-2014 Russian ground-to-air missiles that could arrive in China by 400, indicates the cancellation of the informal ban on selling advanced systems to China from about 2018.
In general, according to Drozhzhova, countries bind contracts totaling eight billion dollars.
Vasily Kashin, an expert on the Chinese military industry at the Higher School of Economics (Moscow), believes that these deals are "a clear sign that China is once again becoming one of the leading importers of Russian weapons."
According to experts, Russian technologies will significantly increase the potential of Chinese air defense systems against the backdrop of Beijing's deteriorated relations with the United States because of maritime disputes in the western Pacific.
"Considering Russia's current practice of doing everything possible to make strategic planning for the United States and its allies more difficult, it's not surprising that Russia is ready to provide a number of its latest weapons developments to China," said Allan Behm, a security analyst at Canberra. , previously in charge of strategic planning in the Australian Department of Defense.
The period of Beijing's highest dependence on Moscow's technologies was the 1990s, when China modernized its armed forces, and the internal military budget of Russia was exhausted.
"In 1990, the Russian defense industry survived thanks to two scuba diving: China and India," explains Ruslan Pukhov, director of the Moscow Center for the Analysis of Strategies and Technologies and editor of Shooting Star, a book devoted to the Chinese defense industry.
However, the relationship between Moscow and Beijing deteriorated after the latter copied several Russian armament complexes - the case of the Su-27 / 30 fighter, which turned into J11, is best known. Initially, the aircraft were made in accordance with the license agreement, in violation of which Russia accused China when it released its own version of the aircraft.
"This is what the Chinese do all the time and in any sector of the economy," says Kashin. - Just need to calculate the risks.
After that, starting with 2004, "there was a pause," says Ruslan Pukhov. "We were fed up with their reverse engineering, and local developers were also able to convince the political leadership that they did all this themselves."
However, the prevailing situation for 2014 year brought the two countries together again.
China concluded that it still needs Russian technology. According to Song Zhongping, a Chinese military expert in Beijing, although Russian assistance to China in the field of defense is not comparable to the "powerful impulse" of 1980's and 1990's, "Russian weapons significantly improve the combat capabilities of the PLAH."
In addition, after Russia's annexation of the Crimea in 2014, economic sanctions and low oil prices forced Moscow to feel an acute shortage of foreign currency. "Suddenly [Russia] finds itself in a de facto situation of the Cold War with the West, and we needed China's political support," says Ruslan Pukhov.
Although negotiations on C-400, the most advanced Russian air defense system, and Su-35 began even before the events in Ukraine, final agreements were reached after. According to Kashin, the risk of cloning the Su-35 or C-400 is small, since the agreement does not authorize the transfer of technology.
"People tend to exaggerate," he says. - It is impossible to copy the aircraft engine, and even copying electronics takes so much time that the other side ,. as a rule, manages to develop a new system. "
In the near future, Russia plans to launch a new, improved 2-500 ground-to-air missile and the T-50 fighter.
True, Russia does not intend to sell some things to China: for example, the technology that allows Iskander cruise missiles to maneuver at extremely high speeds and thus makes it difficult to intercept them. Moscow will also not supply Beijing with satellite systems to track ballistic missile launches.