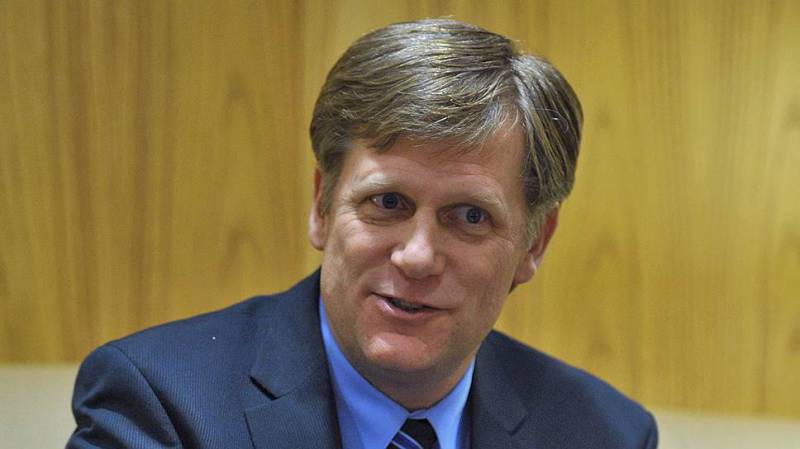 Relations with Russia have become one of the key themes of the US presidential election campaign that has come to an end. If the Democratic Party candidate Hillary Clinton's victory is possible and whether it is worth Moscow to prepare for the introduction of new sanctions against her, former US Ambassador to the Russian Federation MICHAEL MACFOL, who is considered a close ally of Mrs. Clinton, told the InterFax correspondent XENIA BAYGAROVA, specially for "".
- The election campaign was distinguished by unprecedented rhetoric against Russia, accusations of hacker attacks. The other day, NBC television reported that the US military hackers had infiltrated the Kremlin's telecommunications networks and command systems, making them vulnerable to a cyber attack, which would take place if Russian hackers tried to interfere with US elections. Are our countries in a cyber war state?
- All countries that have technologies with which to obtain information and conduct exploration are engaged in this. The US is doing this (and, perhaps, they are the first in the world); Russia is no exception - I assume that it is in second place; China is probably the third. This is a daily routine. When I worked in the government, I saw how this happens and used the information obtained in my work. Everybody in the world is doing this. There is no
news
. The news is that the data were used to influence US domestic policy. And this did not happen before.
Everyone in the United States — and I spoke with many high-ranking officials — is convinced that it was Russian structures that stole data from the National Committee of the Democratic Party. Subsequently, this data was made public by WikiLeaks in order to harm the presidential candidate Hillary Clinton. Only one thing is not clear to us, and I think that we should focus on this: did the Russian side send the data to WikiLeaks? Although this fact is not available to the general public and is unlikely to ever become, I guess that American intelligence knows about it. So we are dealing with a new phenomenon that worries the United States. That is why there were all these tough statements, including the statement of Vice President Joe Biden.
I think we are at the initial stage when it is necessary to determine exactly how to manage new technologies in order to prevent escalation and damage to our countries. All this reminds me of a nuclear situation.
weapons
at the beginning of 1950, when we had new technologies, but we didn't really know how to manage them in such a way as to stay safe. In my estimation, the United States has serious resources for carrying out cyber attacks against Russia, and no one should underestimate these opportunities. But I do not think that it is in the interests of the United States to do this, since Russia also has enormous opportunities in this area. And we do not want any escalation that would lead to a confrontation between our countries.
- In other words, we still have a cold cyberwar, not hot?
"During the Cold War, we had nuclear weapons, and everyone knew that we had the opportunity to destroy the whole world." A couple of times, especially during the Cuban crisis, we came very close to this. And then we came to understand how dangerous this situation is. Today, not everyone understands what opportunities America has. What happens if we, for example, begin to "merge" data on Russian officials? This will cause great damage to our relationship. I hope this stage will not reach.
- Hillary Clinton sharply criticizes Russia. Does this mean that if she is elected, relations between Moscow and Washington will become even worse than today?
- I do not think that Hillary Clinton is committed to a hard line against Russia. I would say differently: it is very pragmatic in defending the national interests of the United States, as well as the interests of our allies in the field of security and the economy. She is well-informed about international politics, is certainly well acquainted with (President of the Russian Federation— "Kommersant") Vladimir Putin and (Russian Foreign Minister. —B "Kommersant") Sergey Lavrov, has experience of interaction with them. And if she becomes president, she can interact with any leaders in order to advance American interests.
Of course, Clinton supported the US response to the annexation of the Crimea — only the most naive person would have thought that such actions would not have to be answered. However, when I worked under her leadership, I saw that she was able to freely communicate with world leaders, including Russian, in terms of protecting American interests.
A very important point about how she looks at bilateral relations. She never sought to improve relations with any country. That is, she will not be a president who will say: "My goal is to improve relations with Russia." Instead, she will say: "In relations with Russia, I want to achieve goal A, goal B, and goal C." And then she will think with what strategy and tools to achieve this goal. That is, it can sometimes be an interaction, sometimes an opposition. But no one chooses a strategy first. First, choose a goal and only then a strategy to achieve it. I am sure that this will be the approach to foreign policy as a whole - not only to Russia, but also to other countries.
- What would you say to supporters of Donald Trump, who fear a serious deterioration in relations between Russia and the United States, up to and including direct military confrontation and global conflict if Clinton is elected?
"I am no longer a diplomat, so I can speak straight." I think that this statement by Trump and his followers is intended to scare voters by saying that Hillary Clinton would start a war with Russia. This is absurd and has nothing to do with reality. Only a madman would start a war with Russia. It doesn't even matter whether Putin is good or not, Russia is doing poorly in the Crimea and in Syria, or good. The main thing is that Russia has the largest arsenal of nuclear weapons in the world (after, possibly, the USA) and there is still the possibility of mutual nuclear annihilation. This reality has existed for decades, and this ensured that there will never be a direct military conflict between Washington and Moscow. And Hillary Clinton understands that there can be no war between Russia and the States. She is not crazy.
- There is no need to talk about a new reset in bilateral relations today. But is there any chance that the course towards closing contacts with Russia will be revised? In general, will the new administration be ready if Clinton wins to interact with Russia in areas where there is mutual interest?
- First of all, I believe that a reboot is possible. But only if Vladimir Putin changes his policy. Every time both Americans and Russians ask me, and what will Clinton do to give a signal that she is ready to cooperate and improve relations with Russia? I would put the question differently: what will President Putin do to indicate his desire to improve relations? Why should the initiative necessarily come from Washington? And if Putin wants a better relationship with the United States, then he himself could have created a more friendly background and an atmosphere of cooperation. Why should Americans always change their policies? Why Moscow does not change something?
- What kind of policy change are you talking about?
- For example, to come to television and declare: we are withdrawing the separatists from the east of Ukraine and restoring its borders. This would have an incredibly positive impact on Russian-American relations. I certainly don't assume it will be done. But still, when we started the reset policy, we emphasized that we want to improve relations on a reciprocal basis. Moscow is the active side of this relationship, and not some kind of passive person.
- Can, if Hillary Clinton is elected, new sanctions may follow against Russia - for example, because of its actions in Syria or because of hacker attacks? And can the sanctions imposed for Ukraine be expanded?
- To be honest, I do not know. I know for sure that if Clinton wins the election, then on Wednesday a serious analysis of the policy towards Russia will begin. That's how it all happened in 2008, when I was in charge of Russian politics. According to my predictions, after 21 on January 2017, the new administration officially takes over, the White House and the National Security Council will be among the first to consider the policy towards Russia. Only after that a decision will be made on these complex issues that you ask me. All possible options will be considered: whether we loosen sanctions, maintain or increase. Of course, I am simplifying a little now, but it looks like this.
In the same way, the policy on Syria will be considered, especially the issue of the introduction of no-fly zones. Today, President Obama is focused on the destruction of the "Islamic State", and, according to some of my friends in the White House, it is likely that by January 21 we will be able to defeat the IG. Offensive operations are now under way in Iraq's Mosul and the Syrian Raqqah. Clinton may continue this policy, and may consider other options, including support for the opposition. Today it is difficult to make assumptions for two reasons. First, you need to let people focus on their tasks. Secondly, we do not yet know what kind of team Clinton will have. If you asked me in 2008, who would be the Secretary of State in Obama's team, who would be the Minister of Defense and who would be the national security adviser, I would have three fingers in the sky. You can, of course, guess who will get what kind of work, but there are always surprises.
- Do you have any concerns that disagreements and the lack of cooperation between Russia and the United States over Syria could lead to a direct military clash between the Russian and American armed forces? Is the scenario real that the United States after the election of Hillary Clinton will decide to strike at the positions of the Syrian army? Or will the emphasis be on diplomatic efforts?
"I don't think anyone can answer this question now." As I said, our policy review will take place in 2017. Today, Trump criticizes Clinton for his intention to establish no-fly zones, saying that this will lead to a conflict between the US and Russia. I want to emphasize that, of course, no one is immune from accidents, but the US is not interested in a military conflict with Russia in Syria. Neither President Obama nor Hillary Clinton.
In fact, no-fly zones already exist in Syria — where we are fighting as part of Operation Unshakable Resolve, such a zone has actually been introduced for Syrian and Russian aircraft. As I know, 13 has already been carried out with thousands of sorties, billions of dollars have been spent. We do not want any conflicts, so coordination to prevent incidents in the airspace is quite active. If Hillary Clinton wanted to expand the no-fly zone, then I think she would have done so in order to avoid a conflict with Russia. This can be done by diplomatic means.
- But still, imagine the situation: Russia and the United States do not agree on Syria, the terrorists are not separated from the moderate opposition, the United States begins to bomb the positions of troops of President Bashar Assad, and Russia - those whom the United States considers moderate opposition. So after all big wars begin ...
- Yes, it is a legitimate concern. I want to say two things. First, it is a great exaggeration to believe that the Syrian rebels are listening attentively to what the United States is saying. We do not control these militias to the extent that many think. This is because we do not give them the help they want. The free Syrian army and other groups do not listen to the Americans, as they are simply disappointed. And by the way, the same thing I would say about Assad and Russia. It seems to me that in the West they are often mistaken, thinking that Putin can simply call Assad and tell him what to do.
Secondly, the problem of separating terrorists from other fighters. We read on the Internet that "Dzhebhat-en-Nusra" is there and that it is a terrorist organization. But in reality, everything is mixed in the conflict zone, and ideological preferences are very fluid. They are all against Assad and take money from those who give them. One family member may be someone we consider a terrorist, and the other a representative of a group that we consider moderate opposition. In reality, they live together, fight together and have common goals.
I am not an expert on Syria and I can not judge the specific groupings, but this whole situation reminds me of South Africa in the 1980s. Back then, many conservatives in my country believed that an organization called the African National Congress was essentially communist, and therefore refused to cooperate with it. During the transition period, many ANC leaders were members of the Communist Party, but this did not mean that they wanted to make a communist revolution.
As for the difficult question of whether the United States will take action against Assad, again I do not want to predict what the new administration will do. But, according to my feelings, there is no strong desire to attack Assad. It seems too hard and daunting. When there are discussions on this topic, one of the arguments is Russia's position. And no one wants a conflict with Moscow. Even in the 2013 year, before Russia entered Syria, President Obama decided not to. Now the rates have increased, so I think this is an unlikely scenario.
- US President Barack Obama did not begin to supply arms to Ukraine. Is there any chance that the administration of hillary clinton
will reconsider this decision?
- As you know, this was a topic of serious debate in the Obama administration. As a result, the president himself decided that this step would be too provocative. In my opinion, a serious debate about whether or not to deliver lethal weapons will continue in the Clinton administration. And I think that there are strong sides to different arguments, so it's rather difficult to guess what the solution will be.
Avoiding this depends on whether any unilateral steps by President Putin follow in de-escalation (the situation in the Donbas. - "Kommersant"). At the earliest stages, the new administration will carefully study what the Russian leadership is saying and what it is doing. I remember that in 2008, Russian President Dmitry Medvedev phoned our president even before he took office, and congratulated him on his victory. This first call was a signal from President Medvedev about the desire to cooperate with Obama. And remember, it was only a few months after the war in Georgia. So, waiting for signals is one strategy, but if you want to take an active position, you have to act yourself.
- Hillary Clinton and Donald Trump have cardinal differences on the issue of NATO. Will the new administration, in case the Democrats win, take steps to strengthen the alliance, or maybe advocate for its further expansion, for example, at the expense of Ukraine and Georgia?
- Now the discussions are focused on strengthening the defense capability of NATO. This is the goal. NATO expansion at the expense of the countries you listed is unlikely, since many members of the alliance will not support this idea. This is not the primary question. Now for NATO the most important thing is to make sure that Estonia, Lithuania and Latvia feel safe. This is what the alliance focuses on and what I believe will be the focus of the Clinton administration.