On the eve of the Ministry of Agriculture of Russia summed up the interim harvest of grain during the harvest campaign 2016 of the year. A small, if I may say so, report on the rates and volumes of harvesting by Russian farmers, peasant farms and large agricultural holdings was presented by the head of the Ministry of Agriculture, Alexander Tkachev. Tkachev spoke about the harvesting data during the round table "Russia on the World Grain Market: Strengthening the Leading Position" to the Russia Today news agency. In turn, this round table was a kind of preparation for the II World Grain Forum, which will be held in Sochi on November 18-19.
According to the Minister of Agriculture, Russia is preparing to report on a record harvest this year. Tkachev says that our country has not collected 38 years of such volumes of grain!
Head
Ministry of Agriculture:
In 2016, more than 117 million tons of grain will be harvested in Russia, export of grain crops, according to our forecasts, will reach 35 million tons, while Russia will retain leadership in the supply of wheat, surpassing such major suppliers as the EU and the USA.
Alexander Tkachev:
More in our country were harvested in 1978 year - 127 million tons of grain crops.
The main factors for increasing the volume of harvested grain, according to the head of the department, were factors associated with increased yields. If even 10-15 years ago, with significant acreage, the average yield in the country did not exceed 17 c per hectare, but today it has exceeded 27 c / ha. In global terms, this is a relatively average result. However, there is also a major growth factor in the percentage of acreage in the Russian Federation. In other words, where a few years ago there were "dead" lands (overgrown with weeds), today there is wheat, rye, barley, and other grains. Vacant farmland is really less. And this is an indisputable fact.
The Minister of Agriculture has determined the development priorities of the industry. According to him, in order to increase the Russian share in the world market of grain and other crops, Russia needs to actively increase the production and use of fertilizers. Tkachev noted that today, producing about 20 million tons of fertilizers, only 2,6 million tons are used domestically. This is about 33 kg on 1 hectares of arable land. According to Tkachev, in the conditions of global competition, this is clearly not enough. Figures for the use of fertilizers by other countries producing agricultural products are given. So, China and Vietnam are among the leaders in fertilizer application - as many as 360 kg per 1 ha of arable land. This is followed by Poland and Germany - almost 200 kg / ha. In India and Brazil, figures are about 170 kg / ha, and in the US and Canada, 130 and 88 kg / ha, respectively.
At the same time, it is undesirable to "overdo it" with fertilizers. After all, Russian products are distinguished by their high environmental friendliness, in contrast to, for example, that they are produced in certain regions of China, where they manage to grow crops without using natural soils, replacing them with "chemistries" produced in industrial conditions. That is, we need to find a balance between the use of fertilizers, their types, crop yields and the environmental acceptability of grown grain for human consumption without threats to human health. But then the situation can be reduced to an absurdity, when instead of cereals on a huge scale, such zombie plants will be grown, really "not knowing" the natural soil. Thank God, in Russia so far far away. But we are talking about competition in the global market. And there everything is possible ... Including Chinese know-how to create artificial chicken eggs ...
During the round table, the long-term development strategy of the grain complex of the Russian Federation was discussed. We are talking about a strategy up to 2030 of the year, providing for a steady increase in the volume of grain harvest to 130-150 million tons.
Alexander Tkachev:
We can collect even more and set ourselves such a goal. By 2030, the gross grain harvest can be increased to 150 million tons by increasing yields to 30 centners per hectare and increasing the acreage by 10 million hectares. This will provide an opportunity to cover the growing needs of livestock, which is growing steadily by 5% per year, and to double export.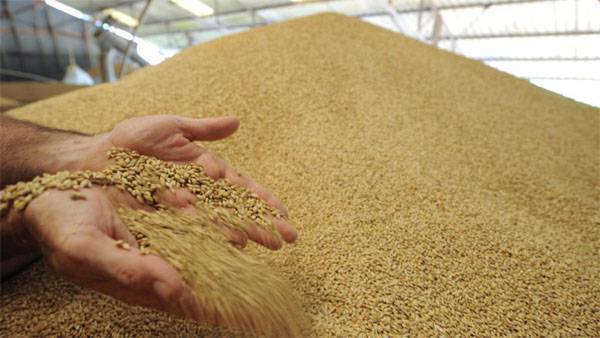 Against this background, in the publication "Gazeta.ru," a material came out, which declares that it is not worth rejoicing over the record grain harvest in Russia. The article, written by Elena Platonova, states that the 2016 year becomes the year when the volumes of grain grown do not correspond to the possibilities for its preservation. The author of the material claims that the "capacity" for storing grain amounts to about 115 million tons, and the crop, let me remind you, is more than 118 million tons. This leads to higher prices. Logic in
Gazeta.ru
this is presented: less storage - higher prices for grain storage services - higher prices for final products (for example, for bread). The data of analysts from ProZerno are cited: with the price of wheat 8-10 thousand rubles. per ton, the elevator services for receiving, storing and dispensing cereals make up about 10% of this amount (about 1 thousand rubles).
President of the Russian Grain Union Arkady Zlochevsky:
The size of the deficit is huge. This year, it is expected that up to 118 million tons of grain harvest, add to this another 16 million tons of carryover stocks. At the same time, the storage capacity is not more than 120 million tons, moreover, they are not distributed in accordance with the production base. We need to develop a warehouse base for grain producers. But farmers on the construction of elevators are not solved. It is expensive to build an elevator, it will pay off in 15 – 20 years.

In general, the situation for our country over the past few years is approximately as follows:
a bad harvest is bad, because there may not be enough bread for everyone, you have to buy grain abroad, which means that bread will rise in price;
a great harvest is also bad, since grain is "no place to store", and therefore bread will also go up in price ...
It seems that in the same Russian Grain Union they do not adhere to any strategy and only quietly expect average values ​​for the collection, so as not to buy grain - once, and it was, where to store - two. In fact, it is strange ... After all, if there are really not enough storages, then it turns out that none of the responsible persons took any measures at all to ensure that they were enough. Have you waited? .. So, is it? .. Or is it the purpose of these most responsible persons to increase the price of grain for domestic consumption, regardless of crops and storage volumes? If yes, then is it time to make certain "organizational conclusions" ...