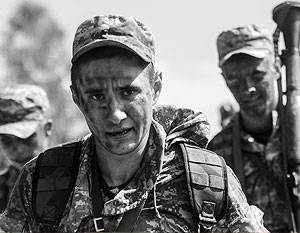 A law will soon appear in Russia giving the right to conclude short-term contracts with the Ministry of Defense for up to a year. The State Duma Committee on Defense has already recommended it for adoption. The grounds are obvious - from Syria to the Donbas. But why did the government come to the question not with the law of PMCs, in whose favor says a lot, but in such an unusual way?
In the government's accompanying note, the main purpose of the draft law is to "maintain the required level of staffing by military servicemen under military service under the contract, military units and subunits". It also says that "changing the military-political situation", activating the activities of terrorists and extremists influenced the requirements for troop mobility to "promptly solve short-term but important tasks related to their participation in peacekeeping operations", primarily country. Now, citizens who have expressed a desire to enter military service under the contract will be able to take part "in solving problems in times of emergency or in activities to maintain or restore peace and security or to suppress international terrorist activities outside Russia, as well as in ship cruises" .
Previously, the system was different. The first contract for military service for a soldier, sailor, sergeant, foreman (midshipman) is for a period of two or three years at the choice of a citizen. With a conscript (but no earlier than two months before the end of the term of service) or another citizen who enters the service where the state provides for the rank of ensign, midshipman or officer, the first contract is for five years. Conclusion of the first contracts with these categories of citizens for a shorter period (from six months to one year) is provided only during a time of emergency (liquidation of the consequences of natural disasters, restoration of constitutional order, other emergencies) or to participate in all the same activities "to maintain or restoring peace and security. "
Now contract servicemen in the Russian army are about 400 thousand, and the structure of this contingent is very heterogeneous. For example, a lieutenant wife working in the garrison library and waiting for the lieutenant to become a general is also a contract soldier. Attempts to somehow reform or restart the initially attractive draft of the contract army have already been made several times. But under Russian conditions, a complete transition of the army to a contractual basis turned out to be physically impossible, and it is not necessary for a host of reasons - from economic and geographical to ideological. Yes, in the 90s, when service evasion was a massive and even socially approved phenomenon, the contract army seemed almost the main achievement of Western democracy. Now the situation is reversed: in the spring of this year 155 was called for thousands of people, which exceeded the request of the Ministry of Defense, while for the whole country there were only 3,2 thousands of draft dodgers. But the current bill is not designed for the mass of "infantry" contract soldiers, but for "piece goods".
Both in the Ministry of Defense and in the State Duma, its essence is explained not so much by the need to streamline and facilitate contract service, but rather by the need to respond as quickly and adequately as possible to crises and threats. "Now it's just impossible to predict something for two or three years. As events in Syria have shown, everything can change literally every day. In addition, no one knows where the need for counter-terrorism operations still arises and how long they will last, "said, for example, Franz Klintsevich, deputy head of the defense committee of the Federation Council.
That is, according to this logic, the Ministry of Defense will have the opportunity for some specific task to recruit the strictly necessary number of military personnel of certain military specialties for a limited time - not a single person, not a single extra minute. And not a single extra penny, since the new units will be formed according to the existing staffing table, in which salaries and allowances are recorded, that is, there is also budget savings. We need, for example, a battalion with experience in conducting combat operations in the mountains (desert, taiga, on the moon) - there will be a battalion, and not everyone who, at that moment, has crowded into the building of the military registration and enlistment office on a first-come, first-served basis. As already mentioned, the lack of willing to serve under the contract in the last ten years is not observed. At the same time, military registration and enlistment offices mainly recruited contract soldiers of "basic" military specialties and in "difficult" places, for example, to the Russian base in Tajikistan or in Transdniestria. There was no endgame from those who wanted, despite the fact that the requirements are very tough.
The bill specifically spells out the possibility and even desirability of concluding such blitz contracts for serving outside of Russia or at
navy
when making long trips. The main "escort" and commentator of the bill, the first deputy chairman of the State Duma's Defense Committee, Alexander Sherin (LDPR), claims that "there are situations when conscripts want to sign a contract to serve in the places where they are sent." According to him, we are talking about "overseas business trips", including "to disputed territories": "This will allow contractors to go to the service of their own free will and, unlike those who go there as a volunteer, get social benefits of the military."
Let us leave to the deputy from the LDPR a patent for the invention of the term "disputed territories", he can. But his last phrase as an explanation sounds extremely ambiguous. Recently, volunteers have traveled mainly to the Donbass, and a contract soldier on the staff of the MoD unit cannot be there by definition - no matter for how long his contract is for. As for the fleet, Sherin put it more clearly. A contract, for example, a midshipman may end at the time he "went to sea", and in order not to interrupt the service, it would be convenient for seafarers to renegotiate the contract until the end of the voyage. The second, more common, case concerns military specialists who do not want to associate life with the army, but are ready to "take part in a specific mission." In the end, reducing the minimum terms of the contract and a wider choice of its conditions will make life easier for potential contractors.
Another thing is that, if we look more broadly, in the new bill several heterogeneous circumstances are intertwined. In fact, he expands the status of a soldier. With its adoption, this status can be obtained, for example, by persons participating in the fight against international terrorism outside the Russian Federation. Here, apparently, the wording that will be entered in the military ID will be important. That is, it is no longer "a participant in hostilities", but something completely new, and this will require changes in several federal laws and jurisdictional acts to provide benefits and preferences. Experience suggests that this
story
can drag on for years and acquire a mass of bureaucratic complications. The great and terrible Department of Personnel of the Ministry of Defense will not give up so easily when it comes to status and benefits.
So far, all the talk that in the foreseeable future the Ministry of Defense will need to form such specialized units according to the system of blitz contracts lies in the field of theorizing. Adopting a similar bill now requires not a theory, but an already established practice. Syria has simultaneously revealed both a shortage of experienced specialists in a number of military specialties and their legal "suspension". And we are talking about experienced people, as a rule, age-related people, and not about boys who go "on a contract" for benefits when entering universities and "shoot cleanly". Retirees (reserve officers or active reserve officers) are not profitable to conclude a contract for two to three years. They have an established civic life, family, mortgage, garden. But the implementation of a one-time task for good money and their status will be quite satisfied. If you have enough training with a non-malicious Russian word and a good example for six months, you can teach any set of Arabs to manage
a tank
. But at the same time, it is important that the person doesn't wrap himself around the thresholds, proving that he was in the conflict zone. Now I worked out the contract - and that's it. Legal relations.
It is worth noting that this form of blitz contracts "takes away the bread" from private military companies (PMCs), to which there has recently been a lot of undue attention, and not only in connection with Syria. In the United States, in which the army "ended" long ago (it ceased to be enough for all conflicts in which the country was embroiled), the use of various PMCs became common practice. But in the US, the Department of Defense enters into a contract directly with PMCs, and not with an individual specialist. And it is the PMC that provides the state with its resources (primarily human) for performing a specific task for a certain period of time. These tasks are usually painted in detail. If PMCs "subscribe" only to accompany cargoes and columns, then these people will not storm Mosul. They generally do not carry out orders of the "regular" military command. They are in fact "civilian" hired to work as their employer - PMCs, and not Uncle Sam.
The Russian bill is a fundamentally different approach to the issue. The Ministry of Defense simply forms new staff units on a contract basis, which will obey all the charters and rules, and their "workers" will receive the status of a military man. No amateur activities are required of them, and they will not receive a special position when serving - PMCs as a legal entity are removed from the system. There are, of course, several positions where this is impossible just because of the provisions of international law. For example, armed escort and protection of civilian courts (primarily "merchants" in high-piracy zones) is impossible by the forces of the army and navy. WITH
weapons
on board a private "merchant" under international maritime law can only be civilians, so here PMCs are absolute monopolists in the market. The same story with the protection of industrial facilities abroad, especially private ones. Someone must protect, for example, the oil enterprises of Russian companies in Nigeria, where people are abducted on a daily basis. But the regular army has no right to carry security there, Nigerians do not welcome this. And then there are Gazprom and Rosatom, which are constantly building something somewhere. Their security services are in fact the same PMCs, side view.
The system proposed in the State Duma does not even look like the French Foreign Legion. In France, this is simply a trained, multi-disciplined, elite light infantry brigade, which caves international holes such as Mali and Chad, which are in Paris's "historical responsibility" and serve for a variety of preferences, from obtaining citizenship to granting immunity from criminal prosecution. At the same time, the initial professional experience in entering the legion is not obligatory, although it is desirable. We are talking about the existence of rich life experience for those who want to serve under the blitz contracts. And if the desired is translated into reality, these are the military registration and enlistment offices and other specialized bodies who will choose whom to take on such a contract, and who will not, instead of forming divisions according to the previously common principle of "he came."
In principle, PMCs as a private initiative, as an opportunity to earn for those who have tied their lives to military specialties and are not inclined to retrain themselves after retirement or transfer to the reserve (as in Soviet times), without abolishing it. But in the Russian legislation, this type of activity is not clearly stated. The new bill does not destroy PMCs as a phenomenon, but creates competition for them in the market of a kind of labor from the state. And it is quite possible that a significant part of experienced specialists may prefer military service under blitz contracts to contracts with PMCs, for example, by virtue of their social security or ideological component. Labor is a commodity too.
It is possible that wages are higher in PMCs, but technical specialists, for example, are less in demand there. In addition, in the same Syria, PMC activities are not regulated by contracts with the government, and payment is most likely made through private individuals, which does not exclude arbitrariness and overlays. If you look at all this with the eyes of a potential blitz contractor - a man of about 35 – 45 years who has something to lose, the choice in favor of a government contract is preferable. This does not mean that PMCs will immediately disappear or radically change. But for the state in the present conditions, not only from the practical, but also from the ideological side, it is more profitable to occupy this market. This is not to mention the fact that in Russian reality it is quite difficult to imagine a certain military unit (well, not a battalion, but just a group of specialists), which in the middle of the field suddenly refuses to execute the order, because it is not registered in a multi-page contract and not certified by lawyers and insurance agents. This is somehow "not our way."