"Frankly provocative and hooligan" action in London
The Russian embassy sent a note to the British Foreign Ministry, in which it expressed concern about the unwillingness of the country's authorities to ensure uninterrupted operation and safety of the diplomatic mission, reports
RIA News
.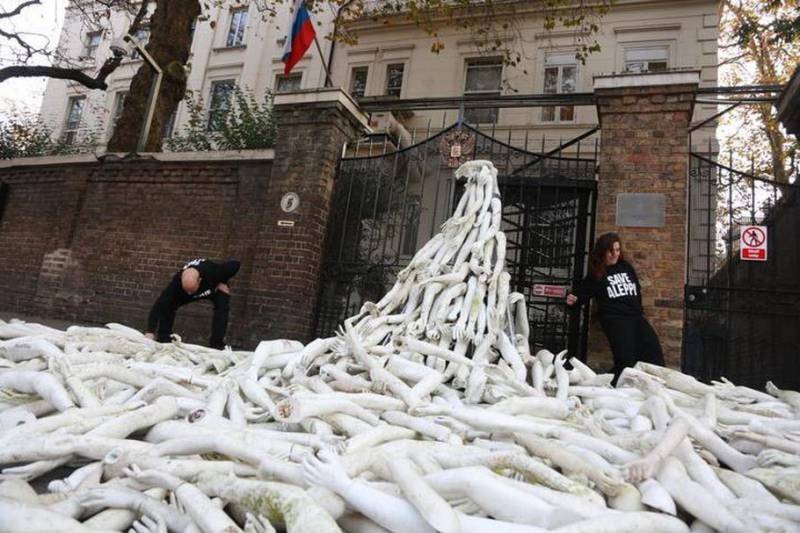 "Today, on November 3, a group of demonstrators within the protest action blocked the work of the embassy: the entrance to the consular section was overwhelmed with parts from dummies, and the" protesters "chained themselves to the entrance to the diplomatic establishment," the diplomats said in a statement.
The event was held under the slogan "Save Aleppo from the Russian army."
It is noted that during the rally "visitors and embassy staff could not get into the building, and the security of the diplomatic mission was subjected to a real threat."
"For the frankly provocative and hooligan actions of the" demonstrators "the police watched idly," the document says.
In addition, the diplomatic mission was attacked by a flurry of "empty" calls that led to the blocking of telephone communications.
One gets the impression that this action "was carefully planned, which is not surprising in the context of the recent official appeal in the parliament of British Foreign Secretary Boris Johnson to hold protests at the walls of the Russian embassy in London."
The diplomats stressed that the event at the walls of the diplomatic institution was held against the backdrop of a "frantic Russophobic campaign in the British media, inspired by repeated anti-Russian statements by British officials".
RIA "
News
»Notes that the British Foreign Ministry does not yet have a comment.
http://ibigdan.livejournal.com, http://www.novini.london