ZVO engineers have received new kite mine detectors
New seekers of non-contact explosive devices (INVU) "Kite" entered the engineering and sapper divisions of the 20-th combined-arms army ZVO, stationed in the Voronezh region, reports
RIA News
a message from the representative of the District Igor Muginov.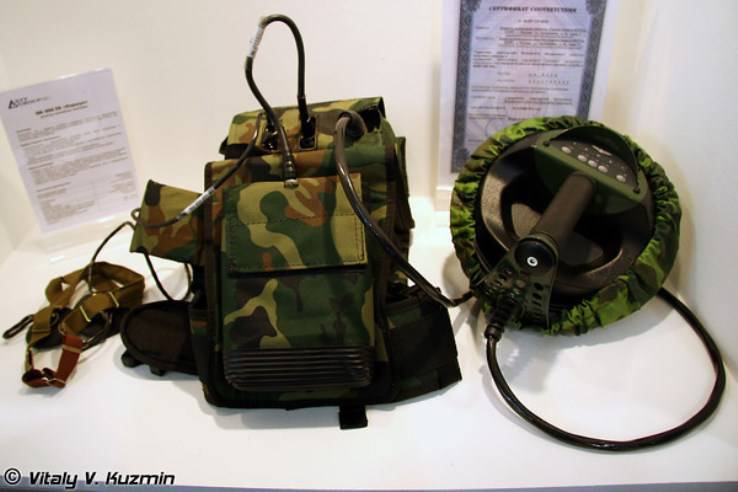 Detector nonlinear transitions NR-900 EK Kite for the detection of mines and VU, equipped with electronic fuses
According to the colonel, "Korshun" INVU allows detecting explosive devices at a distance of up to 30 meters - in soil and snow, in various structures and behind obstacles (walls of concrete and brick), barbed wire fences and metal mesh, under asphalt and concrete road coverage. "
Engineering and sapper divisions of ZVO received 10 of such mine detectors.
"The search rate of explosive devices by a new mine detector is 40-50 times higher than with metal detectors. In addition, the Kite allows detecting controlled mine-explosive devices containing semiconductor components both in active and off states, "Muginov said.
He explained that with the help of INVU, "sections of roads and buildings are being checked for the presence of landmine-controlled mines and mines containing semiconductors, searching for caches with
weapons
and ammunition, communications equipment, explosion control equipment and electronic time-delay devices. "
"Kite" consists of a "transceiver, antenna system, control and display unit, an autonomous power source, interconnected by cables. The antenna system and control panel are mounted on the pistol grip, "said a district representative.
http://vitaly.livejournal.com