Censorship came, milk brought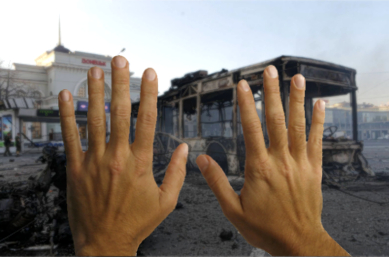 Sorry about myself.
Maybe this is not modest, but this is the case: since I publish my books (I write articles in half of the federal editions of Russia, sing songs, act in videos and in movies, give lectures, hold festivals, manage the site and print media, speak on the radio, etc.) - that is, since the end of 90, I have, as it happened, been taking a rather radical stance towards the current government.
My comrades and I held rallies, I was repeatedly detained by law enforcement services, I have one criminal case and a dozen administrative cases in my luggage. My comrades, from among the radical oppositionists, were sitting in jails - for political reasons. Including, Nizhegorodets Yury Staroverov.
In general, what just was not.
Those who read my articles and books are in the know; who did not read - and all right.
I want to say only one thing: it is impossible to speak seriously about any censorship that limits my freedom, as it is magnificently called, creativity.
Here I had a novel "Pathology" - about events in the Caucasus. They were going to film him a couple of times, but both times they said: "... you know, brother, after all, the theme of Chechnya is painful; in general, we are not recommended. And do not give money.
Well, do not recommend, okay.
Not filmed for this book of the film.
Or I have a novel "Sanya" - about the actions of the left youth opposition in Russia at the turn of the end of 90-x-beginning of the "zero". Three times they were going to film the novel, every time well-known directors - and each time the same
story
repeated: "... you know, mate, after all the theme of the opposition is painful; in general, we are not recommended. "
Well, do not recommend, okay.
Not removed and this book of the film.
But can I write my own books? Can. They are sold, they are freely available in libraries throughout the country.
My clips - including the possibility of a coup d'état in Russia - were freely broadcast through several channels, and so far no one interferes with the web.
I'm not talking about dozens of anti-government articles that I wrote in the period from 1999 to 2014; Yes, and now sometimes written, although much less.
I declare to you responsibly: in those areas where I have to work — literature, journalism, music — there is little or no censorship.
For example, if we talk about music, "radium format" implies much greater severity or, if I may say so, "taste".
Moreover, the last two years have brought a kind of censorship of a completely different sense.
I led columnist columns in at least five Russian glossy magazines. In difficult times, this job gave me half the family income.
Five more glossy magazines published me from time to time.
All this work - by ten, and even more glossy magazines ended - literally! - one day. On the day of the annexation of the Crimea.
That is, all these people, without saying a word, excluded me from the list of their authors and collaborators. No one has ever called me from these publications. They did not even try to explain themselves. How cut off.
It turned out that these were not ten different "glossy" magazines, but one very solid world.
So what?
Over the past two years, I was even loudly loud about this. Do not publish - and damn them. There is such a thing as an "editorial policy". According to their "editorial policy" immediately after reunification with the Crimea, I suddenly became professionally unfit. Nothing can be done about it.
Do I have the courage to frown at it and say something about censorship about it? Not. I myself will be funny to talk about it.
Hands in place, head on shoulders: we will find another place to work.
In the end, all these things - relating to me personally, and to individual theater directors, and some musicians - no matter what views they hold - can go through the category of "excesses".
Similar excesses take place in any country of the world.
In any European country, and in the USA, and in Australia, and in Canada, and in Israel, there are writers, musicians, and entire theaters from Russia, who will never be invited, their texts will not be translated, songs will be sung, and performances will not be shown. Just because they will not. Point.
Moreover, they have their own writers, musicians, and entire theaters, to which for one reason or another they have blocked oxygen. Either completely or partially.
Is it correct?
Wrong. But the world is so constituted, and this has nothing to do with "Stalinism" or "tyranny".
All this hype interests me only in one aspect.
At once I will make a reservation that from this moment on my approach to this subject will be deeply, irreparably subjective.
Quickly looking at the tape
News
, I saw the names of artists who opposed censorship as a united front.
We will not touch free artists - what is the demand from them.
We are talking exclusively about those who have this or that relationship with the state.
No one saw or heard the names of these people at the time of the Crimean history: when hundreds of thousands of Russian people in the squares of Crimea asked to stand up for them.
Then these artists were quietly silent.
No one has seen or heard the names of these people at the time of Syrian history: when the Russian military fought against the whole progressive world. And fighting to this day.
And, of course, no one hopes to hear at least one word from these people about the situation in Donbas - when hundreds of thousands of people are asked to recognize them as Russians and stop killing.
With all that people in the Crimea, people in the Donbas understand and support the majority of Russian citizens. And the meaning of what is happening in Syria is well aware of the same thing.
In this case, our creative people have imposed two years of censorship on themselves, like a penance: not to say a word, not to give a hand, not to nod my head, or to wink.
The problem of the death in the Donbas of ten thousand people did not find in two years any - that is, no at all! - reflections neither in the theater nor in the cinema.
Maybe they were forbidden to our creators? No, for the most part, they themselves have forbidden even to think on these topics.
Maybe this was not a request? No, the request was huge.
Is there any reason in this silence to search for social dissonance or some other contradiction?
No, in essence, there are no contradictions.
Some people fight, die in battles or under bombing, others paint, look for rhymes, shout "Taken!", Look for their eternal "A minor" on the guitar.
All in their places.
I write this text in Donetsk, and at the moment I hear the distinct sound of a shootout. About five kilometers from where I am, there is a battle. Are there many cultural figures in Russia who care about this fight? Not sure.
Or rather, so: I am sure that they are in the overwhelming minority.
But if there are those who write, sing, shoot and put in the theater everything they want, then there must be others. Those that say everything they want about those who write, shoot and put in the theater.
We live in a free country. You owe us nothing, we give you. Nobody owes me anything either, and I don't even ask.
And at the same time our amazing, tyrannical, flashy, mischievous, immense, stoopic and barking state manages us to reconcile with each other.
There would not be this state, could reach the beatings.
And so - the guy who sprayed gas at the concert of Andrei Makarevich (no one was hurt) - got five years and is in prison. And Makarevich gives a tour from Kiev to Lviv.
Why not life, the right word?
Need to rejoice.
"I don't know another such country ..."
http://www.sensusnovus.ru/uploads/2010/10/Prilepin6.jpg