Future air defense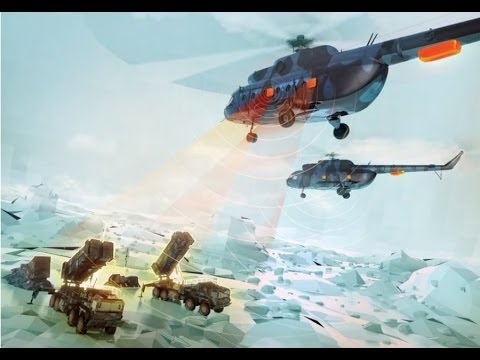 I have a friend. Well, very cool, in the sense of informed. He has everywhere, and above all at the very top, of such connections that I am afraid not only to speak, but also to think about it. So, we occasionally meet with him for a glass of tea. And he tells me such things! .. My hair on my entire body begins to move, and then I can not fall asleep for three days. It becomes terrible for our sworn partners. FEARFULLY. Only mineral water and saves, three days only her and drink.
God, if they only knew about the thoughts of our most important military men (of course, God forbid), they would even forget about the very concept of war with Russia. There was such a thought out that even the president, having visited once only a small part of the exhibition with this, well, by thinking that, came out and said: "Some kind of fiction".
You, probably, already understood that to all our PARTNERS, if anything, Khan. Well, okay, I'm not talking about that.
During our last meeting, which took place last weekend (I just finished the course of taking mineral water), he told me this ... DOWNLOAD! This will generally turn all the concepts of air defense systems, especially about detection and targeting. And such a thought, well, it is VERY NON-STANDARD, in the style of judo (apparently, the influence of our president is having an effect: it's not for nothing that he meets with the military so often - that's what he taught!). Of course, I will miss all the top-secret details so as not to get somewhere, but I will tell you the essence, as this can help individual readers of "VO" not only learn about the latest developments in this closed and top-secret area, but some to take part in the construction of this ingenious, unique and simple (at first glance), ultra-modern and deeply echeloned air defense system of a new generation.
Let's start with the problems of all modern air defense systems. They all see only what they can see within the line of sight of the work of the locators. If a hill, even a small one, stands in the way of the locator, that's it, some enemy cruise missile or even F-22, -35 can hide behind it. The plane, even invisible, is still better to hide ... so that nothing happens. And there were many such places. Of course, I can't name them: VERY secret information! Our generals know about them and have been thinking for a very long time how to close them. But there is a bigger problem here. After all, all air defense radars always work in an active radiating mode, and therefore, as soon as they turn on, all their coordinates are already known to our partners (one might say, instantly). Naturally, if anything, they will start (they have already openly said that they will definitely attack us, it is practically only a matter of time) to bomb these radars with various missiles and
drones
. If bombed, then we are Khan. So, it turns out that our generals came up with such a thing that it would be IMPOSSIBLE to bomb our air defense locators. There will not be enough bombs and missiles, and then, when the entire system is inactive, that is, it works in receive-only mode, they (the partners) will NEVER be able to determine that it exists and is constantly on the alert. So just the very existence of such an opportunity - to be spotted (especially for F-22, -35), will be a very serious deterrent against attacking us. Further, I will speak mainly in hints, as they can be imprisoned for disclosing ...
The system has a very long and complex name, but there is the word "optoelectronic". In fact, this particular class of systems is the most promising. These systems emit nothing, and therefore it is impossible to detect even their presence. But their main disadvantage is the short range: the system can only be seen within the line of sight, that is, no further than 20-30 km from the ground or so. Now found a way to solve this problem.
The idea itself is simple to ugliness and, apparently, that is why it never occurred to anyone until our generals. So, if there was a possibility, one would have to make a portable "optoelectronic" station for detecting all the flying objects and issue such stations to every or almost every citizen of Russia. And the problem would be solved. The density of coverage of our territory by citizens is sufficient for the confident detection of 99,999% of all flying objects. The most important thing is that they (citizens) are moving somewhere all the time, and it's almost impossible to detect and even more predict these movements. So, as soon as a citizen discovered that something was flying, he immediately sends the lens of a portable optoelectronic station to this object, takes a high-resolution photo and immediately sends it to the General Staff via the Internet on a special server, where all the pictures from all the owners of these stations with reference to geographic coordinates are automatically received, processed and classified.
Well, then already, as they say, - the matter of technology. If it is a cruise missile or enemy aircraft, the coordinates, the flight path are calculated and a command is issued to launch the missile (or better than two) from the launcher nearest to the target.
That's all. But as it turned out, not all.
The Ministry of Defense in strict secrecy began several pilot projects to confirm the possibility of deploying such a system and encountered unexpected problems. As always, the human factor affected, which turned out to be a weak link.
The images made were very often quite fuzzy and practically unsuitable for identifying flying objects, especially in northern latitudes and especially in winter. And also in the first days of the week. At first they blamed the developers and staged them, but they took control photographs and got the pictures even better than from NASA. According to the developers, the question was removed. But the problem remains. After statistical analysis and mathematical modeling carried out over several years, the following factors were identified that influenced the quality of the images:
1. The tremor of the hands (this is scientifically), and in the people it is called a jitter. Well, when my hands are shaking after Sundays, you understand what I'm talking about. When shooting from such shaking hands, the images are fuzzy, especially at high magnification.
2. Tobacco smoke. If a citizen smokes and takes pictures, then the smoke obscures the lens of the system's camera, and the pictures are fuzzy.
3. Active life in confined spaces, oddly enough (apartment, library, museum, etc.). First of all, everything is rattling there (because of domestic scandals, and especially in clubs, restaurants, theaters, etc.) that the noise of the engines of a flying cruise missile can not be heard. This led to the fact that cruise missiles flew over our peaceful cities completely unnoticed. And even when they were finally heard (oh, something seems to be flying!) And urgently rushed out to take a picture, the camera lens was corny. Conclusion: to get a high-quality picture, the camera, as well as its carrier, a citizen, must be outdoors all or most of it.
The simulation also showed that for confident and uniform coverage of the whole territory of Russia, a little more than 1 million stations are required. After the adjusted calculation, it turned out that even taking into account the fact that part of the stations can be entrusted to the citizens, the Defense Ministry cannot collect the required number of carriers. This is a serious problem for national security. It was decided to launch a hidden propaganda campaign for a healthy lifestyle - against smoking, alcoholism and generally unhealthy lifestyle. Even by approximate calculations, only these measures will lead to a significant increase in the number of potential candidates for wearing stations.
You, probably, have already noticed how much importance is attached to this direction today. Even the president himself agreed to free participation in it. Either he will be shown on horseback, then on skis or with a stick, and how many times he personally spoke out against smoking and alcohol - I lost my account.
So, everything goes according to plan, according to a secret and very important plan. Do you think, in vain, perhaps, for alcohol and cigarettes raise prices? No, everything is taken into account in advance. The country needs HEALTHY, non-drinkers, non-smokers and almost all of the time spending in the open air citizens with good physical preparation, so that if necessary they can quickly photograph a flying cruise missile or a plane of partners from a good angle, and the choice of a good angle sometimes requires a quick (in a few seconds) movement on the ground. You need to get used to lead a healthy lifestyle and play sports outdoors. What you can not do to improve the defense!
After these discoveries, the system deployment program was substantially adjusted. It was decided to significantly tighten the requirements for candidates for wearing these miracle stations. Already, there is a tacit selection of candidates for wearing stations through the analysis of Internet traffic with the exact definition of the coordinates of citizens. This is done with one sole purpose: to identify among them the most suitable and reliable. Know that as soon as it is determined that you have entered a store where you can buy alcohol, a club or a restaurant, that's all, the system will mark you as unsuitable. You should not even hope that you will be entrusted with an important and secret mission to carry the miracle stations.
So, that's enough, I seem to have said too much. Think further and analyze yourself.
Now the fun part. What kind of stations are these? It is generally complete here ... So, it turned out that the development of such stations alone, if made well camouflaged to avoid attention, is worth HUGE MONEY. Billions and billions of dollars. And the production is the same. And the budget needs to be saved. After bringing in our specialists from the SVR, the FSB and the GRU and the secret meeting with the president, where he taught them how to use judo (this, you know, when they use the opponent's power to win him), through our deployed agents in the largest companies in the world it was possible to use the methods of telepathy and hypnosis to introduce into the minds of their developers the exact parameters of these stations, skillfully camouflaged as ... modern mobile phones. At the same time, they did not even realize that it was all from our guys from the special services.
Dexterously, right? Do you understand the chip? They are developing a new revolutionary model (in fact, invented by us and our TZ), well, for example, iPhone 7 or Samsung GALAXY Edge 7. They spend many billions on development, then billions on organizing production and production itself, and then start selling them in Russia at dumping prices due to competition. And our guys are just sitting and waiting for the moment when they will be available. As soon as they appeared, they immediately clapped their special software on it, screwed up the optics, and here you have a ready-made modern optical-electronic station. Great, right? So that's not all! For the complete disorientation of partners, the manufacture of optics was organized in China in the same way, in the form of a separate lens attached to a cell phone camera. This, I tell you, turned out to be a cool thing, that when photographing, you can even determine the serial number of a cruise missile, not to mention F-22, -35. So people work!
But you do not think that partners are so naive. They, too, are not bored. What do you think, why the Duma banned the use of Apple products? Our guys from the security services found that these sly people also actually turned the company's products into wearable stations, but only a few other profiles - spyware. That is, everything you say, shoot, write and transmit, almost immediately via the Internet gets to the CIA, where a file is automatically created on you that can be used for your recruitment when going abroad. That's it!
Snowden only confirmed what we already knew for a long time. So be careful with Apple, but rather give it to your wife or girlfriend, they will confuse the CIA so much that there will not be enough computers. Yes, the CIA will just go broke on the disks to store the resulting misinformation ...
I will tell you in confidence that the base station will most likely be deployed on the basis of the Samsung GALAXY Edge 7 and higher as the most promising model. So think for yourself if you want to help the Motherland.
Actually, I did not tell you a hundredth part of what else is planned to be done with these stations. If anyone interested, let us know, share.