Fighter trainings on the Admiral Kuznetsov aircraft-carrying cruiser (video)
The TV channel Zvezda published a video of the takeoff and landing of the Su-33 and MiG-29KUB fighters during training sessions on the Admiral Kuznetsov aircraft carrying cruiser.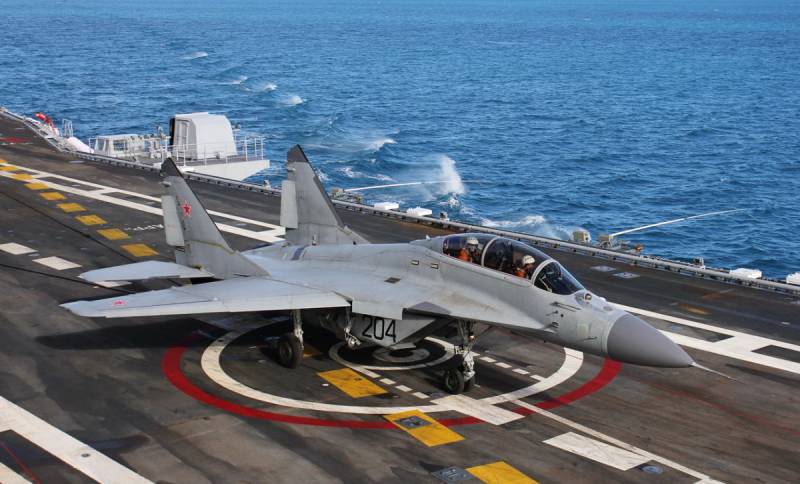 The shooting was carried out from several angles - from the air, airplanes and cruiser decks.
The acceleration and take-off of the aircraft from the nasal springboard, as well as their landing with the aid of an aerofinisher, are sealed.
"It is worth noting that springboard taking off and landing on the deck are the most complex elements of the flight. With a huge overload in 8-9 units, the pilot must demonstrate jewelery accuracy in order to get into a small area between the arresting gear, "- comments the video
Rossiyskaya Gazeta
.
Help newspaper:
"Su-33 (according to NATO codification - Flanker-D), is in service with the 1998 year. It is capable of speeds up to twice the speed of sound, and is intended for striking air, sea and land targets. It can carry guided missiles with self-guided heads, as well as unguided weapons. Firing is controlled by a system with electro-optical and radar sighting systems, as well as devices for objective monitoring and a single display.

The MiG-29KUB is a combat training version of the multipurpose MiG-29K fighter (according to the NATO codification - Fulcrum-D), belonging to the "4 ++" level. The aircraft is equipped with modern avionics, which has, in particular, an infrared direction finder for targets and the possibility of targeting air-to-air missiles by turning the head of the pilot. In addition, the MiG-29K is equipped with a new radar, which allows to detect targets and control the guidance of adjustable bombs at a distance of up to 200 kilometers. The fighter used elements of stealth technology. "