Forces of special operations of Belarus received for the military tests the first armored car MZKT-490100 (Volat V1), produced by the Minsk plant of wheeled tractor, reports
MIC
with reference to military-informant.com.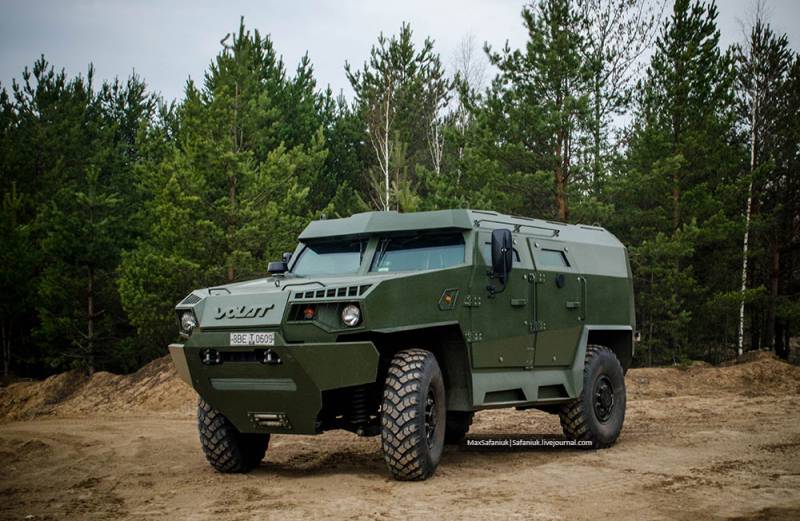 The first photos of this vehicle appeared on the network in May 2016 of the city. The armored car was photographed during tests on the territory of the Republican Scientific and Technical Center "The Republican Test Site for Mobile Vehicles".
"The Volat V1 is an all-wheel drive, light armored MRAP (Mine Resistant Ambush Protected) class vehicle with enhanced mine protection. The car has a V-shaped bottom, the Volat brand independent suspension, is equipped with a 215-strong YMZ-53452 turbodiesel with 4,4 liter capacity produced by the Yaroslavl Motor Plant and a SAAZ – 4334 hydromechanical gearbox from the ZIL car. The all-welded hull is made of 4 grade armor steel. The curb weight of the vehicle in the basic version (armored personnel carrier without arms) is 11 t »
- the article says.
MZKT-490100 is the base vehicle, on the basis of which armored personnel carriers with various weapons and for various purposes will be created, including reconnaissance vehicles, command, military police, medical assistance, logistic support, etc. The crew of the vehicle - 2 man and 8 places for landing.
Upon completion of the military tests, the command will decide on the purchase of a test batch of armored vehicles, and later on their serial deliveries.