An interview with the head of the British MI5, Andrew Parker, in The Guardian newspaper caused widespread discussion. Recall that Mr. Parker said that from the Russian side he sees a growing threat to the United Kingdom and his service is making every attempt to counter this growing threat. Parker's statements caused a wave of irony even in Britain itself. Her Majesty's subjects in the comments asked Parker whether it was necessary for the head of MI5 to give the first newspaper interview for more than a century for such statements ... Namely, for about 107 years, the heads of this British special department were not public. Parker decided to go to the media environment.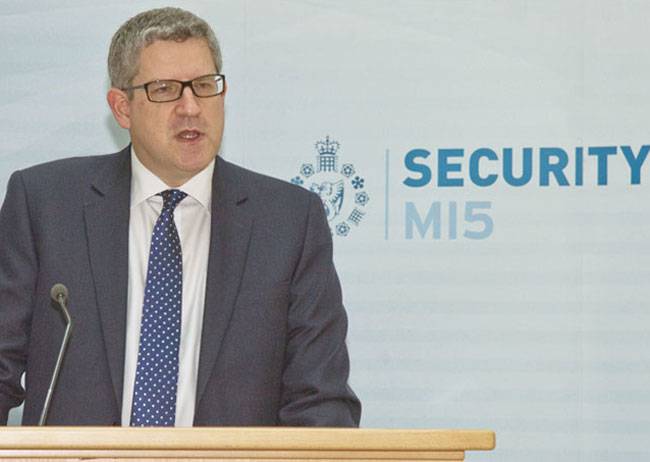 In the ranks of the main British counterintelligence responded to the Foreign Ministry. Office spokeswoman Maria Zakharova commented on Andrew Parker's statements, publishing a post in
Facebook
:
Today, The Guardian asked for comment on the statement by Andrew Parker, Director of the British MI-5, that he sees Russia as a threat to the stability of the UK. In the first for the entire 107-year-old
history
the royal counterintelligence interview the head of the service told The Guardian that Moscow "uses its entire range of government agencies and powers to move its foreign policy abroad more and more aggressively." Parker accused Russia of using "propaganda, espionage, sabotage and cyberattacks", and also stressed that it works this way "throughout Europe and in the UK". The task of MI-5 he sees in countering this activity.
I replied to The Guardian that to the head of МI-5, who declared that "Moscow used the entire model range to promote its foreign policy that threatens the stability of his country" I have a clarifying question: "Does he consider the appointment of Boris Johnson as head of the UK foreign affairs department? the work of the Kremlin? "
Apparently, in his interviews, Mr. Parker demonstrated that he is not the same as Mr. Komi of the FBI, who did not see the Kremlin's hands in cyber attacks on the US network. He (Parker) sees the Kremlin's hand everywhere, and therefore is loyal to democracy ...