Turkey moves armored vehicles to the border with Iraq
Turkish media have reported that Turkish armed forces convoys are moving towards the borders of Iraq. Turkish NTV channel comes out with a report saying that several dozen
tanks
, armored personnel carriers and infantry fighting vehicles are being transported to the Shirnak province bordering Iraq. Transport on highways is carried out using automotive platforms.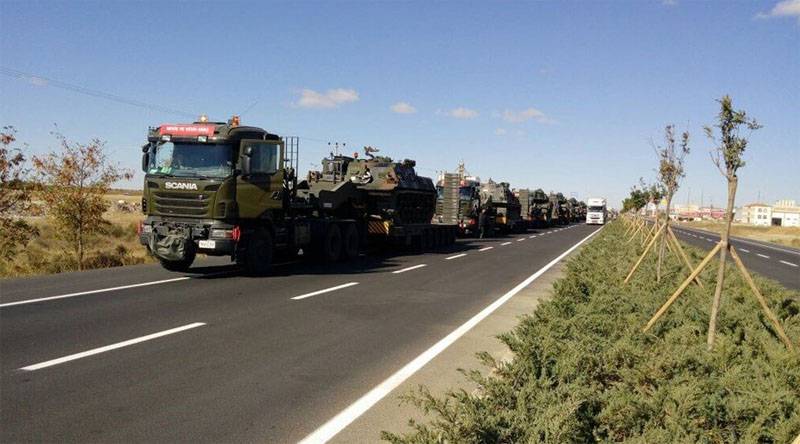 Against this background, the news agency
"Anadolu
»Publishes materials in which it narrates what kind of" success "Ankara has achieved in the fight against the" Islamic State "(prohibited in Russia). The article states that from 17 December 2015 of the year to 16 of October 2016 of the year in the area of ​​Mosul, Turkish troops attacked 6820 at ISIS facilities. During this time, Turkish aircraft eliminated 690 igilovtsev, 555 shelters and firing positions, 106 vehicles. At least, this is how Ankara reports. The Turkish media does not routinely inform the media about how many civilians died in the process.
The same material claims that the Turkish forces "liberated" the territory with a total area of ​​1350 square kilometers during the operation called "The Euphrates Shield". It is noteworthy that by "liberation" Turkey understands the actual occupation of a part of the northern provinces of both Iraq and Syria, against which official Baghdad and Damascus openly protest.
The article describes the "ruthless struggle against LIH" and in the territory of Turkey itself. Anadolu cites the following statistics: 306 ISIS supporters detained, 45 arrested. This is against the background of the fact that the so-called "Gulenists" in Turkey are already being detained by tens of thousands.