Good evening, my dear readers!
I apologize for invading your information space again. I understand perfectly well that I do not have the right to do so because I somehow decided for myself not to do this anymore. BUT! As popular wisdom says: do not speak ho, until you jump over! And it inspired me to this one event. Rather, the reaction to this event.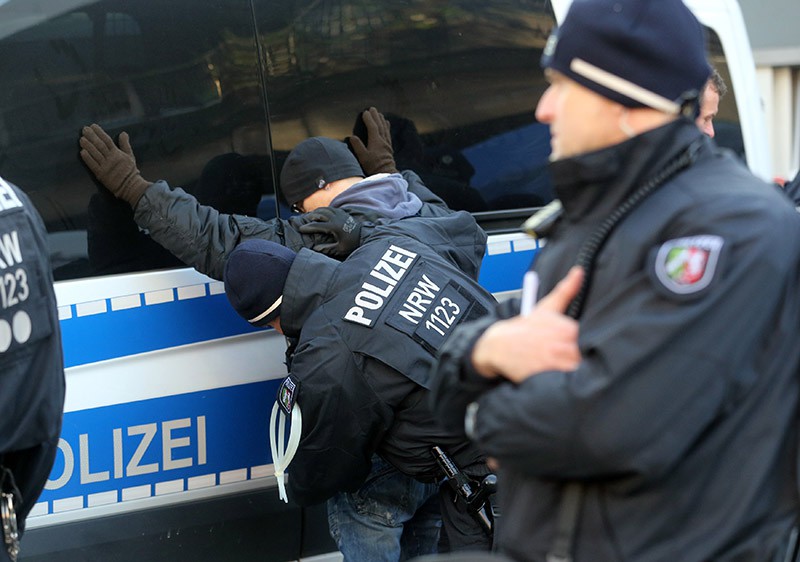 And it was like that. In Germany there have been events related to the security of this state. How to say? Even somehow not pompous! Yes, in any way! Quiet and casual. The local media is somehow lit. The police, they say, were looking for something there, had detained someone ... well, and that's all. Agree, even boring. But then it became more interesting.
This
news
was voiced on Russian resources. Here, as it were, it became interesting to live. Kind people! Tell me, for God's sake! Do we really want war? We have nothing else to do? Well, why the hell did you have to submit this information, how to say it correctly, in a tense manner? Something like "We note the fact that all the detainees were immigrants from the Russian Federation!" Or "The detainees turned out to be Russian-speaking!"
Yokarny babay! What a great news! Imagine: a hill, and a horse with a cart climbs on it, in which manure with a body kit is piled up! And then - hryas, shafts from the collar jumped off! And the cart rushed from the mountain! Scattering all the crap on natural beauty! So this news has generated similar. What are the only comments and epithets not showered in the direction of the German! That cart of shit is resting!
Stop, stop, stop! Now, someone will think: "Fuck you ...!" (Insert the missed!) I will answer: "Beat Sean! Ahead of me! "And now listen and think.
I am crucified here not in defense of the Germans. I'm here for another reason. Who and why was this stuffing needed? I personally do not know. But, in my opinion, the provocation of pure water. See it. Who do you think was detained? BUT! Forgot ... "immigrants from Russia"! And now, dear ladies and gentlemen, would you like to know about what "Russians" are we talking about?
Bingo! As a rule, the phrase Bodrova fits in with such "Russians"! I will not specify which one, otherwise I live in a "ottolerantnnnoy" country, and "no one is watching" at all! And I, after all, have children. So here. Let's go further. Do you know what these "Russians" are doing here? The same as in Russia! Owing to the nature of my activity, oh, how often I had to deal with these "brothers"! Do you think moving to the so-called "civilization" (I call it differently - escape!)? Hey! Ramzan Akhmatovich! Hey! Prosecutor General of the Russian Federation! Corrected data "Russians"?
Yes, horseradish strong and zaboristogo! Moreover, all this gave rise to much more interesting and bizarre forms. Want an example? Hold on. In recent years, the number of Muslims has increased among Russian-speaking Germans. Yes Yes! Officially, paradoxically, many of the evangelicals and Catholics, with which they identify themselves, go to the mosque, or rather, prayer houses. Then they will tell me - nonsense! For God's sake! I tell you, quirks at every corner!
Good. I really do not mind Islam! And I respect any religion due to the fact that among my close friends there are Muslims with Catholics, and Buddhists with Jews! They are just my friends! We do not raise the topic of religion in meetings and conversations. We just live, take care of our families, help relatives and friends. Everything! (Well, sometimes, of course, we are talking about politics and that "partners" would be good for two hundred years ahead! But! Within military decency! (Just like they are for Indians!)
But then another situevina! I know a couple of figures here. Interesting characters. They pray furiously, the Quran is read. So here. It seems like (from their words) - yes, they are for Russia, for freedom of religion, peace, friendship, chewing gum! But my nature ... lives by the motto of the film magazine "I want to know everything"! You know, here the Internet is a wonderful creature. You dig up "Facebook" there and so on - a lot of interesting things are floating on the surface! Realistically.
For example: one of these "Russians" has several "characters" of the first Chechen - idols (Ay !! GP RF !!) And what an interesting circle of friends he has with their slogans and appeals! Mom, do not worry! So think for yourself! And by the way. Here I am interested. Are there Muslims on the site? I want to contact you. I have a question. (Sorry generously - I'm a bore!) Can a Muslim on Friday, after a prayer, go (notice!) To another Muslim (and not one, but with a gop company!) And, threatening with reprisals, extort money? The question is rhetorical. Here I am - an unbeliever. But the church or mosque always went without
weapons
. No respect can not be. This is not human.
As I remember, in childhood, Dad told about how in their area wolves divorced so much that people with darkness behind the gate were afraid to go out. After the war it was. So here. At one time, they had military people. And the shooting began. "Kukuruzniki" flew day and night! And so it was until order came. (Now the Greens will scream for this story. But I would like to plant one green on January night, in the middle of the field, from where it is ten versts to the nearest hut ... and look at how it will tell the wolves about tolerance, tolerance and environmental protection!)
Here and there the same situevina. German police did their work. And there was no politics here. I as the former speak. Russians, Ukrainians, Kazakhs, Uzbeks, Tatars mixed with the Germans and God knows who ... but whoever is there, no! Nobody here just does not bother! They won their Natsik local dragging more! Well, what happened ... then, in my opinion, something painfully late! And soft!
This was purely my personal opinion. I do not impose anything on anyone. But the fact that someone pits ordinary people ... this is very depressing. Personally, I had what I had. And I certainly don't want to know my three sons.
At this please permission to bow out! I wish you all a good night and good health to you and your loved ones!