General Dynamics Corporation handed over to the US Army the first prototype of an armored Stryker, armed with an uninhabited combat module with an 30-mm automatic cannon, a blog reports
bmpd
with reference to breakingdefense.com.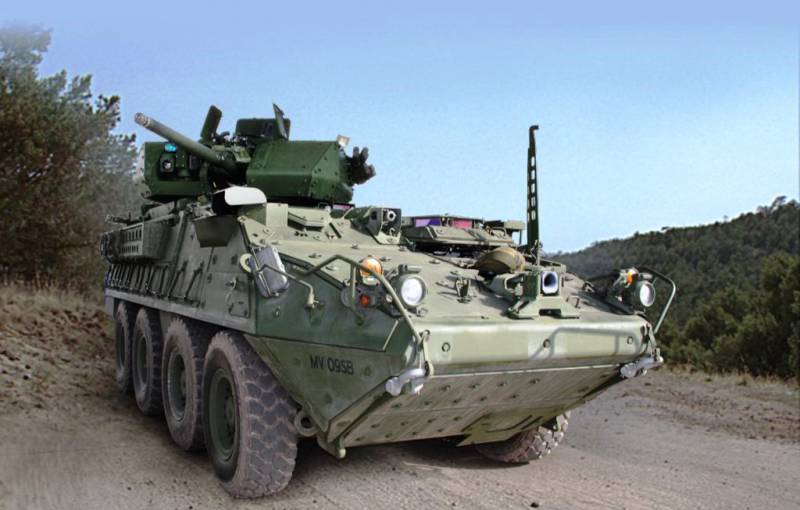 "The Stryker 30 cannon was designed and built for 15 months in accordance with the 2015 contract for the 81-US Cavalry Regiment issued in Germany in April of 2. State tests of the upgraded machines will begin in January 2017. In total, eight prototypes should be made, "the message says.
Delivery of the entire series of armored vehicles to Europe should begin in 2018 g upon completion of the tests. The contract value was $ 329 million.
"The demand from the 2 Cavalry Regiment for equipping Stryker 30-mm cannons is directly motivated by the need to counter the numerous Russian armored vehicles BMP-2, BMP-3, BTR-82," the publication notes.
Until now, the Straykers were equipped with the Kongsberg M151 Protector modules with an 12,7-mm M2 machine gun or an 40-mm automatic Mk 19 grenade launcher.
The upgraded car was named HM1296 Stryker ICV Dragoon. According to the resource, "the gun has dual power and ammunition in the module in 150 shells, can use remote undermining shots."
It is noted that the new module "does not have a substack compartment and is equipped with a round-the-clock duplicated fire control system". The body of the machine is made in the Double V-Hull version with enhanced mine protection. Number of seats for the landing - 9.