Russian military commented on the rapprochement of aircraft of the VKS and the US Air Force in Syria
The US Air Force should not shift the responsibility for bringing their aircraft to a Russian Su-35 fighter jet in Syria, reports
RIA News
statement by the representative of the Ministry of Defense Igor Konashenkov.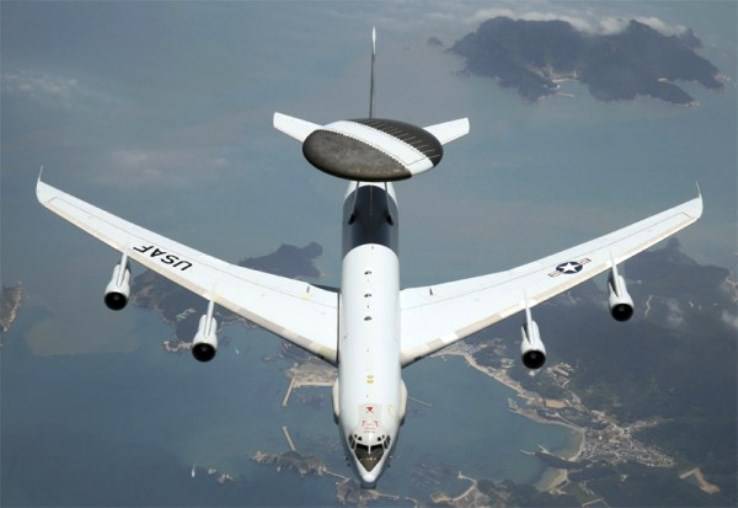 The general recalled that "on October 17, being in the airspace east of the city of Deir ez-Zor, the crew of the American E-3 AWACS long-range radar detection aircraft decreased almost 1 kilometer from the altitude and dangerously approached less than 500 m in violation of flight safety rules to the Russian fighter Su-35 ".
"We are surprised by the next attempts of the American military command to shift the responsibility for bringing the American aircraft closer to the Su-35 fighter on the Russian Aerospace Force,"
- said Konashenkov.
He stressed that "in accordance with the Russian-American agreements, the command of the Russian Aerospace Forces at the Khmeimim airbase informed the American colleagues in advance about the upcoming Su-35 flight in the area with an exact indication of the flight altitude (flight level)."
"After the E-3 AWACS came together with the Russian fighter, the command of the Russian Aerospace Forces at Khmeimim air base promptly contacted their American colleagues and demanded clarification on the incident. The impression of the stupor of the American pilots from the sight of Russian fighters in the vicinity is, in principle, clear to us. However, they would recommend them not to try to throw everything in Russia out of habit, but to control themselves. Yes, and the wheels of their aircraft, too, "
- said the representative of the Ministry of Defense of the Russian Federation.
"In general, this fact has proved that a sufficiently effective interaction has been established between Russian and American pilots in Syria to avoid such incidents in the future," he noted.
The general also said that "representatives of the US Air Force Command apologized for the incident and promised to carry out appropriate work with the pilots to prevent similar situations in the future."
Earlier, American General Jeff Harrigan said that the aircraft of the Russian Aerospace Forces flew in dangerous proximity to the US Air Force aircraft in eastern Syria.