This year army aviation received more than 50 new helicopters
More than 50 new helicopters, including Ka-52, Mi-28N, Mi-35, Mi-8AMTSh, Mi-26, Ansat-U, arrived in the army
aviation
, transmits
TASS
message of the Ministry of Defense in connection with the 68-th anniversary of the formation of army aviation of the Russian Aerospace Force.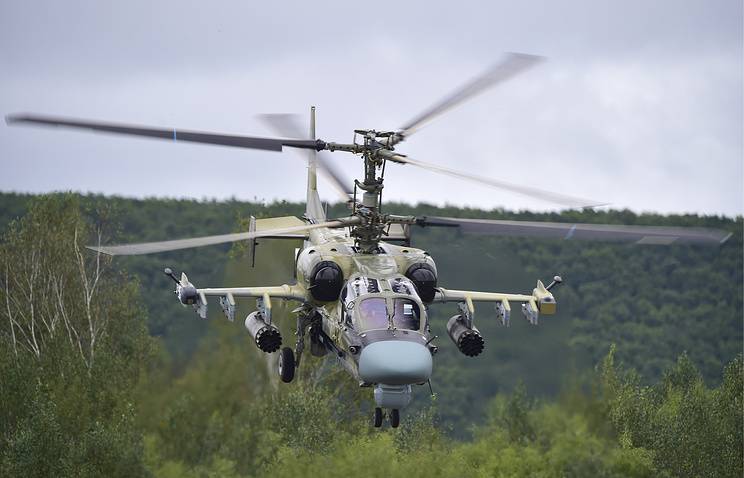 "All the events planned for the year, including exercises of various levels of army aviation, aviation support for interspecific exercises, participation in international exercises and army games, mastering the latest models of aviation equipment, improving flight skills of personnel, training young pilots, were completed and good results ",
- said Oleg Chesnokov, head of the military aviation combat training department.
He said that from next year a modification of the Night Hunter, the Mi-28UB, would begin to arrive in the troops.
"Currently, prototypes of the Mi-28UB dual-control helicopter with positive results have passed state tests, and, starting from 2017, they are scheduled for delivery to army aviation units," said the major general.
According to him, "the first Mi-XNUMHUB will go to the 28-th Center for the combat use and retraining of flight personnel of army aviation in Torzhok." "Pilots and teachers of the Torzhok center have already been retrained for this modification," Chesnokov added.
"Russian Helicopters created a flying laboratory - a demonstrator of a promising high-speed helicopter. The main design of the flying laboratory PSV are the rotor blades. New constructive solutions during their creation allow to increase the maximum speed of the Mi-28 helicopter by 13%, on Mi-35 type helicopters - by 30%, "he said.
The general said that "today, during tests, the speed of horizontal flight of 360 km / h has been achieved with a low level of vibration and stress on the design of a flying laboratory."
"The speed of the PSV compared to the known samples of attack helicopters will be increased 1,5 times to 400-500 km / h," he added.
In addition, a new type of on-board radio-electronic equipment will be used on the developed car. "Communication, control and navigation will not be carried out by separate hardware units, but by special software that integrates into the onboard computing system. This will reduce the overall weight of the equipment and cable network, "said Chesnokov.