Kerry explained why the West extended anti-Russian sanctions
Russia is trying to interfere in the "functioning of the democratic system" of the West, but it only strengthens the unity of the United States and its European allies, reports
RIA News
Statement by US Secretary of State John Kerry.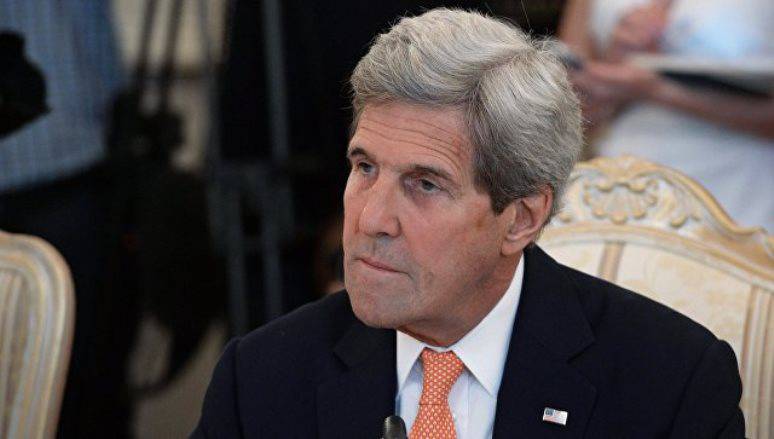 "I was in Brussels earlier this month and saw that the unity of approaches with our partners across the Atlantic is being demonstrated every day. Europe and the United States continue to support tough economic sanctions against Russia because of the aggression in Ukraine. Our unity is becoming stronger, while the Russian president (Vladimir) Putin is trying to interfere in the functioning of our democratic system ",
Kerry said in Chicago at a meeting of the Council on Foreign Relations.
At the same time, he noted that the settlement of the Syrian problem is impossible without Russia and Iran.
"That's why a year ago we gathered an international support group for Syria, which included all the countries involved in the conflict. Including Russia, and Iran. Someone says: Why are you sitting at the negotiating table with these guys? Because they are involved, to become part of an agreement without them means to create new problems, "said the Secretary of State.
According to him, a peaceful settlement of the conflict in Syria is still possible.
"We also continue to make efforts to find a diplomatic solution in Syria. And, I am sure, we will find a way out of the crisis - the largest since the end of the Second World War. This problem cannot be solved simply by writing a check to support the refugees. We need to stop their flow. For this, comprehensive diplomatic efforts are needed, this is the most difficult task that we have ever faced, "the foreign minister said.
"Despite the many failures, the simple fact is that there is still a need for diplomacy. The reality is still such that, according to most people, a military solution is simply impossible. At least in the event that Syria will ever be a whole country, "he said.
Kerry also noted that Barack Obama is not going to stop diplomatic efforts aimed at a peaceful settlement of the Syrian issue.
He pointed out that Washington is counting on "an effective and long-lasting cease-fire", as well as on "a meeting of representatives of both sides in Geneva to agree on the transitional authorities, to reach an agreement on the new leadership and preparation for the elections."