US media vying with each other about developments in the USA of the "newest super-weapon"
In an american newspaper
The New York Times
There was a material in which it is told about developments in the USA of new types
weapons
. In particular, we are talking about tests
drone
with six screws, which is a flying combat
Robot
. According to the developers, it is already being tested in the United States.
The first stage of testing, according to the NYT, was successful. Dron was able to detect armed with Kalashnikov assault people in the shelter and conditionally strike at them. Other details about the new type of weapons are not reported. There is no data either about its technical characteristics or about armament. It is not reported whether the mention of the Kalashnikov assault rifle is important here ...
The Journal
National Interest
There was a material about the attempts of the American "defense industry" to develop a different type of modern weapon, which is conditionally connected with the defense, to put it mildly. We are talking about the project "Swarm" (Swarm), which is a "controlled" group of drones, consisting of several dozen flying objects. According to the magazine, this "Swarm" should be used to suppress modern air defense systems. In particular, the task is to disorient the detection systems, which will lead to striking miniature drones, not US fighters.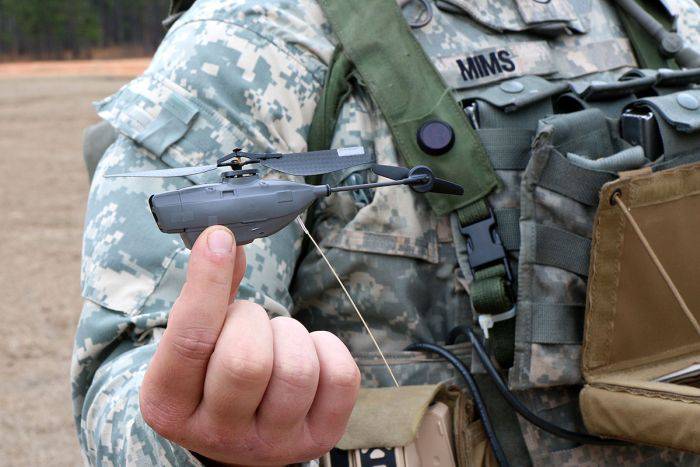 However, Russian experts believe that in fact for the destruction of "Roy" no advanced air defense systems may not be needed. A system of dozens of drones, which Americans still have to learn how to control as a whole, can be discovered quite simply and even more easily destroyed - for example, with a variant of shrapnel ammunition, which, in all likelihood, could not be used in the United States, calling its Swarm "The newest super-weapon capable of radically changing the balance of forces."
There is an opinion that the American media are trying to impose another arms race on Russia with their messages, which is in the interests of Washington.