Media: Russian military will test in Syria, new long-range anti-tank missiles
The Ka-52 combat helicopters based on the Admiral Kuznetsov will use the new Hermes ATGMs capable of hitting targets at a distance of up to 30 km in Syria, according to
News
with reference to a source in the DIC.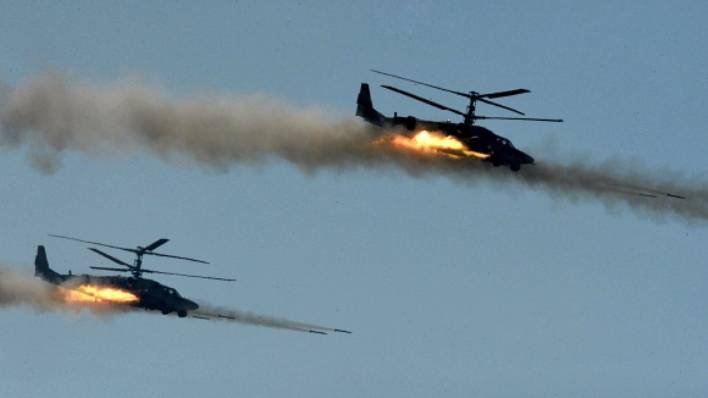 The development of new ATGM Tula engaged in mechanical engineering. "Despite the fact that" Hermes "is officially called an anti-tank missile, it is a universal product that can hit a wide range of targets, including buildings, field fortifications and the enemy's living strength," the article says.
"At present, a small batch of missiles has been prepared, which must be tested on Ka-52 helicopters. Tests in a combat situation will help in fine-tuning the missile system, which should become the standard armament of Russian Alligator combat helicopters. Earlier, tests of the "Hermes" were planned to be carried out on Ka-52 helicopters already on the Hmeimim airbase. But there were certain difficulties with fine-tuning missiles. Therefore, it is now decided to try out the Hermes in more difficult ship-based conditions, "a source told.
Dmitry Kornev, editor-in-chief of the Militaryrussia Internet project:
"On the Hermes there is a combined homing head (GOS) with an infrared sensor and a laser guidance channel. The purpose of the rocket can "highlight" from the ground. That is, an aircraft carrier, a helicopter or an aircraft will aim a laser beam at the target, and the Hermes will see the laser spot and pick up the target. But if the laser does not have the backlight, then infrared sensors come into play that will detect enemy targets for the heat that is emitted. In the future, miniature radar stations may appear on the Hermes missiles, which, in combination with infrared guidance, will ensure the unique accuracy of the latest products. "
According to him, the speed of the rocket came close to hypersonic.
"The two-stage design of the Hermes is in many ways unified with the design of the Pantsir-S anti-aircraft missile. The launch stage accelerates the rocket and leads it to the target area, after which it is separated from the product. Then the combat unit comes into action, which already searches for the target and then destroys it. The disadvantage of this layout is the weight of the rocket. According to reports, the product weighs more than 90 kg, while the Whirlwind ATGM is twice as light, "said Kornev.