In Germany during the "anti-terrorist" raid detained only immigrants from Russia
Radio station
Deutsche Welle
reports a major raid by the German police, called anti-terrorism. The submission states that special measures, including apartment searches and the detention of persons suspected of involvement in terrorism, were held in a number of federal lands in Germany. This is a raid in Bavaria, Hamburg, Saxony, North Rhine-Westphalia, as well as in Thuringia.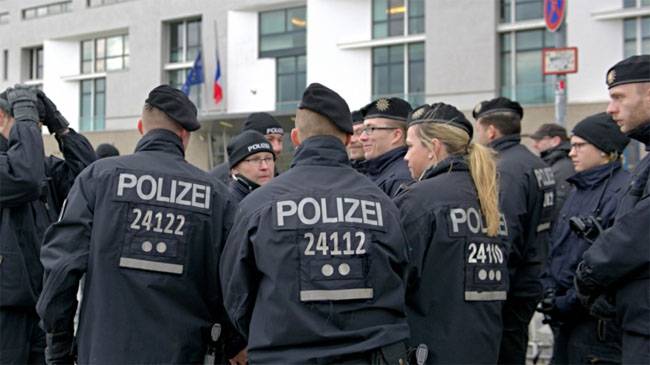 The report says that 13 people were detained during the raid. It is noteworthy that they all come from Russia. "Deutshe Welle" reports that the 10 detainees are men, three people are women. Each of the years detained in the aforementioned federal states of the Federal Republic of Germany is from 20 to 30. According to some reports, they all previously lived in the North Caucasus.
German police claim that people from Russia have links with ISIS militants (prohibited in the Russian Federation) in Syria. In addition, it is added that 13 immigrants from the Russian Federation filed a request for asylum in Germany.
At the same time, the German special services report that the detention was carried out "without the threat of public danger". None of the detainees resisted the German law enforcement officers.
Representatives of the German security service said that the apartments of the detainees (and this is 12 apartments and houses) are being searched for "the subject of obtaining evidence of the involvement of immigrants from Russia to ISIL." It turns out that the involvement in ISIS has not yet been identified, and now in Germany they will look for suitable ground to call the detention justified.
This is a kind of signal for all those who once arrived in Germany from Russia (USSR) for permanent residence. After all, now the German special services under the guise of fighting terrorism can seize any former (current) Russian, and then push the "evidence".
It is also noteworthy that, in addition to immigrants from the Russian Federation, the German special services did not detain anyone during the "anti-terrorist" raid. Even those who came from Syria under the guise of a refugee, while he himself was captured in the photo with
weapons
under the black flag of terrorism ... At the same time, real militants who previously operated in the North Caucasus, in the EU feel quite at ease. As an option, Mr. Zakayev in London, in respect of whom no special operations are being carried out ...