Center "Reinforced Composites" (Armokom) this year began deliveries to the special services of ultralight bulletproof vests for service dogs that protect four-legged from bullets and fragments of grenades, according to
News
.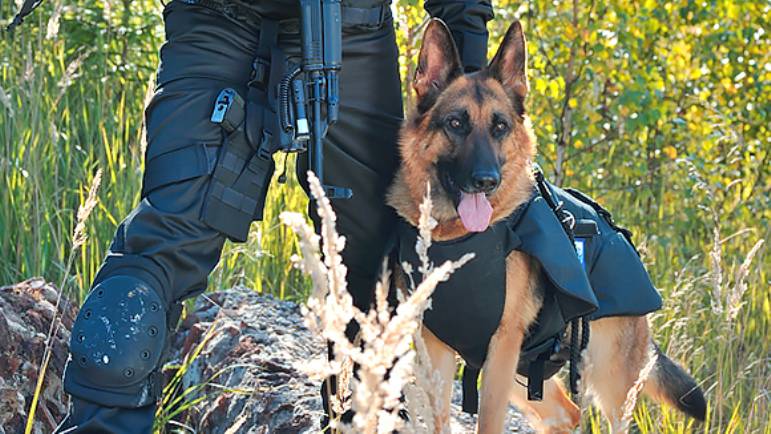 "This year we have already begun deliveries of BZhS (body armor for dogs) to the Russian special services. Also, our dog vests for dogs are delivered to special units of the Ministry of Defense of Uzbekistan. Our products are designed for German Shepherd Dogs and Labradors, of which they prepare assault dogs. We have already received an additional order for the development of mini-ballistic helmets to protect the dog's head, as well as special pick-up points covering the face and head of the four-legged fighter against shards and strikes. In the near future we plan to present these products ",
- Elena Kormakova, deputy director general of the enterprise, told the newspaper.
Earlier, sapper dogs began purchasing body armor with a maximum degree of protection weighing about 5 kg.
"Sapper armored vests protect against strong explosions of mines and improvised explosive devices. But in such products the dog loses mobility and cannot quickly run and jump on the opponent. A sapper dog should slowly walk alongside his guide and look for a mine by scent. Moreover, a heavy body armor is preferable, as in it the dog will not break free, run away and thus be distracted from the search for mines. In fact, it is a heavy shell that completely covers the animal's body, turning the dog into a tortoise in its shell, "a source in the special services told Izvestia.
As for the BJS lung, it looks like a "human" body armor, the newspaper writes. "The dog's body is covered by a thicker protection, which is connected by a movable design with chest protection. This technical solution does not prevent the dog to turn his head and stretch his neck when he commits the bite and capture of the attacker. The upper part of the paws of four-legged Special Forces troops is covered with movable armor panels, similar to those used to protect forearms in regular bulletproof vests, "the article says.
According to the newspaper, Bjs belongs to the class of protection "Br1", that is, "protects from the Stechkin automatic pistol fired from a distance of five meters 9-mm bullets with steel cores."