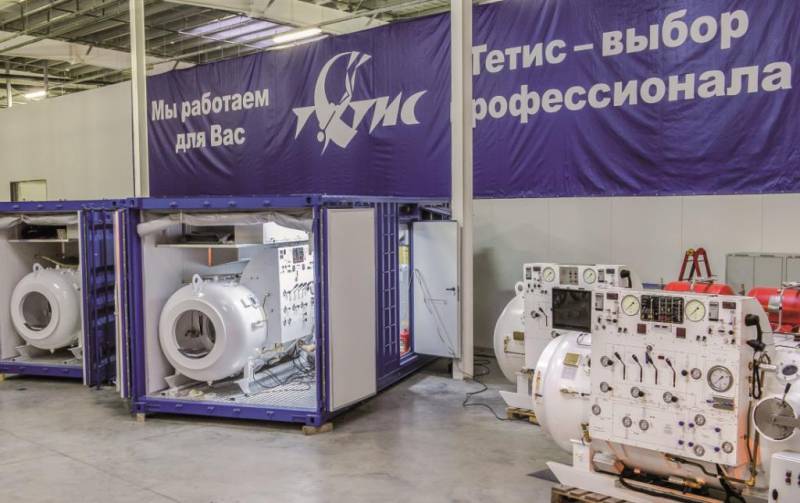 В1990-s in Russia there was a noticeable lagging of diving equipment from foreign analogues, constantly evolving and updating rescue systems. Meanwhile, modern technical means is necessary, without which it is impossible to imagine both the process of training diving specialists and ensuring the descents, and that is an integral part of the professional performance of the tasks.
From the beginning of 2000 years, Russia began to build and several large training centers are currently being actively used to train divers of the Armed Forces of Russia, the Emergencies Ministry, the National Guard and civilian institutions. Starting with the delivery of foreign complexes, for more than 15 years of work in this direction, the specialists of Tethys Pro JSC have developed and replaced up to 80% of imported components of the complexes with equipment of their own production.
Pressure chambers are one of the main elements of the complex for the preparation of divers. At the same time, the production of large-diameter chambers for objective reasons, until recently, was absent in Russia. Used units of foreign manufacture.
Namely, the long-term dependence of Russian companies on foreign manufacturers gave the engineers of Tethis Pro an impulse to create domestic pressure chambers that are not inferior in technical characteristics to foreign models.
Over the years of work: designing, installing and servicing foreign-made complexes - Tetis Pro specialists have gained tremendous experience, sufficient to create their own line of pressure chambers. So in 2014, the first pressure chamber was created - BKD-120Т (internal diameter 1200 mm), designed to provide
safety of diving descents and work carried out under pressure of the external environment, as well as for the treatment of specific diseases.
BKD-120T successfully passed certification by supervisory authorities and was prepared for mass production. Already in 2014, fifteen pressure chambers made up of various types of diving complexes were manufactured and delivered to customers.
Upon completion of the development, production and mastering of serial production of pressure chambers of the model BKD-120T, it was decided to continue the development work aimed at creating pressure chambers of various sizes. So in April 2015 were made diving pressure chambers BKD-1000T (internal diameter 1000 mm) and BKD-1600T (internal diameter 1600 mm), and in 2016 g. - BKD-1500 (diameter 1500 mm, respectively) under the standard IMCA.
All pressure chambers of the BKD series meet modern safety requirements and have a certificate of technical regulation of the Customs Union. They can be installed on ships or vessels as part of ship diving complexes, on vehicles as part of container diving complexes, and also used in the stationary version.
Moreover, the delivery kit of the pressure chamber, i.e. saturation with various systems and equipment, differentiated according to customer requirements. It should be noted that, regardless of the configuration, the BKD provides the necessary degree of safety during diving operations and the possibility of upgrading during operation at the request of the customer.
Each pressure chamber of its own size has its own individual characteristics, which are taken into account in the design and further manufacture. After all, it is necessary not only to withstand the requirements for safety and ergonomics, but also to saturate the pressure chamber with all elements of life support systems.
In the area of ​​ensuring the safety of equipment in the pressure chambers, Tethys Pro specialists carried out serious work: hatches supports were developed using sparkless materials, electrical connectors were selected, providing the 100% guarantee of protection against electric shock. All electrical equipment that is inside the pressure chamber has a safe voltage - 24 B, and a special non-toxic paint is also selected.
Mattresses and pillows are made of special non-combustible and non-burning materials. Pressure chambers are also equipped with a modern water fire extinguishing system, which is installed outside and includes two water tanks for supplying water to each compartment, fluid supply, control and monitoring systems. Inside the pressure chamber are mounted pipelines with nozzles for spraying water. Activation of the water extinguishing system can be carried out from inside the pressure chamber, from the pressure chamber control panel and from the water extinguishing system control panel.
The same applies to the placement of external pressure chamber control systems - gas supply consoles, elements of the power supply system, water fire extinguishing system and others. All systems have an intuitive interface and are easy to manage. In the design and manufacture of pressure chambers of the BCD series, all the recommendations and wishes of the professional community were taken into account. Divers have already had the opportunity to appreciate them.
In addition, the first BKD series pressure chambers and currently the only ones in Russia are equipped with a universal docking station for attaching a mobile rescue pressure chamber adopted by the NATO Navy to a stationary one in order to transport affected divers and rescued submariners for long distances for subsequent treatment in barocomplexes. Thus, BCDs allow Russian units to take part in international rescue operations.
As part of the Russian Navy, anti-sabotage boats, rescue tugboats and auxiliary ships and mobile recompression stations PRS-VM (T) equipped with modern domestic pressure chambers are already in service. Units of the railway and engineering troops of the Armed Forces of the Russian Federation, ships of the sea rescue service, diving services of other departments are equipped with complexes on the basis of the BKD.
Now Tetis Pro is working on the production technology of its own rescue transport pressure chambers, as well as long stay pressure chambers to provide deep-sea diving with the saturated diving (DP) method.
The main goal of the company's specialists is to create their own deep-sea diving complex to ensure the many hours of work of divers at great depths, as well as the rehabilitation of submariners evacuated from an emergency submarine, in order to equip them with a series of new-generation rescue vessels.