The Central Military District presented a field uniform for military priests of the Orthodox Church
Representatives of the military districts of the Russian Federation report that the troops finalized and approved field uniforms for military priests. We are talking about the priests of the Russian Orthodox Church. The form is inherently no different from the form of an ordinary serviceman of the Armed Forces of the Russian Federation, with the exception that special stripes (in particular, church orders) will be placed on it. In addition, military priests are given the opportunity to wear a cross over a military uniform.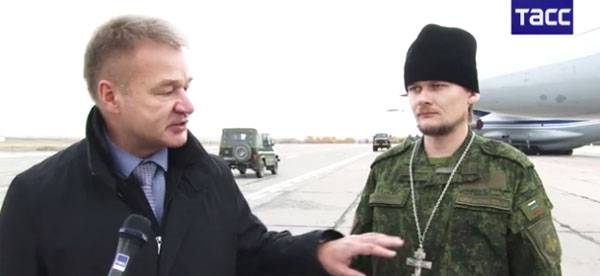 Information Agency
TASS
cites a fragment of a statement on this matter from the head of the department for working with believers of the headquarters of the Central Military District, Igor Agafonov:
This form is very convenient for the work of priests during field walks, exercises, field visits and shooting, because it is inconvenient for military service to walk in a ditch all the time. This is a common form of a soldier, which is distinguished by stripes and emblems: on the place where there should be buttonholes with the type of troops, there is an Orthodox cross, and where the name and initials of the soldier should be written, the church dignity and name are embroidered.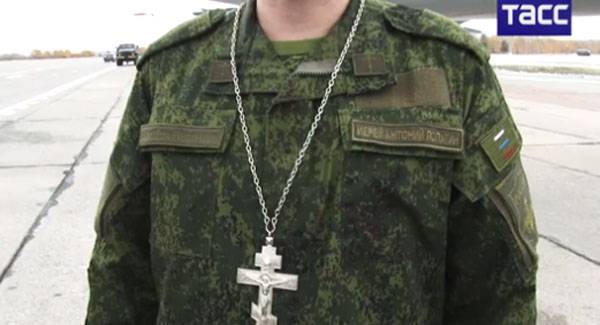 Igor Agafonov journalists asked whether there are Muslim priests in the army? According to Agafonov, he is responsible for this question precisely in the Central Military District, and it is Orthodox Christians that prevail among the personnel of the servicemen in this military district.
Agafonov also added that after some time a similar field military uniform for Orthodox priests will begin to flow to other districts. This information is confirmed by the representatives of the departments for work with believers in the Armed Forces of the Russian Federation headquarters of these districts.
It should be noted that Orthodox priests are very actively involved in the life of military units. The Russian Orthodox Church considers the defense of the Fatherland the most important mission of every citizen, regardless of his attitude to religion. Often during the exercises military field churches are used, which can be visited by any believing soldier during his free time from combat training activities.
http://tass.ru/armiya-i-opk/3728173