For the Russian special forces developed two-medium breathing apparatus
Servicemen of the Special Operations Forces Command (FSS) will receive dual secondary breathing apparatus - DA-21Mk2D rebreathers, according to
News
with reference to a military source.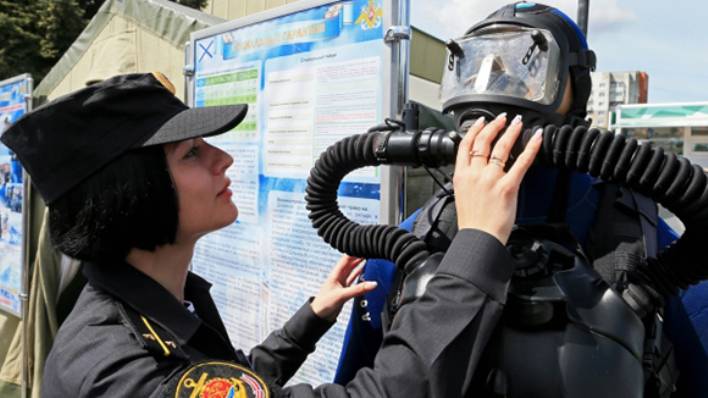 According to the source, the device, developed by St. Petersburg State Maritime Technical University in conjunction with the Ryazan Airborne School, "weighs just over 10 kg, allows you to breathe oxygen for four hours and works at temperatures from –2 degrees to + 30". It can be used at altitudes up to 10 thousand meters when making long jumps, as well as under water at a depth of up to 20 meters.
"The tests of YES-21Mk2D are planned to be held next summer in Crimea on the basis of the training center of the Special Operations Forces. At present, the respiratory system is undergoing underwater tests, which are scheduled to be completed at the end of this year - the beginning of next year. After that, the system will be tested directly at an altitude of 10 thousand meters. And already in the Crimea "kssoshniki" will check the system in a complex, having performed long parachute jumps into the water ",
- said the source.
YES-21Mk2D - closed type apparatus. "That is, it does not emit gas into the external environment so that bubbles will not form, which will unmask the combat swimmer. The air exhaled by the diver passes through a special cartridge with calcium hydroxide, which absorbs carbon dioxide, after which the remaining compound is enriched with oxygen, "explained the representative of the military department.
Alexei Blinkov, Head of the Department of Defense Research and Development: "A two-medium breathing system was created on the basis of the DA-21Mk2 complex, which is already in service with the Russian Navy. In the version that received the prefix "D" - "landed", the device was heavily modified. In particular, according to the requirements of the military, the mount was transferred to the chest so that the paratrooper could carry a breathing apparatus along with a parachute backpack. The device has been lightened more than twice - from 21 to 10 kg due to the use of composite materials and the refusal to supply the nitrogen-oxygen mixture in favor of ordinary oxygen. Special forces soldiers perform tasks underwater at a depth of 20 m, and therefore, after consulting with the military, we decided to abandon the nitrogen-oxygen mixture, which is not suitable for breathing at high altitude. "
Photo: RIA News / Igor Zarembo