The President of Ukraine on the eve gave an interview to Ukrainian television channels, describing what kind of "hero" was during the negotiations of the "Norman Four" in Berlin. According to Poroshenko, he "asked Putin to stop shooting in the Donbas." Poroshenko's statement, who was asked if he raised his voice on Putin, leads
UNIAN
:
I never raise my voice during negotiations, but please stop shooting (was). Indeed, I turned to Putin with just such a request.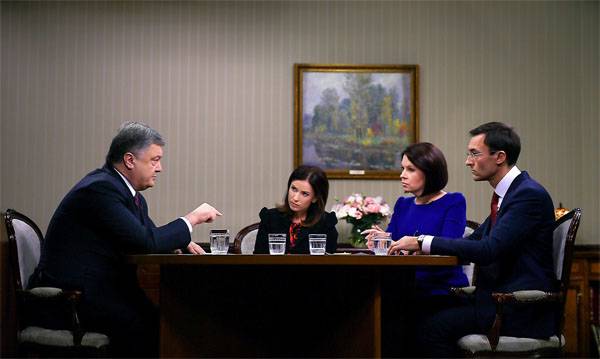 Do Poroshenko also asked if he sees an alternative to the Minsk agreements? To this, the Ukrainian president replied that if someone wants to see an alternative to "Minsk," this means that either such a person calls for a military solution to the conflict in the Donbas, or offers to immediately abandon part of the territory of Donbas.
From Poroshenko's interview:
Anyone who proposes to cancel the "Minsk" - he has to offer an alternative. There are two alternatives: a military solution to the conflict and an open attack on the Russian Federation. I ask you to compare military budgets and opportunities, please take responsibility for future victims. If we are talking about responsibility, this means one thing: those political forces that are against Minsk are set to abandon these territories, build a border there and profess the logic of the territory in exchange for peace. I want to disappoint that these political forces and their supporters, who are against Minsk, will receive neither peace nor territories. Therefore, these statements are completely irresponsible.
In one of the parts of the interview, Poroshenko was asked when the EU would introduce a visa-free regime with Ukraine? According to Poroshenko, this may happen on November 24 during the Ukraine-European Union summit. The Ukrainian president said that "the necessary documents are being prepared now." And the Dutch know about it? ..