Turkish News Agency
Anadolu
reports on the continuing invasion of Turkish troops in Syria, called the "Euphrates Shield". The material tells that since the beginning of the operation the ranks of the so-called Syrian Free (Liberation) Army (SSA) have significantly expanded. The news agency cites the statement of the commander of the SSA division, Murad Shikhly:
If at the beginning of the operation the number of our fighters was one thousand, now there are about three thousand of us. We are confidently moving towards our goal. Neither Daesh (Islamic State) (banned in the Russian Federation) nor the PYD (Kurdish armed groups) can prevent us, because we believe in our strength. Of course, we owe all of this support to Turkey, including logistics.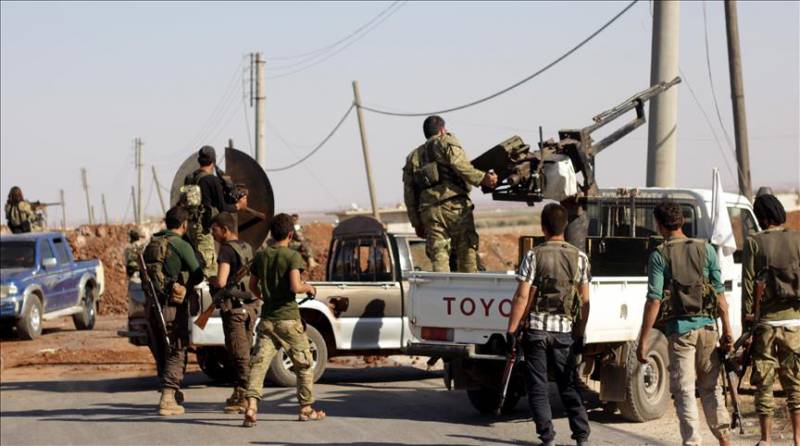 According to Murad Shikhly, many of those representatives of the FSA who some time ago moved to Turkey are now returning to Syrian territory again to resume the "armed struggle."
The operation "The Euphrates Shield", conducted by Turkish troops, looks very "original." It was declared as an operation against the igilovtsev. At the same time, the igilovtsy with the Turkish army did not engage in fighting in the north of Syria. As soon as the Turks approached a particular settlement, the militants of the so-called "Islamic State" left the settlement and retreated deep into the SAR. On the other hand, Turkish troops are engaged in active hostilities with Kurdish self-defense units opposing ISIL. Against this background, as Shikhly confirmed today, the number of SSAs is growing, which is positioned as a "moderate opposition", but which also strangely bypasses possible clashes with ISIL, putting maximum effort into fighting against the Syrian Kurds.
Official Damascus, the actions of Turkey in the north of Syria calls the occupation of the country.