The Netherlands expressed great doubts about the possibility of supporting the Ukrainian Euro-Association
Netherlands Prime Minister Mark Rutte once again made it clear that the Netherlands is not ready to support the document on the association of Ukraine and the European Union. Recall that most of the subjects of the kingdom during the referendum said the association of Ukraine with the EU "no!", Which today causes a storm of indignation in Kiev. Mark Rutte's statement leads
«Radio Svoboda»
:
The situation with the association agreement between the EU and Ukraine is not encouraging. It is necessary that an agreement on this issue be reached between Brussels, Ukraine and the Netherlands, while taking into account the interests of voters in the Netherlands. While I do not see a compromise solution that would satisfy all parties.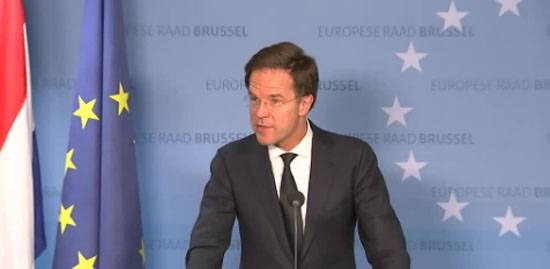 This statement was made after Poroshenko's visit to the Netherlands, where the Ukrainian president called Ukrainians "the most Euro-optimistic nation," and said that he was optimistic about the possibility of Ukrainian Euro-Association. Rutte Poroshenko did not grieve, he waited for him to speak out and leave, after which he announced that he did not experience such "optimism".
At the moment, the agreement on the Euro-association of Ukraine is actually in a frozen state. The fact is that Brussels is awaiting a final decision on this issue from the authorities of the Netherlands, who initially stated that the results of the referendum were "recommendatory", and then noticed that they were hardly ready to go against the will of the people.
So what was there "standing maidan"? ..
https://tvnewsroom.consilium.europa.eu/