The Ministry of Defense began acceptance of the fourth upgraded DRLO aircraft
The United Instrument-Making Corporation (OPK) began the procedure for the transfer of the fourth modernized radar detection aircraft A-50U to the military,
RIA News
.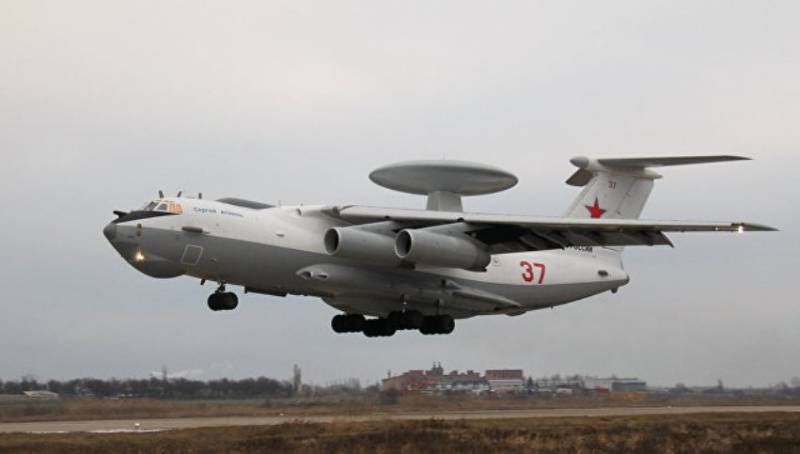 DRLO A-50U aircraft
Delivery of the next A-50U is scheduled for November of this year. The works in the defense industry complex were carried out by the concern "Vega" and the TANK. Beriev.
"The United Instrument-Making Corporation has begun the transfer of the fourth modernized A-50U aircraft of the Russian Aerospace Forces," Vladimir Verba, general designer of the military-industrial complex for reconnaissance and airborne control systems told reporters
"The aircraft is equipped with the upgraded radio-engineering complex" Shmel-M ", which uses modern element base, new computing means of increased productivity, more advanced algorithms of the complex functioning. End-to-end digital signal processing was also introduced, "he specified.
According to him, the complex has "reduced energy consumption, significantly reduced dimensions and weight." All this allowed to facilitate the aircraft and increased the range and time of its flight.
"Each new aircraft, as compared with its predecessor, is being finalized and improved in accordance with the wishes of the customer. In the development of this work, fundamental research is being conducted in a number of areas of radiolocation and information technology, "Verba explained.
He also said that the workstations of tactical crew members underwent radical changes in the upgraded car: "instead of the old hardware racks, cathode ray tubes were equipped with universal display tools based on display sets with LCD indicators of high dimensionality and resolution".
It is noted that the introduction of a new A-50U into VKS will significantly increase the potential of grouping complexes of the radar patrol to prevent threats from potentially dangerous areas.
JSC "TANTK them. G. M. Beriev"