US presidential candidate Donald Trump, speaking at the third and final debates, said that his rival Hillary Clinton does not like Vladimir Putin, because he always acted smarter than her, reports
RIA News
.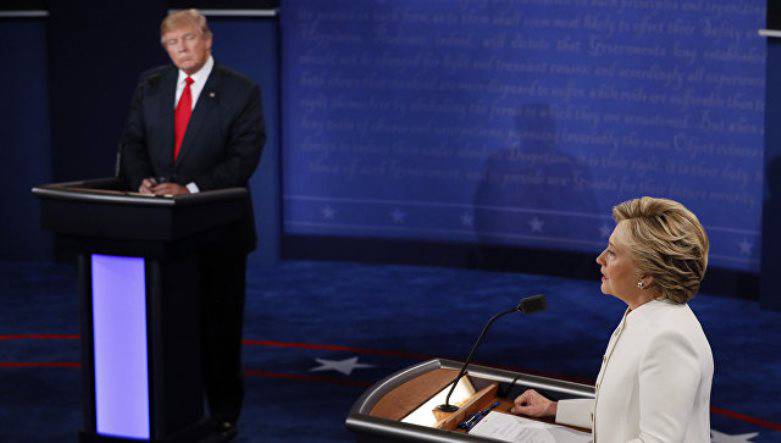 "She doesn't like Putin because he acted smarter than she, at every turn",
Trump said during the debate.
"We spent 6 trillions of dollars, and they (Russia) captured the Middle East!" He added, without specifying exactly what the money was spent on.
In turn, Clinton said that if she is elected president, she will continue to seek the creation of a no-fly zone in Syria.
"And I will continue to pursue the creation of a no-fly zone and" security zones "in Syria - not only to help protect the Syrians and prevent the permanent outflow of refugees, but, frankly, to get leverage on both the Syrian government and the Russians" ,
- she said.
According to Clinton, such a lever would help the American side "at the talks necessary to end the conflict in Syria and move forward on the political track."
She is confident that the United States is able to conclude a deal with Russia and Syria.
"This would require negotiations, but we would explain to Russia and Syria what this is being done for," Clinton said, adding that creating no-fly zones "would help save lives and bring the end of the conflict closer."
The rivals ended the last debate without shaking hands. Both of them said good-bye to the leader by the hand, but did not even look at each other.
Meanwhile, it became known that Russian diplomats will not be admitted to the presidential elections in the United States as observers.
"The initiative was shown by the Russian Embassy in Washington, suggesting that they send their diplomats to the polling stations. After a series of talks, the US State Department denied such an opportunity, "the Russian Central Election Commission said.
"In violation of all principles of democracy and international observation standards in Texas, they even threatened to bring to criminal responsibility those observers who appear at polling stations," said a source in diplomatic circles.