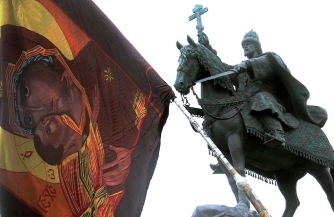 I am a typical man in the street, who live in abundance from Papua New Guinea to the island of Jersey. I live an ordinary life. Large sums of money in your pocket never did, and it is unlikely to start. We must go, as they say now, "into business" in order to accumulate considerable funds. But that's not for me. I used to work honestly, and not rip off my latest shirt from my neighbor in order to purchase a fifth car or a new-fashioned yacht.
I love children and weddings very much. Tremble before old age and grieve at the funeral. And with all the pores of my Russian soul I do not accept war. My father fought, and my mother, still a girl, was injured by a shell fragment in the shoulder in the 1943 year, before she reached the cellar during the shelling. My uncle Plato went missing in 1941 under Polotsk, and my grandmother and grandfather "swelled from hunger" in the first post-war year, giving up the last piece of bread to their daughters.
I'm sick of chanting war heroes. Of course, there are heroes, there have been and there will be. But I saw with my own eyes the wounded Russian soldiers, "Afghans," and I understand that war smells not with incense, but then with blood and excrement in the trenches.
But I am not a pacifist. Cheap slogans and blatant demonstrations of war do not stop. Only ... renamed the ATO and humanitarian bombardment. But horseradish radish is not sweeter! Russia needs an army in this sinful sublunar world, for the day and hour of the Second Coming of our Lord Jesus Christ are only "calculated" by the crazy Protestants, contrary to the Bible and common sense. And before the Last Judgment, nothing in the world will change - the temptation is too great to resolve all issues with the help of divisions and seizures of foreign territories.
I am far from enthusiastic about what is happening in the economy of my country: banks are getting fat, and the average man has a hard time. Gentlemen-Westerners, almost in one voice scream: "Take a pitchfork and drive Putin!" And I will not take and I will not drive anyone. Any kind anarchy is worse than any kind of bad authority.
I am told that Russia is to blame for its troubles, not the West. Like, Russian by nature - losers, and blame the surrounding countries. But I am a stupid philistine and an orthodox obscurantist. And, therefore, because of my stupidity, I do not believe this, but what happens in front of my face.
Why, among those who carry out "reforms", do we not find patriots, but figures of admirers of the West flash exclusively? "Patriotism - the last refuge of a scoundrel?" Sorry, but this is a lie. But liberalism, as a refuge and refuge, is a fact of a Westerner in Russia.
In 1991, the Russians abandoned communism and did not resist the destruction of the USSR, that is, they acted according to the prescription that the West wrote out after the Second World War. Europe and the United States have become calmer, fatter and more satisfying.
We also hoped for peace. And what did you get? Almost civil war (unleashed by Western liberals, not all damned "red-brown"), the disintegration of relations even at the household level, the movement of NATO troops under our very borders (even in the Baltic States climbed!) And Western-fed terrorists in the Caucasus.
Do you want me to love the West for this? Sorry, I'm a philistine, but not a dummy!
In Soviet times, there was a joke: "Who does the USSR look like? On the cupid. With a bare ass. He is armed to the teeth and climbs to everyone with his love! "Opanka! And now this is a joke about the USA! Recall the national debt "bulwark of democracy"! If it were not for the modern armed forces, it would have been twenty years since they would have run with a naked ass!
West to all rushing with his love! Along with sodomy, democracy and "universal" values! The Anglo-Saxons indicate each state how to exist and what laws to write. And who does not agree, that kill! What did Gaddafi USA? Did Libyan aircrafts hit the San Francisco and Indianapolis? About like even
news
CNN is not going to say, ss. Because it was not. And Saddam did not please? Ordered to clean up London and Manchester from local residents? There is no sound in the BBC reports. But the West came to Libya and Iraq. And turned these countries into wastelands. The count of victims has exceeded thousands of thousands.
In Donetsk, the terrorists killed the "Motorola" - Arsen (in the Orthodox way - Arseny) Pavlov. For what? The reasons can call an incredible amount. Poroshenko screams: "Moscow's agent crashed! Vatnika. Intelligence agencies of the United States and Ukraine will declare disassembly between the separatists. And everything will be absolute nonsense. Motorola arrived in Novorossia so that people could live in their own way, without instructions from Kiev and Washington. And Arseny himself wanted to live in his own way. Do not fight, and raise children. Here it is - the key cause of death. Like Alexey Brain too. The West does not want to let anyone live in its own way. Russia as well.
I am a philistine. And I understand that. Most of all I appreciate this freedom - to live, albeit foolishly, but in my own way, and not on the orders of a distant foreign benefactor. And Ukraine teaches me by example. The clever and cunning Ukrainians fell for the bait of "TseEvropy" and turned into maydauns, stripped of their own for the sake of "beautiful" western. And got a barrel without a poppy!
The West, like a parody of Midas, turns everything it touches into shit, but not gold. Although in Russia gold coins were nicknamed clearly.
Therefore, I hate the West! He has messed everything up with feces and wants to turn us into a cesspool. And we only think to live in our own way and we don't need anything else. Here is the answer to the "mysterious" Russian soul. Believe us idiots and stupid, but leave us alone with your love and progress.
Somehow, we will live without the well-beings of foreigners, launching rockets into space with the sound of bells and the singing of priests ...