In memory of Arsen Pavlov. "The right to call yourself Russian ..."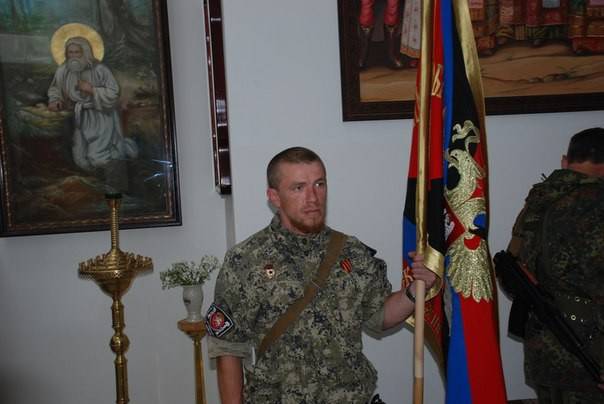 October 16 in Donetsk killed one of the most famous commanders of the DPR Militia Arsen Pavlov (Motorola). In the elevator of the house where Arsen Pavlov lived there was an improvised explosive device. Motorola was at this moment in the epicenter of the explosion and injured incompatible with life. In memory of the legendary commander, we publish an essay about him, written a year and a half ago.
"I received the right to call myself Russian in the army. They ask me who you are by nationality - I am Russian by nationality. All my Russian brothers. And to call myself Russian, I went through the 4,5 years of service. Sitting on a bench, a man with blue eyes, with blond hair, drinks beer and calls himself Russian. This is not a Russian person. This is a parody. God gave him the opportunity to be born Russian, but he does not use it. I do not say to him: go fight. But everyone must do something for their society. In 23, 25 years to go to nightclubs, swell, then roll until dinner, then come to put on again some movements and then say that he is Russian ... To be Russian, you do not need to be born. This is not enough. In my understanding and in the understanding of the people with whom I communicate, this is not enough. If you are Russian, if you have the potential, then you can serve your homeland or graduate from the university and the profession that you have, develop your country, your people. And not just to burn life and shouting that you are Russian, spitting on the monitor ... ", - said one of the most successful and popular militia commanders Arsen Pavlov (" Motorola ") in one of his first interviews.
Arsen was born in the Komi Republic. His parents died early, and the grandmother raised the future hero. In 2002, the city of Pavlov went into the army. He served in the Marine Corps. After military service already under the contract twice participated in the counter-terrorist operation in Chechnya. In peaceful life, Arsen learned to be a professional lifeguard, but in recent years he was a granite carver - he made tombstones. However, the war broke out in Ukraine again called the hero to
arms
...
"My father is from the Tver region, my mother is from the Komi Republic," said Motorola in an interview with Yelena Gorbacheva. - Tver region during the Great Patriotic War almost all the time was in the occupation, so, you know, they raised us there quite differently than in other areas. And from the very kindergarten. For me, the veterans who came to us to talk about the war, and just to play in the lightning pit, were real heroes, thanks to whom I live on this earth. And for those people - they are the third grade, trash. No one. They have heroes - Bandera, Shukhevych. Although if you look at what they have done for such a heroic act for the Ukrainian people, I don't understand. Initially, the Maidan rose for good things: defeat the oligarchs, more justice to the people. And the people came out to fight. But then sheep jumped smarter there, and it turned out that the Russians and Russia were to blame for everything. And after the oligarchs were appointed to lead the country. By the way, the year before that I traveled all over southeastern Ukraine and only a month later I heard someone on the street talking in Ukrainian by phone "[1].
Pavlov was one of the first volunteers who came to Novorossia. At the very beginning of the events, he took five thousand rubles in his former home, took the train and went to the Donbass to Yasinovataya. "When they say in the open at the rally, they will kill ten Russians for one pravosek - stay at home, go to work calmly - this is impossible" [2], - explained Arsen his decision. On March 16, unknown to anyone, Pavlov attended a rally in Kharkov, whose participants called on the Russian president to introduce a peacekeeping contingent. The combat biography of "Motorola" began, like many, from Slavyansk. "Perhaps the only commander who crossed the border with me and is still there and fighting," says Igor Strelkov. - He started with me as a private, then the commander of the department, then the commander of the machine-gun anti-tank platoon. At one time he commanded a company, then returned to platoon. His career developed before my eyes. He is very brave, resolute. The real hero [3].
"The Russians are here, here and there," Arsen simply answered the traditional question of the military commander of his unit, Gennady Dubovoy. - I already said: as soon as the Molotov cocktails on the Maidan flew to the police officers, it became clear to me - that's all, this is war. After the Natsik declared that ten Russians would be killed for each of their own - to wait for the threat to become reality, I did not see the point. Russia and Ukraine are two different states. People have already made a decision. Let those who want to be Ukrainians live in Ukraine. And let our live as they want. They want to live in the Donetsk People's Republic, then - together, in their own state, in Novorossia. I do not have any political goals, someone to join someone. It's funny. And do not. My task is to protect the people who made their choice. "[4].
"Motorola is a living legend," Dubovry himself represented in that material. - The commander of anti-tank special forces. Absolutely fearless, quick, clever: instantly calculates any situation and takes the only correct decision. It was he and his fighters who liberated Semenovka, a strategically important suburb of Slavyansk, in April.
And still hold her, under the fire of direct hitters
tanks
enemy, under constant mortar-howitzer shelling, under a hail of cluster bombs. It was he and his fighters who survived the terrible seven-hour battle on June 3 - our Stalingrad, when Ukrainian tanks and armored personnel carriers covered by the Su-27 attack helicopters and "crocodiles" - MI-24 helicopters came 25 meters to the forward checkpoint, but were set on fire and discarded . In that battle, the militia suffered significant losses - 7 "two hundredths" and more than 30 "three hundredths" ... But they survived. They shot down two helicopters, disabled the T-64 and two armored personnel carriers and thoroughly crushed the Ukrov infantry. For the unprecedented courage and heroism shown in that battle, six fighters of the Motorola special forces were presented for rewarding with St. George's Crosses. Two - both from Donetsk - posthumously ...
Outside, in form, Motorola looks like a Ranger from a Hollywood blockbuster, and inside, in terms of content, a Russian Orthodox knight. It is about people like him who once said the great Alexander Suvorov:
"Who surprised, he won" and "Victory is the enemy of war" "[5].
Pavlov calls the 5 of May 2014 the worst for himself when he and his men were ambushed in Semenovka: "At night, the Ukrainians came in, put snipers in the courtyards, we drove off to the bridge and entered the battle. Then we really were surrounded. Then it turned out that part of the militia that was nearby, did not even shoot, but sat in the bushes. The worst thing was that with me there were people who had not yet had the skills to fight, who were not shot at all. That is why in the "Sparta" of all recruits, we first learn, including psychologically. Of course, there is always fear. But no one is afraid of dying in a battle or losing, just as there is no reason to die for the truth. Then I took my first video - on the phone, fixed on unloading. At that time, a lot of clips about this war were filmed. But no one took a shot of how, for example, artillery works, with explanations - this is a volley at us, over there, on a hillock, the Ukrainian military stand, but we are standing - and now we will respond. I wanted to show the truth, what is actually happening on the front line. Because the picture in the TV can not tell everything that is going on here [6].
"Motorola" was engaged in such filming, so that the journalists themselves couldn't get under fire. Meanwhile, one of his notes with a light hand of the local Ekhomoski "liberals" almost did not get very expensively captured by the National Guard under Life-News journalists. "Ukrainian Ukrainians" from "Echo", who posted this record on their website, said that the voice heard behind the scenes, giving commands to direct guns, belongs to one of the prisoners' reporters, which proves their involvement in the conduct of hostilities. The provocation was exposed by the journalists of Komsomolskaya Pravda, D. Steshin and A. Koz, who easily recognized the voice of the militia commander he was famous for. It was then that the public recognized the "legendary Motorola", who personally confirmed his authorship of the notorious recording.
"Complete frostbite in a good sense of the word," Dmitry Steshin later said about him. - For example, we were with him, in a place where in the morning he holds a disco for ATO forces. This is such a basement with a cargo hatch, on such an elevation above Semenovka. And so, in the mornings, he opens the doors of this hatch and opens, through two huge columns to the Ukrainian troops, azan. And ukroarmiya is still firmly convinced that in front of them in Semenovka is 1500 Chechens. But he did not see, but people told, this Motorola ran along this slope above Semenovka, where there is a psychiatric hospital Semenovskaya. Shells on the slope were torn, and he, with a red megaphone, shouted into a megaphone to the Ukrainian artillerymen that they were not able to shoot obliques. Well, obscene words. And he, as it were, is engaged in the moral character of his fighters. It is clear that the people there, in the militia, are different, the troops are irregular. Kosjachniki and breeders just have to be. But I can say that the militia is a very real prohibition. For all the time I saw only one drunk ... and then - in the hospital, a fragment fell between his ribs, and it was not drunkenness, but anesthesia. And Motorola - he has two methods of treating alcoholism: a shot between his legs and a shot in the leg. Without relapses hem from drinking. Approximately also he cured a local resident, who remained in Semenovka because he is a complete alcoholic and an asocial type. In addition, he tried to look for companions among the fighters. Motorola said that after the "encoding" a man came to life in his eyes. He began to make his way with a fishing rod, past mortar explosions on the reservoir, to fish, in general, he was transformed. Saved the man "[7].
Arsen Pavlov characterized the Donbass war only as real genocide. "Ukry does not fight, they kill civilians," he said in an interview with Dubovoy. - They know: they are not able to win in a military sense. They will kill the defenseless if we retreat. They can only do this: kill the unarmed and defenseless. Freaks. There was a normal anti-terrorist operation in Chechnya: the destruction of mercenary groups — Arabs, Chechens, Europeans. Precisely mercenaries. The local population did not suffer. And here is a completely different situation. The real genocide. Destruction of the people, targeted destruction of the peaceful people. Video, photo - everything is there. Affected by a lot of ordinary civilians. People here are fighting for their land, for their right to live according to their own laws, and not according to the laws dictated by those who want to destroy these people. Plow, mix with the ground. Using assault
Aviation
(Su-27, dropping cluster bombs prohibited by the UN Convention), mortars 120 mm, helicopters (Mi-24), long-range guns 152 mm, tanks. Do ukry use them against the "separatists" when they hit the residential sector? This means that for them all living here are "separatists" and they will destroy all. Not selectively - all. Already destroyed, you see. Genocide "[8].
The story of "Motorola" by another legendary commander, Yevgeny Skrypnyk ("Prapor"), is quite remarkable: "In fact, Motorola was not even noticeable at the beginning of the war, for a month. He was somewhere there on guard, let's say, imperceptibly. He was eclipsed by all sorts of imaginary special forces, the past two Chechnya, some commanders of security agencies in Kiev, and other people - huge, two-story high-ranked, with call signs, there, "Odessa" and others. He was not, this little man, seen. He really was - a little man, hell with a snuffbox, a cool guy, a charming guy, the soul of the company, and that was all. At this - everything, you know, ended. But as soon as fighting was needed, it was necessary to go, rescue, rescue, pierce, attack, these people disappeared. They deserted, these are all great people. And left in their place, one "Motorola". This modest sergeant from the Marine Corps, he took on all this cargo, he pulled it. He pulled the whole direction, it was possible to hope. He will save, correct the situation where the critical. This man, he is harmoniously beautiful in everything. He can sing songs, he can help a person, he can ask and send to fight, to death. Despite the fact that he is always on the sharpest part, he has the smallest losses in the unit, the smallest losses. What can I say ... he has one thing, he is very loved by people and loved by women. He never abandons his people. In the city executive committee, where the special forces headquarters was, where they were based, all the girls, the cooks who were there, who, when they left Slavyansk, forgot about them ... He, no matter what, when there was no one in Slavyansk Nikolaevka went there, took all, to a single. I did not forget anyone, I found everyone in the city, I took everyone out.
Commander, and a man with a capital letter. Actually, a man with a capital letter. Yes, he is young, yes, he has growth problems. Yes, why not? Yes, and there was the problem of the star, let's say. He overcame this problem, overcame it. He was ill, calm, easy. Fine. He perceives criticism well, draws conclusions from it always. Perfectly adequate person, perfectly adequate person. "
Arsen himself never mentioned his heroism, manifested in the hardest conditions of retreat, about the people he had saved. In an interview with a Novosibirsk public man, Rostislav Antonov, who was given a visit to Donetsk, he asked the question about how he managed to get out of Slavyansk very succinctly: "We just distracted them. Distraction was. Competently planned operation. Almost complete composition came out. And now it is a ready armed brigade of shelled people. Now in Kiev, a real panic. Because thousands of people dispersed in the Donetsk region. (...) We should have done this two months ago. Leave, leave the militia there, and here they would strengthen [in Donetsk]. But there we were on the first lines of defense. While here people lived their lives. Look here, Lugansk. It is evident that the war and does not smell. People do not think what war is, and they don't imagine what it is when people die in batches. They have no idea what it is to lose ten militiamen in a day, in a small settlement. Ten of his brothers - once and for all, goodbye. I had SsangYong, on which we drove the wounded and the dead - I smelled it all the way through, as they carried it in the heat "[9].
In reality, "Motorola" and its unit fell upon the withdrawal of the Slavic militia the hardest task. July 3 battle for Nikolayevka on the southern outskirts of Slavyansk, which began at dawn, moved into a critical stage. As a result of the morning clash, the last road going to Slavyansk through this settlement was under the control of the Ukrainians. "The village of Nikolaevka remains in our hands this morning. A battle took place there at dawn - we have one killed and one wounded, the enemy also has losses in manpower, "said Igor Strelkov. After the battle, the Ukrainian troops who did not achieve decisive success resorted to their usual tactics: they threw heavy artillery fire on Nikolayevka. Slavyansk and Kramatorsk were also under massive shelling, resulting in numerous destructions and civilian casualties. "In Nikolaevka" Smerch "to the ground destroyed several five-story building (along with the population). They reported that "Motorola" was wounded, - said in the message Strelkova. - While he stayed on the positions. But the Nikolaevka garrison has already been cut off ... The ukrav armored column broke into Nikolaevka. There is a fight. " Fortunately, the news of Pavlov's injury turned out to be false. But the information about the shameful desertion of the three commanders of the militia "Berkut", "Filin" and "Minera" was fully confirmed. The latter will later blame Igor Strelkov for abandoning Slavyansk and other "crimes" by following Kurginian's provocateur's training manual. And at that moment his flight and the other two deserters put the Motorola group in a difficult position, depriving them of cover. "These are traitors," wrote Strelkov. - All - local. Surnames will publish them later. They threw positions at the most dangerous moment, without having suffered so far virtually no losses. At the moment, Motorola is fighting twice as little as it was the day before yesterday. But I believe in him. "
The faith of commander Arsen Pavlov, as readers could already see, was more than justified. He reached Donetsk with his unit a little later than the main forces, and his appearance was greeted with genuine exultation.
Nevertheless, Motorola responds modestly to the numerous admirations: "I am not a hero. But in the detachment I have a lot of heroes: for example, Sailor, - Motorola points at a fighter with a neat black beard. - A good company commander. We have fearless guys - so they are all my heroes. A hero is one that is not afraid to look at the face of the enemy. Heroes are the people who live here and all this is suffering. Who made his choice, and now must defend his choice with a weapon "[10].
(...)
To get into the "division of the legendary" Motorola "" is considered very honorable. For recruits there is a training unit, where they are taught not only combat skills, but also the hard discipline that Sparta is famous for.
"Sparta" along with the unit "Somalia" (the commander of the "Givi", once the personal driver of the "Prapora" in Slavyansk), assumed the brunt of the many months of battle for the airport. However, Motorola is skeptical about the hype around this episode of the war: "The airport is too much inflated as an informational occasion. I can't even say that there were some serious battles, such that I remember so much. In this video, for example, the Ukrainian TV channel tells how one and a half thousand militia fighters could not take it. And everything is trivial - there was no command for capture for a long time. Minusinsk we recaptured. Ilovaisk repulsed, along with Givi. There were also clashes in other villages. And then we came and smashed the airport - we, two simple people, not officers, not special forces. That's why they want him so badly back. And to establish a monument to cyborg there. We know that on the other side Poles, Slovaks fought. Even two blacks were seen, during the storming of the old terminal - they died, and the Ukrainians took their bodies. Mostly at the airport there were representatives of the "Right Sector", but when "Sparta" arrived, they realized that it smelled like roast, and instead of themselves they put ordinary VSUshnikov. They say that they put a special forces company at the airport. What we are special forces? And so - well, a little steadiness was added, but they had no experience of conducting combat operations, and no. Perhaps they have learned something, but they don't have the main thing - the truth for which they would go. There are no people who would lead them forward. The point is, perhaps, in the MAT itself: they are far from ideology. They have age - 30 – 40 years. An ordinary person lives, for example, in Kharkov. They come to him with a summons and threaten to cause difficulties for him and his family. What can he do? Nothing. These are the ones fighting. What battle did they win in all time? They can not say - we won, we took. We left Slavyansk ourselves: if we had not gone, we would most likely have died from artillery, and would have mixed us all there with the land, together with the people. And then neither the Donetsk People's Republic, nothing would have happened.
Mariupol? Yes, people with sticks to disperse - they managed it. The police department with people burned - coped. Here is a victory! But there is not a single settlement where they could say: we beat off the militia and took it. There is no such thing. All that they took was that there were initially no people there, or there were ten militiamen in some village. In addition, heavy artillery and aircraft were used in Slavyansk against a very small number of somehow armed people. Is this a victory? They made heroes from those who held the airport: they were called "cyborg". Now here appeared "terminators" under Shirokino. Probably, everything "[11].
Igor Strelkov, commenting on the actions of "Sparta" at the airport, differently evaluated by experts, was restrained in the assessments, paying tribute, however, to the commander of the unit: "At the level of the platoon-company he commands well. Now he has a battalion, as he commands a battalion, I have not seen. Heard a different assessment. What I saw in the video is not inspiring. In the battles for the airport showed the actions of the assault group Motorola. First, there are wild cries of Indian, then the shooting begins with twenty people from one room. I do not know, most likely, this is a statement ... Therefore, I will not criticize, I have not seen. I know that Motorola from every fight went out with bullets and shrapnel in a bulletproof vest and repeatedly was at the very tip of the blow. "
At the airport "Sparta" lost 13 people killed. Many were injured. During this period, with the direct participation of Motorola, a new bulletproof vest was developed, named after the commander as Motorola's Dream. This body armor provides improved protection, and many militiamen admitted that they had repeatedly owed him their lives and health. Arsen Pavlov personally tested his "Dream". And the Gleb Kornilov Foundation "Novorossiya" ordered an impressive batch of new body armor not only for "Sparta", but also for fighters from other divisions. On numerous shootings it is clear that the volunteers are dressed exactly in these body armor.
"Next will be Novorossia. Novorossiya for Novorossov, says Motorola, talking about the future. - Even if there is some doubt, I have, for example, no options. People who doubt, they are immediately eliminated, they run. I have no doubt. Behind us is the truth. The people are behind us, the people are behind us, in no other way.
The direction itself was chosen correctly initially. People kind of wake up - now we will hold a referendum, and everything will be fine. Now everyone thinks that the militia should put a barrier in front of the checkpoint - not to let out men from Novorossia in general, from Donetsk and Lugansk regions. With families, those with children - not relevant, who travels to refugee camps. Men must fight for their land. Of course, people did not expect this to end. They thought - we are like rallies, we wave our flags with Russian flags. Now Vova Putin will become more generous - the "contingent of twenty thousand people" will enter here: everything will be "unwound", Pravoseks will "decide". While they were walking with flags, someone was arming. Not someone, but the whole army.
How did we lose Kharkiv? How did we lose the rest of the regions? Only with this stupid walking around the squares and waving flags "[12].
Arsen Pavlov is convinced of the fragility and fragility of the "truce", because the "customers" have invested too much money in this war, they have driven a lot of technology - and in any case, not to go home. "To last, I think it will be a long, very long," says Motorola. "Four years or longer, I don't know." I know that this is a long time. What will end? Our victory, it is unique. Because we have the truth. God is ours. "
From the book of Elena Semenova "Volunteers. Century XXI. Battle for Novorossia in the portraits of her heroes"
[1] http://rusplt.ru/ukraine/motorola-prosto-ne-byilo-prikaza-na-zahvat-aeroporta-donetska-17059.html
[2] http://sibgrad.com/index.php/news/politika/974-opolchenets-motorola-za-nami-lyudi-po-drugomu-nikak-nelzya
[3] http://rusdozor.ru/2015/03/17/igor-strelkov-motorola-realnyj-geroj/
[4] http://gennadiydubovoy.ru/
[5] There
[6] http://rusplt.ru/ukraine/motorola-prosto-ne-byilo-prikaza-na-zahvat-aeroporta-donetska-17059.html
[7] http://rian.com.ua/interview/20140705/354523477.html
[8] http://gennadiydubovoy.ru/
[9] http://sibgrad.com/index.php/news/politika/974-opolchenets-motorola-za-nami-lyudi-po-drugomu-nikak-nelzya
[10] http://rusplt.ru/ukraine/motorola-prosto-ne-byilo-prikaza-na-zahvat-aeroporta-donetska-17059.html
[11] http://rusplt.ru/ukraine/motorola-prosto-ne-byilo-prikaza-na-zahvat-aeroporta-donetska-17059.html
[12] http://sibgrad.com/index.php/news/politika/974-opolchenets-motorola-za-nami-lyudi-po-drugomu-nikak-nelzya