TV channel
Al Sumaria
publishes material stating that the leader of the so-called "Islamic state" (banned in the Russian Federation) Abu Bakr al-Baghdadi in Mosul was able to avoid American air strikes
aviation
and US allies. This
news
It draws special attention, if only because a few months ago at the Pentagon it was announced that al-Baghdadi was "most likely killed after an airstrike on a convoy of terrorists in Iraq." As it turns out, the "most likely" interpretation had every reason for al-Baghdadi to survive then ... If there was an air strike at all.
It turns out that he survived al-Baghdadi and during the assault by the coalition forces of Mosul, where he, as it turns out, was hiding.
From the Arab media report:
The leader of Daesh (IG) Abu Bakr al-Baghdadi was able at the last moment to avoid an air strike at the point at which the meeting of field commanders was planned.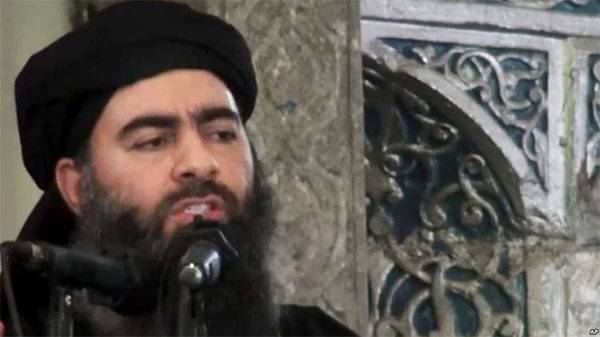 The article says that the leader of the IG left the place to which the "coalition" planes had already flown - just a few minutes before the first ruptures of the bombs.
It could well be called "happy coincidence" for al-Baghdadi, if it were not for one fact. As it is known, Abu-Bakr al-Baghdadi was once captured by American troops, was held for a long time in prison at the American military base in Iraq, and then (in 2009) was released by the Americans, although he was accused of terrorist activities. Such a fact from his biography may in some way reveal the reasons why al-Baghdadi disappeared from the venue of the meeting of the leaders of ISIL in Mosul a minute before the bombings began.
By the way, about two weeks ago, the American press published materials claiming that al-Baghdadi was poisoned by his own accomplices. It turns out that either al-Baghdadi has "nine" lives, or the US special services have "nine" al-Baghdadi ...