The BBC's attempt to analyze the causes of today's conflict between the West and Russia
"BBC"
publishes
material by Jonathan Marcus, an observer who finds the strength to at least try to analyze what the real conflict between the West and Russia is based on. Against the background of numerous publications of the same type in the Western media that Russia is "enemy number one," "country committing war crimes," "stronghold of totalitarian politics," and so forth, an analysis with a cool head was made in the material of observer Markus.
According to Marcus, after the end of the Cold War, there was hope that the confrontation between the West and Russia would remain in the past. However, according to a BBC observer, in the West (primarily in the US), despite the collapse of the Soviet Union, Russia was continued to be seen as the embodiment of the USSR within different boundaries. When Russia took steps to strengthen its influence in the region, in Washington it was considered solely as a manifestation of "ambitions to restore Soviet influence". Marcus cites a statement by American CIA veteran Paul Pillar (translation
RIA News
):
Relations deteriorated when the West did not begin to perceive Russia as a nation that shook off communism. She should have been accepted into the new community of countries — but instead she was perceived as the heir of the USSR, which remained the main source of distrust for the West.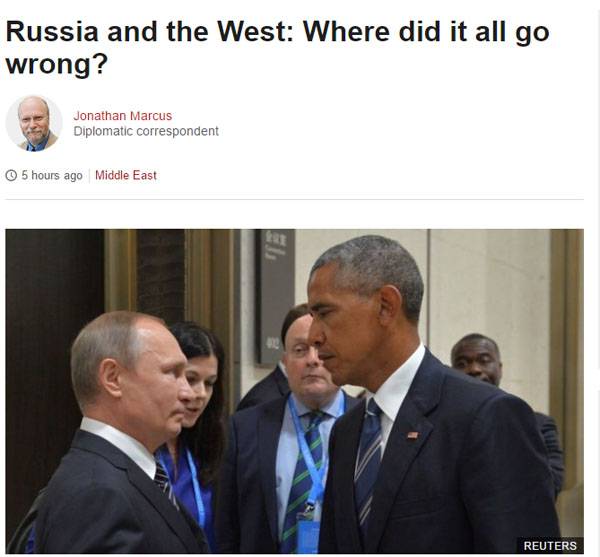 Marcus himself adds that this idea is being confirmed by the constant expansion of NATO, although Gorbachev was also promised not to transfer the NATO infrastructure east after the unification of Germany.
The material contains a statement by the former head of British intelligence, John Sawers. This statement consists in the fact that the next US president is responsible for defusing relations with Russia, since it is Russia and the US that are able to solve the global security issue together.
Once again, attention is drawn to the fact that sound thoughts are expressed exclusively
the former
by American and British officials. Yes, and the article by the columnist Jonathan Marcus runs the risk of being lost in the articles of numerous Western "hawks" against the background of the cruelest anti-Russian rhetoric of acting officials.