Everyone! Everyone! Everyone!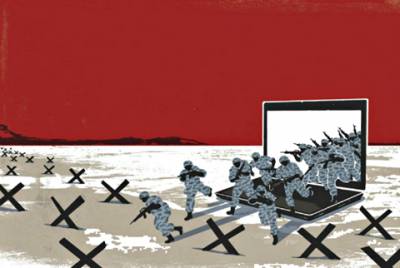 Dear members of the Military Review!
It is not a secret for anybody that lately from all over Europe, America, Scandinavian countries, to a greater or lesser extent, attacks on Russia, on the Russian people. These countries and their special services, the countries of the former USSR and the CIS, are not left without attention. And the end result of these gentlemen, although they deserve a different attitude and "name", will plunge Planet Earth into a new round of World War. All methods of their dirty work are used for this.
The time was gone when the opponent was open, they threw a glove in his face and called him to a duel! Such concepts are gone, in all likelihood
history
and, unfortunately, forever. Currently, overseas financial sharks and bigwigs of the shadow business are holding their puppeteers, represented by their presidents and heads of state on a short leash. And they do not stint on any financial investments for carrying out their policy. And such states as the Baltic countries, Poland and Ukraine that joined them are a bargaining chip among these marginals. Perform any of their orders, including the outbreak of military conflicts that will escalate into war.
And last but not least, and perhaps at the forefront of the world media stand, which are fed from the same hands. They go to sophisticated publications, fakie, information, juggling and shuffling of facts, calculated on people far from politics, on instigators, go on the usual lies. And all this for the good of "their democracy", their "exclusivity and security." Both editors of world newspapers are bribed, as well as reporters, correspondents and just people who have the opportunity to "earn".
Not the last place in the VO materials is given to events in Syria, Iran, Iraq and other countries of the Middle East. We all have the opportunity to see, read what interests us. Everyone has their own point of view on information, and the possibility of expressing their opinion on a particular fact, not contradicting the Law on Mass Media and the Rules of the VO website. The site administration, moderators pay a lot of attention to cleanliness and compliance with the Rules.
Everyone sees the attitude of each registered on the site through their posts, publications. And the overwhelming majority of the members of the forum treats the events in the world as normal patriots of their state - Russia. And the latest publications about the events in the Donbass, the murder of Motorola were perceived with pain in the soul and hatred of this crime. Quite understandable and comments on this event. This is the pain of losing a person who has become a defense of people. The pain of something that has not yet been achieved, such as the freedom of the entire Donbass from ukronatsistov and their masters, from the still far-away peaceful and tranquil life on this long-suffering land. There is no doubt that peace and tranquility will come to this land, but it will be worth a tremendous loss.
But popped up on the forum "newly registered", such as
Anenerbe 2.0 Today, 01: 46
Givi get ready ....
Quote: 112233
are you guys serious? He is a terrorist that raised people against the country?
I ask everyone and I urge - let us be vigilant ourselves, and at least on the forum, finish these obviously not worrying about the death of a person, and moreover, mocked. You can call them by everyone: trolls, "swamps", etc. But they have one goal and is understandable - to shake our society. Request and to administration site. When such "patriots" are found, and they can be seen immediately after several posts, remove and stop their further propaganda. Such complain, and even more so will not sue. I believe that the forum IN will only be "FOR!"
I know that they will find other methods and ways to get into the media and there are some. But let them TAM sing their Goebbels songs, let it be THEIR "cesspool of wolf pit", and there they have a place.