In Kiev, they are sounding the alarm about the fact that with all the loud statements by the supreme authorities about the need to continue the "sanctions pressure" on Russia, these authorities themselves have actually refused sanctions. This fact was noted by the deputy of the Supreme Rada, Sergey Leshchenko, who has recently been the object of numerous scandals, including corruption. Leshchenko, on his Facebook page, draws attention to the fact that the next stage of activating anti-Russian sanctions in Ukraine expired about a month ago, but Poroshenko did not sign any document on the extension of sanctions.
From Leshchenko's post to
Facebook
(October 14):
Ukraine celebrates its defender's day. These people are real heroes who sacrifice their lives, health, best years - and do not even represent the cynicism of the baryg who earn money from the war.

Did you know that for a month in Ukraine there are no sanctions against Russia, Russian citizens and companies? Yes, yes, that's right. 16 September 2015-th decree of the President Poroshenko introduced the effect of sanctions for a period of one year. 16 September 2016 sanctions are over. And already a month Poroshenko's decree on the restoration of sanctions. That is, the US holds sanctions against Russia, Canada holds, the EU holds, and Ukraine does not.

According to my sources, there is no continuation of the sanctions, as the bidding continues. This has become another corruption issue. For a certain amount, you can delete yourself from the sanctions list. Or include your competitor there and get a monopoly on the market. Well, and yet - while the "sanctions holidays" continue, it is not possible to buy assets that are subject to sanctions for expensive. Nothing personal, it's just business (nothing personal, this is business), as the outstanding mafia of modern times said.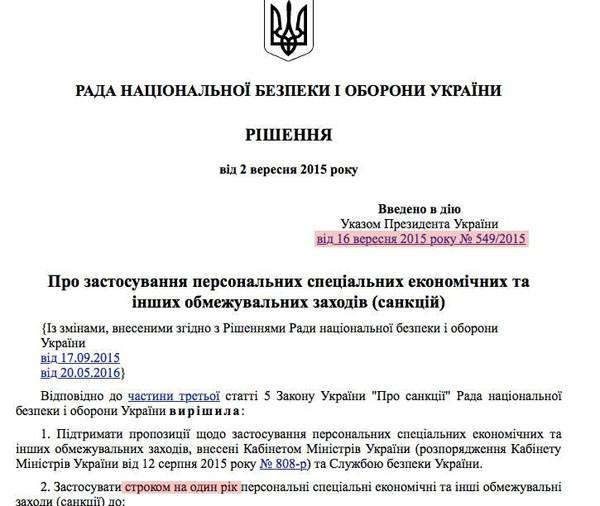 Against this background, information is also being discussed that, for example, the company MotorSich actually did not break a single agreement in the sphere of defense-industrial cooperation with the Russian Federation. Zrada ...